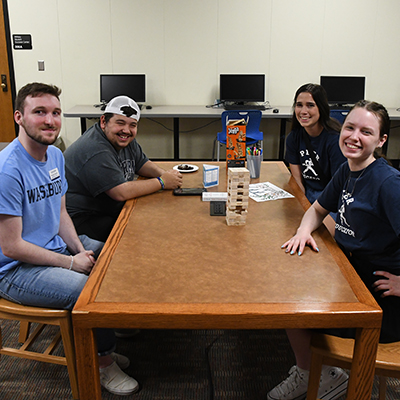 Who are FYE Peer Educators?
WU FYE Peer Educators are students who have have "been there, done that" at Washburn University. This year we have sixty Peer Educators who are excited to help first year students transition to college life.
The Peer Educator Experience
Lauren Frank, SR majoring in Physics
"My time as a peer educator has completely shaped my time at Washburn. From having an encouraging peer educator as a freshman I decided to take the leap and apply. That might have been the best decision I've ever made. Each fall, I've gotten paired with a class and get to work with some amazing first year students. I love getting to connect with them and seeing them around campus after they finish their first semester. My proudest moments are seeing my previous students take on leadership roles around campus, with some becoming peer educators themselves! It feels like I'm a proud older sister that gets to see my siblings grow up and see my students find their place and thrive at Washburn. For the last year, I've also had the privilege to be one of the senior peer educators, getting to take on more of a leadership role within the FYE program. I look forward to coming into the office every day and getting to know my fellow peer educators and hearing about their WU101 classes. If you're thinking of becoming a peer educator, my advice is to do it! You will learn so much and gain a great community at Washburn."
Amari Rawls, SO majoring in OTA
"Being a peer educator has made me more outgoing (as a previously introverted person), enhanced my leadership abilities, and most of all has given me memorable connections and memories that I will carry with me forever."
Sierra Vigneron, SR majoring in Psychology
"Peer educating has been one of the greatest experiences I have had on campus. I have made so many friends and connections that I am very grateful for. It has also given me the opportunity to learn new skills and grow as a person. I am very thankful that I have had this opportunity."
Luiz Alcantara, SR majoring in Psychology
"Being a Peer Educator has helped me in many ways, but above all else it helped me become a better student. Working behind the scenes of a class allowed me to understand how courses are set up, the kinds of struggles students have, the resources that can help those students, and how to better understand my peers both in the classroom and outside of it."
Ryan Durst, JR majoring in Public Administration
"Starting college was nerve-wracking, and I was unsure if I was navigating it correctly. My WU-101 class served as a safe space for questions about both the class and college life. Today, as a Peer Educator, I am grateful for the opportunity to help incoming students who may share those same uncertainties I once had. Assisting them in feeling more comfortable and welcomed on our campus has truly been one of the most defining and rewarding parts of my college experience."