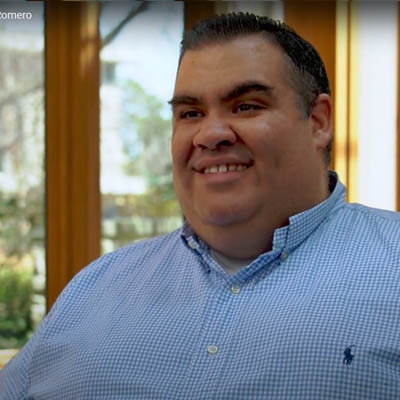 No other place like Washburn
A place to live, learn, prosper and belong. Alumnus Angel Romero encompassed all the above as a student and still does as a citizen deeply invested in Topeka and his alma mater.
Angel came to Washburn from Junction City, thriving while finding his passion as a political science and law student. He received a bachelor of arts in the former and a juris doctor in the latter.
"All those things that come into play in my day job about communicating and problem-solving, and thinking about community challenges … I can trace it all back to my experiences at Washburn," Romero said. "Washburn is a place where you get to know people, build relationships and really get to connect in a way that you wouldn't with others."
Angel got involved in the community as an undergraduate student and has continued to since graduating from Washburn. He currently works as the vice president for resource development for United Way of Greater Topeka and is a member of the Washburn University Board of Regents.
"The cool thing is Washburn's always had that practical experience and outlook on things," he said. "The faculty here are really intentional about making sure you get to do things hands-on and you get that experience in the community."
In Angel's case, the experience to help him live, learn, prosper and belong at Washburn and in Topeka.