Teaching Consultations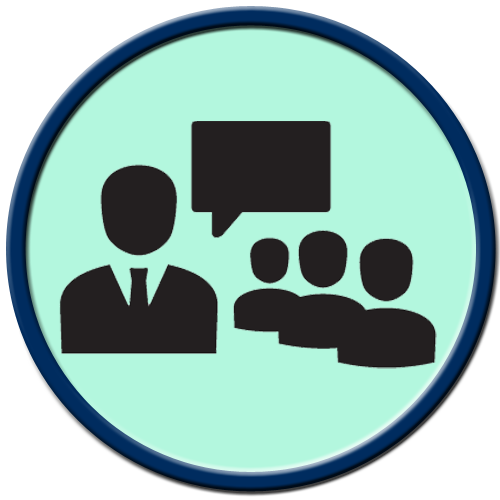 The teaching consultation program at Washburn University is designed to help faculty gain insight into their own teaching. This might be used for third year review, tenure, and/or promotion materials in order to provide a more well-rounded view of teaching. Upon completing a consultation, a letter will be sent to your Dean and/or Chair. This letter will state that the consultation occurred and the date it was completed. A second letter will be sent directly to the participant with a report of what was observed. This letter is meant to be informative.
Key points:
Informative not evaluative
Initiated by the individual faculty member only.
Can provide feedback on classroom strategies (innovative or well-practiced).
There are four tiers of consultation services. You do not have to complete the tiers in order unless otherwise noted. These include:
---
TIER 1: Traditional Observation with Interaction Mapping
Requires: Pre- and Post-Observation Meetings
CTEL Badges: 3
A person qualified through Tier 4 training will observe your class. Interaction mapping can help show where you spend time, who is asking/answering questions, and what is happening in your classroom. You work with your Tier 4 Consultant to determine your goals. Following your post-observation meeting, you will receive an informative letter stating that you were observed for use as you see fit.
---
TIER 2: Flipped Observation
Requires: Pre- and Post-Observation Meetings
CTEL Badges: 3
This is an opportunity for someone to observe another's teaching. We set up the opportunity based on your interests: active learning, team-based learning, small group discussion, active lecture, etc.
---
TIER 3: Peer-to-Peer (-to Peer)
Requires: Pre-Meeting, Multiple observations, mid-meeting, and report
Here you can meet other individuals interested in teaching. CTEL facilitators will match up groups of three at the beginning of the semester. Throughout the term, participants will observe classes one to two times per person and meet to discuss their observations. Following all of the observations, you, solo or as a group, create a short report where you discuss the experience. This needs to be completed prior to Success Week.
---
TIER 4: Become a Consultant
Requires: Second Completion of Tiers 1 and 2 with training as goal, Permission of CTEL Director
CTEL Badges: 3
Upon completion of training, Tier 4 participants are placed on a list for use when determining consultants for Tiers 1 and 2. At the end of the semester, if you have been a consultant, you will receive a letter for your portfolio.
---
Course Planning & Design
Constructing a syllabus
Creating an inviting, inclusive classroom
Writing learning objectives
Effective Teaching Methods
Active learning strategies
Collaborative learning techniques
Planning successful first and last days
Teaching on-line and hybrid courses
Incorporating new technology into the classroom
Assessment of Student Learning
Classroom assessment techniques
Writing effective test questions
Giving effective feedback to students
Mid-semester interviews with students
Documenting Teaching and Other Professional Activities
Interpreting end of the semester evaluations
Classroom observations
Center for Teaching Excellence & Learning
Morgan Hall room 204
1700 SW College Ave.
Topeka, KS 66621