About the Hefner Heitz Kansas Book Award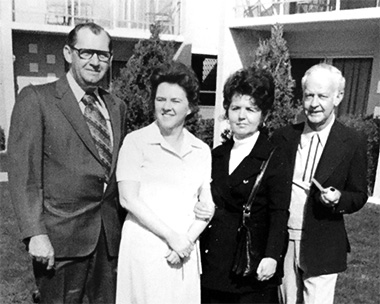 Joe Heitz, Hazel Heitz, Reeselynn Hefner, Gene Hefner
The Hefner Heitz Kansas Book Award is given annually in celebration of all those who write, who read, and whose lives are enhanced by their engagement with the literature, history and culture of Kansas.

From Mark and Lisa Hefner Heitz:

A respect for education and the love of books and reading is an integral part of our families, largely due to the influence and example of our parents, Joe and Hazel Heitz and Gene and Reeselynn Hefner. We are proud of our parents, and proud to be associated with the Kansas Book Award.

Hazel Waggoner Heitz (1925-2015) grew up in Fort Scott, Kansas. Her father was a lawyer (graduate of Washburn Law School, 1912) and her mother was a college graduate and librarian. Joe Heitz (1926-1996), from a farming family, grew up in Missouri. Hazel and Joe pursued teaching degrees, first at Fort Scott Junior College, and then graduating from Kansas State Teachers College (now Pittsburg State University).

Joe taught in Pittsburg, Kansas, public schools for many years, first as a grade school teacher at Lincoln School, then as a teacher and principal at Eugene Field Grade School, and finally as principal of Lakeside Junior High School.

Hazel initially taught school in Kansas City, but returned to Pittsburg to marry Joe and raise their three children. Hazel resumed her teaching career when their youngest child finished grade school. She taught English and Reading at Girard Junior High School in Girard, Kansas for twenty years.

Hazel and Joe loved teaching their students the skills to be productive adults and they shared a love for reading and learning.

Gene Hefner (1918-1991) was born in St. Mary's, Kansas. His father worked in the local grocery store and his mother was a homemaker. Gene was a graduate of Clark's School of Business in Topeka. For most of his career, he was a professional business manager, and managed a Topeka family practice medical group for 30 years. He also served as a president of the Kansas Clinic Managers Association.

Reeselynn Saffell Hefner (1919-1994) was born in Berryton, Kansas. Her parents owned and operated a long-time downtown Topeka restaurant, Saffell Café, in the 1930s, '40s and '50s. Reeselynn attended Washburn University for two years. After marrying Gene in 1940, Reeselynn became a homemaker and mother to their four children.

Although neither Gene nor Reeselynn completed a college degree, both stressed the importance of education to their children. Their home was always filled with music and books. Reeselynn, in particular, was an avid reader and always had a room in their home designated as a library, one that housed her collection of everything from Shakespeare to the Harvard Classics.

Our parents would be pleased and honored to have this award named for them.
Winners of the Hefner Heitz Kansas Book Award
2016 - Poetry
Amy Fleury
Sympathetic Magic
View in our Catalog
Video

2017 - Fiction
Andrew Malan Milward
I Was a Revolutionary
View in our Catalog
Video

2018 - Literary Nonfiction
Louise Krug
Tilted
View in our Catalog
Video

2019 - Poetry
Patricia Traxler
Naming the Fires
View in our Catalog
Video

2020 - Fiction
Ben Lerner
The Topeka School
View in our Catalog
Video

2021 - Literary Nonfiction
Rebekah Taussig
Sitting Pretty: The View From My Ordinary Resilient Disabled Body
View in our Catalog
Video

2022 - Poetry
Michael Kleber-Diggs
Worldly Things
View in our Catalog

2023 - Fiction
Catherine Browder
Resurrection City

The Thomas Fox Averill Kansas Studies Collection is an eclectic, inclusive set of materials dedicated to the study of Kansas literature through the state's folklore, history, geography, flora, fauna, social fabric and culture. The holdings include novels, plays, collections of poetry and fiction, histories, biographies, memoirs, letters, scholarly articles, collected folklore, manuscripts and ephemera gathered over 40+ years. The addition of the James Mead Library gives a window into the reading habits of a prominent 19th Century Kansas with over 400 books dating from 1830-1907, The Averill collection is building an inclusive and exhaustive body of work dedicated to encouraging the reading and writing of Kansas Literature, as well as being a home for researching and writing about Kansas Literature and Culture.