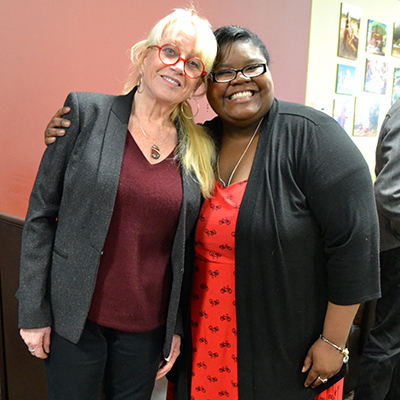 Founded by Author and winner of the 2019 Hefner Heitz Kansas Book Award in Poetry Patricia Traxler, the Judith Jacobson Traxler Award for Excellence in Writing is a $1000 award for a student enrolled and in good standing at Washburn University who is committed to becoming a literary writer. Preference will be given to a non-traditional female student who started college after age 21 and has displayed writing talent. Students are selected by Mabee Library in consultation with the Washburn University English Department. Pictured to the left are Patricia Traxler and Jossie Hicks, the first recipient of the award.
Award Recipients: Jossie Hicks (2019), Lierin Woods (2020), Michelle Hubler (2021), Emmy Pope (2022), Lydia Stuart (2023)
Judith Jacobson Traxler Award for Excellence in Writing
Patricia Traxler Tells The Story Behind the Judith Jacobson Traxler Award for Excellence in Writing
Judith Jacobson Traxler, my paternal grandmother, was born on October 30, 1888 in Randolf (Riley County), Kansas to a Swedish couple, Per (Peter) Fredrik Jacobson, a farmer and stonecutter, and Maria Bloomquist Jacobson. Maria was a strong and inspiring figure to her daughter: A talented singer and pianist, Maria had caught, trained, and sold wild horses in order to earn the money to buy a piano. Judith had a fierce will similar to her mother's, but her interests and talents were different: From childhood on, she was an inveterate reader who hoped to write and publish her own novels one day.
Judith became a teacher, and she remained one until she married my grandfather, Robert Burns Traxler, a second-generation Waterville homesteader and farmer. Literary as she was, Judith was delighted that her husband was a first cousin, four times removed, of the Scottish poet Robert Burns. They settled into the farming life, and she named their first son Robert Burns Traxler, Jr. Her second child was a daughter, Jeanne, and her youngest was my father, Donald. Although the life of a farm wife was demanding--even more so after she became the mother of three children--Judith spent her scarce and precious private hours writing short stories and novels.
Life took a devastating turn for the Traxler family and for many others across the nation with the Great Depression of 1929. In addition to this stranglehold on the economy throughout the 1930s, dangerous and destructive dust storms created what came to be known as the Dust Bowl Era or, more colloquially, "The Dirty Thirties." These dust storms could turn a noonday black as midnight and stop the necessary work of a farm family, sending them indoors to protect themselves from dust-pneumonia, a virulent killer. Kansans used knife-blades to press scraps of wet cloth or paper into the cracks around their doors and windows, and they went to sleep at night with wet handkerchiefs covering their faces to protect themselves from dust inhalation. Despite their efforts to block the dust from entering their homes, they woke each morning to find it laid thick and heavy on the cloths that covered their faces. Many Kansas farm families lost loved ones—particularly babies and the elderly--to dust-pneumonia.
The damage these dust storms caused to crops during this already economically depressed period was ruinous, and Judith and Robert suffered great financial losses throughout the entire decade, especially after plagues of crop-destroying grasshoppers followed the dust storms.
"Those 'hoppers could destroy an orchard in a single afternoon," my father told me many years later. "They would eat the paint off the side of a barn in just a couple of days, or take a fencepost down to the ground." These marauding insects devoured wheat, milo, soy, and alfalfa. Crops failed, and families already suffering losses from a depressed economy and the dust-storms now found themselves struggling for their very survival.
Throughout these years, despite their many hardships and the unending work of a farm wife, Judith continued to write during her scarce private hours at night while the family slept. She wrote everything by hand because there was no money for a typewriter. The bank had already come to take away her creamer and the precious sewing machine with which she made clothing for the family out of feed-sacks. One day--a day my father described to me long afterward--Judith mailed her first completed novel--all handwritten--to a New York publisher whose address she had found in the front pages of a published novel. The family was terribly proud of her, and Judith now allowed herself to hope that she might be at the threshold of a writing career.
Some weeks later, her novel manuscript came back in the mail with a letter from the publisher explaining that their policy was to read only typewritten work. That may have seemed to her family the end of Judith's hope of being a published writer, but the literary impulse has a stubborn life of its own. In her scarce private hours, Judith continued to write her books by hand. She kept them in a small room on the second floor of the farmhouse, showing them to no one. Her desire to write was the point, and it endured throughout her life, though no one realized it.
Years later, I was told by a cousin that after our grandparents had died and the old Traxler homestead in Waterville was being cleared out to be sold, the relatives doing the hard work of cleaning and emptying the rambling farmhouse found my grandmother's writings--manuscript after handwritten manuscript--in that small room upstairs. Dusty and yellowed, these manuscripts represented sixty years or more of my grandmother's life. No doubt these relatives were baffled and perplexed, tired from days of their grueling chore. I can't judge them for what they did, when I imagine the hard work of clearing out an old farmhouse of its decades of belongings and refuse, although I do find it a tragedy beyond measure: They carried all of Judith's handwritten manuscripts out of the farmhouse, piled them outside, and burned them in just the way a farmer might burn off stubble after a crop has been brought in--but this crop had not come to fruition, and it never would.
This is the reason I've decided to fund a writing award in the name of my grandmother. She was a teacher, a passionate reader, and a writer whose own works were never read. My wish is to give her the dignity of a connection to literary writing that eluded her during her lifetime, and I hope that each year a non-traditional student writer, struggling to get by but fueled by hope, talent, and a fierce desire to write, will benefit from this award and be encouraged to persevere. The writer's life is hard and often lonely even at its best, but a little worldly acknowledgment might offer enough encouragement to sustain that desire for a lifetime.