Winter weather policy
Washburn makes weather-related decisions by first considering the safety of our students, faculty and staff, and then the effect closing will have on our operations. Winter storms are common in Kansas and if the majority of students and employees can safely travel to our campuses, the university will likely be open.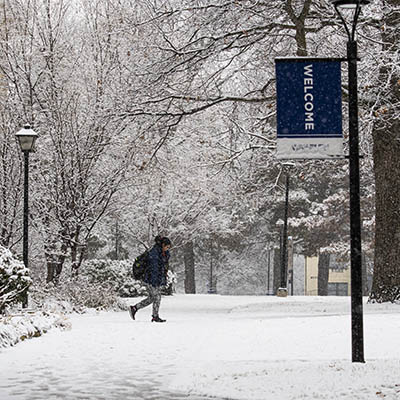 Safety is our first concern
Students, faculty and staff should make personal safety decisions based on their local conditions. Weather can vary greatly and conditions can change quickly. Please put your personal safety first.
If reports from public safety officials indicate that most students, faculty and staff can travel to and from campus safely, classes are likely to remain in session. We encourage you to make judgments about personal travel based on your local situation.
For information, please see the university operational procedures.
Sign up for notices about cancellations and closings
Communication to the campus community will be provided as quickly as possible based on the timing of the event. Here are some of the ways you can be notified:

Sign up for iAlerts. The iAlert system will be used when a decision to close a campus is made. iAlerts are delivered to student, faculty and staff via Washburn email and text message (if signed up). Parents may also sign up for iAlert messages. iAlert settings can be managed at washburn.edu/ialert.
Check the Washburn University homepage for information about cancellations. Refresh the webpage often for the latest updates.
Closings also will be relayed to local media.
Washburn does not issue "open" messages. If you do not receive notification that the university is closed, assume that it is open.
Administrators take many factors into consideration when it comes to closing campus.

The University president makes the decision to close campus. The Vice Presidents for Academic Affairs, Administration and Treasurer, and Student Life, in consultation with police and facilities officials, jointly develop a recommendation to the president.
Weather and travel information are gathered and considered, including:

Upcoming weather forecasts and conditions
The ability of emergency vehicles to access campus
The ability of university police to quickly respond to calls
The ability of facilities personnel to treat parking lots and sidewalks

Facilities staff treating and clearing parking lots, sidewalks and roads provide real-time evaluations of the weather and surface conditions.

Washburn's open status is determined independently of local school districts and businesses.

Closing campus affects classes, programs and services. Unlike public elementary and secondary schools, the university doesn't have built-in make-up days in the calendar and cannot extend the school year when days are lost.
Public school districts have different transportation considerations than university students and employees.
Weather conditions can vary greatly throughout the region due to weather fronts and storms. Decisions are made based on conditions affecting campus and the immediate area.