Mission Statement
The Bods Feeding Bods Food and Commodities Pantry contributes to the overall health and wellness of the Washburn University community and their families by providing free access to healthy food options as well as other essential needs.
Vision
No member of the Washburn University community should go hungry because of a lack of adequate income or access to food.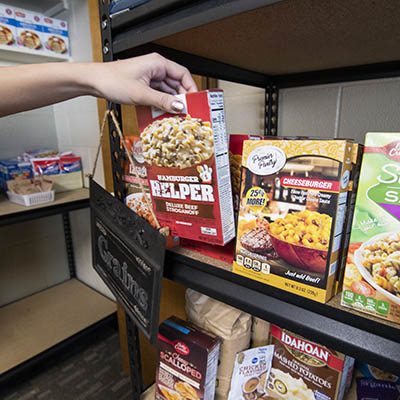 History of BFB
In the spring of 2014, Kelsey Rose, a LinC Bonner Scholar and psychology major, conducted a campus food insecurity survey for her Creative/Scholarly Washburn Transformational Experience. She was astounded to find that 50% of students who responded reported that they did not have enough to eat. Rose knew she needed to do something with that information and proceeded to bring together university partners to plan and build support for an on-campus food pantry.
Creating the pantry became her LinC Bonner Scholar project. With the support of many members of the Washburn University community, Bods Feeding Bods opened in a small storeroom in the basement of the Henderson Learning Center in November of 2014 and has been serving the Washburn community ever since. On MLK Jr. Day 2019, the pantry moved to its current home, Kuehne Hall Room 101. Over the years, Bods Feeding Bods has grown from offering just food to stocking other commodities such as hygiene items, clothing, kitchen supplies, and school supplies. 
GET IN TOUCH
WITH Bods Feeding Bods
Bods Feeding Bods
Room 101, Kuehne Hall
Topeka, KS 66621
Hours: 1 to 5 p.m., Mon - Sat when classes are in session