Washburn University's food and commodities pantry
Bods Feeding Bods is Washburn University's food and commodities pantry. We stock FREE groceries, household and hygiene items, and even books and school supplies. It is free and easy to use the pantry: just stop by during our open hours and show your WUID or share your WIN number. Then, shop the pantry like you would at a grocery store.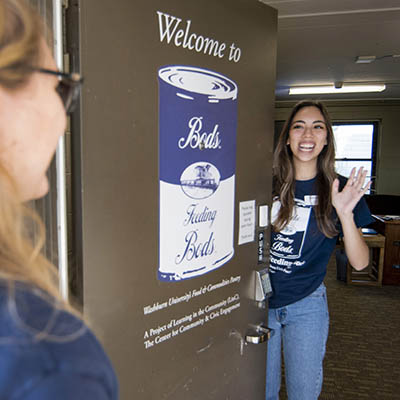 Who is eligible to use the Bods Feeding Bods Pantry?
Anyone with an active WUID or iCard can use the pantry for free including all Washburn University and Washburn Tech students and employees. There are no income requirements; all are welcome to use the pantry! You may also share the items that you get at the pantry with others (such as children or other adults whom you may live with).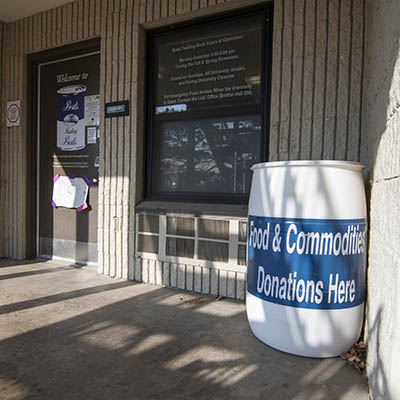 Find us in Kuehne Hall
The pantry is located in Kuehne Hall, Room 101 right next to parking lot 6.
Bods Feeding Bods pantry hours:
Monday through Saturday from 1 to 5 p.m. when classes are in session.
We are closed on all university breaks and during university closures (such as inclement weather). If our opening times do not work for you, contact us to arrange an alternate pickup time.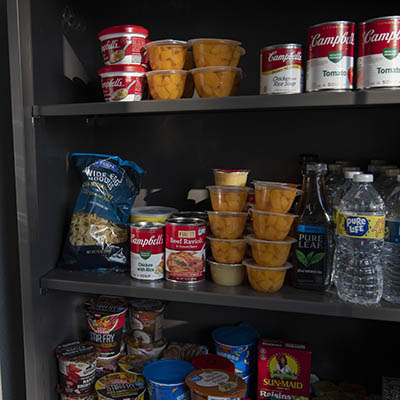 New outpost locations
Can't make it to the main pantry? BFB has three "Outposts" located around campus in Henderson Hall Room 224, Morgan Hall Room 236-B, and in the Village Commons.
The BFB Outposts stock food items that are quick and easy to eat in the moment, commodity items that you might need right now like hygiene products, and a microwave. The BFB Outposts are super convenient when you do not have time to visit the main pantry.
These Outposts are open whenever the building they are located in is open and do not require that you interact with a staff person to collect your items. Like the main pantry, all of the items are free to those who need them.
New dining "swipe" program
Bods Feeding Bods (BFB) has purchased $10,000 worth of dining "swipes" for students who run out or otherwise need additional swipes from Chartwells in Spring 2023. Any currently enrolled Washburn University undergraduate or graduate student who has no swipes remaining on their iCard can use the program.
Are you a WU Tech / GED, or ESOL student?
You can order online and have your items shipped to your WU Tech campus. We ship to the Huntoon campus, WU Tech East, and WU Tech Cosmetology.
Questions or comments?
For more information or to make an appointment for access when the pantry is not normally open, please contact us at bodsfeedingbods@washburn.edu.
GET IN TOUCH
WITH Bods Feeding Bods
Bods Feeding Bods
Room 101, Kuehne Hall
Topeka, KS 66621
Hours: 1 to 5 p.m., Mon - Sat when classes are in session