Washburn University Success Coaching helps eliminate barriers to success for first generation, low-income, underrepresented students. We do this by providing a one-on-one relationship with a Success Coach that empowers students to achieve their goals.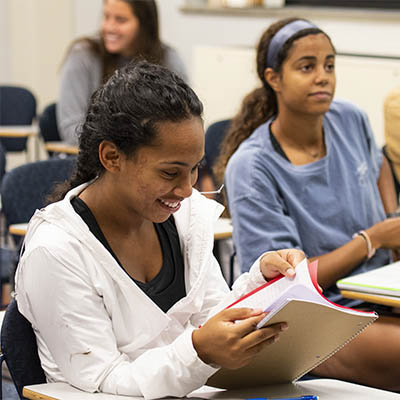 What is Success Coaching?
Success Coaching helps students develop and implement a holistic success strategy that supports their academic performance, retention, and on-time graduation.
A Success Coach works individually with students to develop the goals, dispositions, and skills needed for personal and academic success. Success Coaches also connect students with campus and community resources to promote equitable access to services and college success outcomes.
Who is Eligible?
Success Coaching services are primarily for students who meet one of these criteria:
First-Generation
Low-Income
Historically Underrepresented
Underprepared for College
Other students may receive services upon request and/or upon the approval of the Dean of University Libraries and the Center for Student Success and Retention.
Students, Do You Want a Coach?
Email Dr. Jennifer Wiard at jennifer.wiard@washburn.edu to request one. Be sure to provide your name and WIN.
Faculty/Staff, Do You Want to Refer a Student for Coaching?
You can do so in three ways.
Submit an Alert in Navigate using the "Success Coaching Referral" reason (preferred method).
Email Dr. Jennifer Wiard at jennifer.wiard@washburn.edu. Be sure to provide the student's name and WIN, and why you think they would be a good fit for Coaching.
Fill out the form below.
Referrals are most effective when received by Week 4 of the semester.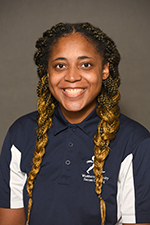 Shanise Brooks 
Hometown: Topeka, KS
High School: Highland Park HS

I became a Success Coach because when I started college, I had no idea what I wanted to study. I immediately felt overwhelmed by the mental and physical strains of playing college basketball while also being a student, and felt intimidated by my professors and peers. I went through a major case of imposter syndrome, but eventually found my fit.

After some self-reflection, I discovered that I enjoyed learning about the human body and health. I decided to major in Biology while earning and keeping a starting spot on the basketball team. I made up my mind that if there were people smarter, faster, or stronger than me, it didn't matter. I was going to outwork them! I graduated with honors and became a starter for a D1 program. I led my team in rebounds, blocks, and points at both the junior college and D1 level. I'm here to tell you that you can do anything as long as you are willing to put in the work!
My advice for college success:
Don't be afraid to ask for help
Do something every day that reduces stress
Always show up to class early
---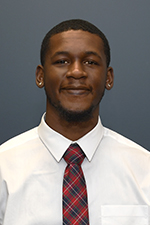 O'Shai Clark 
Hometown: Topeka, KS
High School: Highland Park HS

I became a Success Coach because being a first-generation college student was difficult for me. I grew up in a single-parent household, was a teen parent myself, and a full-time student athlete as well. I struggled to find an environment where I felt welcomed and accepted to not only be who I am, but also to chase my dreams with conviction. I take pride in letting people know that I attended 3 different colleges (Dodge City CC, Mid-America Nazarene, and Lincoln University of Missouri) searching for a place that felt right for me, and, I still graduated in just 4 years!

My biggest challenge in college was my mom having a massive stroke while I was balancing school, family, basketball, and trying to create a better future for myself. I want students going through tough times to know they're never alone, and can still achieve their dreams.
My advice for college success:
Your "why" should always outweigh your "why nots" in any adversity you go through.
"If you're going through hell, why would you stop in the middle?"
Get what you deserve!
---
Verlisa Cradle 
Hometown: Topeka, KS
High School: Highland Park HS

I started my college journey in Upward Bound Math and Science (through Kansas State University), where I learned first-hand how much individual support makes a difference for students. Looking back, this experience helped lead me to wanting to become a Success Coach. I attended K-State for three years before coming to Washburn University to be closer to my family. I originally majored in Nursing and worked at Stormont-Vail and Lexington Park while in college, but I started to realize that Nursing wasn't for me.

I changed my major to Integrated Studies with a certification in Child Life Specialist and a minor in Leadership. This switch allowed me to get to know my patients in a deeper way rather than just doing routine checkups and distributing medication. I loved this more holistic approach to helping people, and am currently pursuing my Master's degree in Social Work. I had so many people help and support me on my winding college journey, and I want to be the mentor to other students that those supporters were to me.
My advice for college success:
Each semester, step back and reassess to ensure that you're not just going through the motion of college, but enjoying it!
No one does college alone.
Use your resources!
---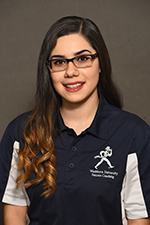 Yalitza Gonzalez 
Hometown: Dodge City/ Topeka, KS
High School: Topeka High

I am a bilingual, first-generation student who was born in Dodge City but raised in Topeka. I became a Success Coach because I was a full-time mom and wife during my entire college career. It was very challenging, but I knew I had to finish school to prove to myself that I could do it.

Originally, I wanted to major in Elementary Education, but explored my options a little more and fell in love with Social Work. It had much more to offer and better aligned with my values. I earned my Bachelor's Degree in Social Work from Washburn University in 2019. During my time at Washburn, I joined Hispanic American Leadership Association (HALO) and Washburn Student Social Work Association (WSSWA). Eventually, I became vice-president for both and am so happy that I did because I made lots of lifelong friends and connections.
My advice for college success:
Find your people on campus, and get involved!
Use your planner every day.
Ask questions!
How often do I meet with my Success Coach?
Appointments are tailored to your individual needs and goals. Students meet with their Success Coach at least once a month, and as frequently as once a week.
---
When is Success Coaching available to me?
Appointments are available Monday-Friday from 8am-4pm. Some Coaches are also available for evening appointments.
---
How do I schedule an appointment?
Use your Navigate app to schedule an appointment with your assigned Success Coach.
---
Where do I go for my appointment?
Success Coaches are located in Mabee Library, Room 201. Simply check in at the Academic Advising desk.
---
How long will I receive coaching?
For most students, your Success Coach will work with you until you graduate.
The Title III Strengthening Institutions Grant expands Washburn's capacity to serve low-income students by providing funds to improve and strengthen our academic quality, institutional management and fiscal stability. We do this by partnering with multiple programs throughout the university including Washburn University Success Coaching, the Center for Teaching Engagement and Learning, and the Math lab in Mabee library.