Washburn University Success Coaching helps eliminate barriers to success for first generation, low-income, underrepresented students. We do this by providing a one-on-one relationship with a Success Coach that empowers students to achieve their goals.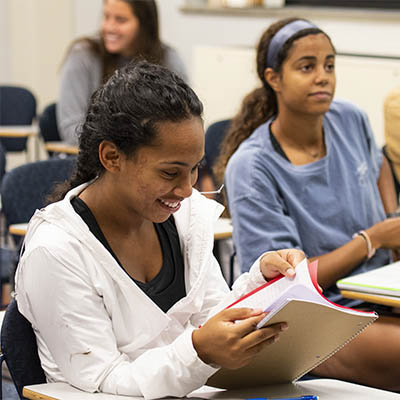 What is Success Coaching?
Success Coaching helps students develop and implement a holistic success strategy that supports their academic performance, retention, and on-time graduation.
A Success Coach works individually with students to develop the goals, dispositions, and skills needed for personal and academic success. Success Coaches also connect students with campus and community resources to promote equitable access to services and college success outcomes.
Who is Eligible?
Success Coaching services are primarily for students who meet one of these criteria:
First-Generation
Low-Income
Historically Underrepresented
Underprepared for College
Other students may receive services upon request and/or upon the approval of the Dean of University Libraries and the Center for Student Success and Retention.
Need help with terms? Take a look at our Glossary of Terms.
How Do I Get a Coach?
We accept referrals to Success Coaching services on a rolling basis from Washburn students, faculty, and staff.
Students, use the "Hand Raise" feature in your Navigate App to request a Success Coach.
Faculty/Staff, submit an Alert in Navigate using the "Success Coaching Referral" reason.
Once we receive a request or referral, we will verify the student's program eligibility. Please allow up to one week for us to complete this process.
Referrals are most effective when received by Week 4 of the semester.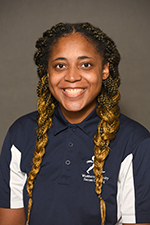 Shanise Brooks 
Hometown: Topeka, KS
High School: Highland Park HS

I became a Success Coach because when I started college, I had no idea what I wanted to study. I immediately felt overwhelmed by the mental and physical strains of playing college basketball while also being a student, and felt intimidated by my professors and peers. I went through a major case of imposter syndrome, but eventually found my fit.

After some self-reflection, I discovered that I enjoyed learning about the human body and health. I decided to major in Biology while earning and keeping a starting spot on the basketball team. I made up my mind that if there were people smarter, faster, or stronger than me, it didn't matter. I was going to outwork them! I graduated with honors and became a starter for a D1 program. I led my team in rebounds, blocks, and points at both the junior college and D1 level. I'm here to tell you that you can do anything as long as you are willing to put in the work!
My advice for college success:
Don't be afraid to ask for help
Do something every day that reduces stress
Always show up to class early
---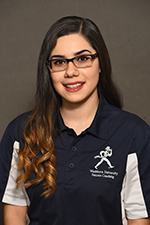 Yalitza Gonzalez 
Hometown: Dodge City/ Topeka, KS
High School: Topeka High

I am a bilingual, first-generation student who was born in Dodge City but raised in Topeka. I became a Success Coach because I was a full-time mom and wife during my entire college career. It was very challenging, but I knew I had to finish school to prove to myself that I could do it.

Originally, I wanted to major in Elementary Education, but explored my options a little more and fell in love with Social Work. It had much more to offer and better aligned with my values. I earned my Bachelor's Degree in Social Work from Washburn University in 2019. During my time at Washburn, I joined Hispanic American Leadership Association (HALO) and Washburn Student Social Work Association (WSSWA). Eventually, I became vice-president for both and am so happy that I did because I made lots of lifelong friends and connections.
My advice for college success:
Find your people on campus, and get involved!
Use your planner every day.
Ask questions!
---
Christine M. Johnson
Hometown: Pittsburgh, Pennsylvania
University of Pittsburgh

Early on, I found myself on college campuses with my mother as she ran assignments to instructors or gathered with the campus newspaper crew. I loved everything about the college campus but didn't know how I was going to get there. I loved acting, working with athletes, and thinking through systems. What major would all that fit into? When the acceptance packet from the University of Pittsburgh arrived, I couldn't do anything but cry. I was tired from just getting accepted, now I felt alone in trying to figure out everything else that would keep me there. I didn't realize there were others feeling like me.

That first day in a ballroom with sixty students we met Ariel Burgos who would become our mentor, advisor, and coach for our time there. He was passionate about student success and stuck with us the entire time. He challenged me when I couldn't decide on a major, made me laugh in times of loss, and inspired me to finish my Liberal Arts Degree. If you ask me why I wanted to be a Student Success coach, it started that day I entered his office. Empowering, inspiring, and coaching others.
My advice for college success:
Take advantage of all that the University has to offer.
Don't be afraid to take risks.
Write down your goals and review them.
How often do I meet with my Success Coach?
Appointments are tailored to your individual needs and goals. Students meet with their Success Coach at least once a month, and as frequently as once a week.
---
When is Success Coaching available to me?
Appointments are available Monday-Friday from 8am-4pm. Coaches are also available for evening sessions by appointment. Walk-In hours for Spring 2023 are:
Mondays and Thursdays, 8:30-9:30am
Wednesdays, 9-10am
---
How do I schedule an appointment?
Use your Navigate app to schedule an appointment with your assigned Success Coach.
---
Where do I go for my appointment?
Success Coaches are located in Mabee Library, Room 201. Simply check in at the Academic Advising desk.
---
How long will I receive coaching?
For most students, your Success Coach will work with you until you graduate.
The Title III Strengthening Institutions Grant expands Washburn's capacity to serve low-income students by providing funds to improve and strengthen our academic quality, institutional management and fiscal stability. We do this by partnering with multiple programs throughout the university including Washburn University Success Coaching, the Center for Teaching Engagement and Learning, and the Math lab in Mabee library.