Why minor in Women's and Gender Studies at Washburn?
No matter your major, a minor in Women's and Gender Studies is a good fit for you if you are interested in the status of women in the past, present and future. Women's and Gender Studies explores the connections between race and ethnicity, class, sexual identity and gender as they impact people's lives in a variety of cultural and historical contexts.
What is a minor?
A minor is a concentration in an area that is not as in-depth as a major, but can be added to a major to broaden or deepen your skills and knowledge in a particular area of interest. This is an interdisciplinary minor, which means it draws from several disciplines to provide different perspectives as you study.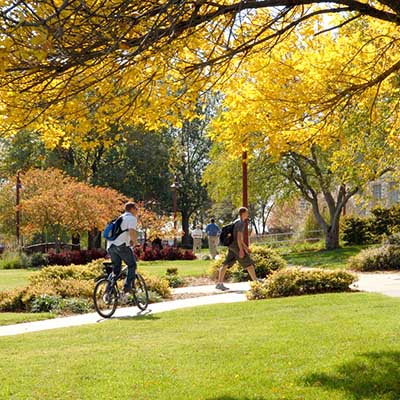 A 6-course program
The Women's and Gender Studies minor requires 18 credits (6 courses) and combines required courses with electives in anthropology, criminal justice, communication studies, English, history, nursing or psychology, depending on your specific interests.
Courses applied to this minor will critically examine the social, historical, psychological, literary, artistic, philosophic and biological roles of women and gender. You'll gain a fuller understanding of the multidimensional nature of personhood, and explore the connections between theory and practice. Women's and Gender Studies encourages applied learning through internships, community involvement projects, research and community engaged learning courses.
Required Courses:
WG 175: Introduction to Women's and Gender Studies
WG 400: Women's and Gender Studies Capstone
*Courses which may be applied to the minor:
AN 321 Anthropology of Women
CJ 314 Women in Criminal Justice: Offenders, Employees and Victims
CN 364 Gender Communication
CN 361 Communication in Social Movements
EN 214 Women and Literature
EN 396 Topics in Women and Literature
HI 315 Women in US History
HI 300 Women and Gender in Early America (Special Topics)
HI 380 Women in World History
WG 375 Women and Popular Culture
NU 382 Women's Health Issues
PY 339 History and Psychology of Sex and Gender 
*This list is not exhaustive.
Connect!
Ready to create your study plan? Contact Jeannette Nobo, academic advisor in the College of Arts and Sciences, at jeannette.nobo@washburn.edu.