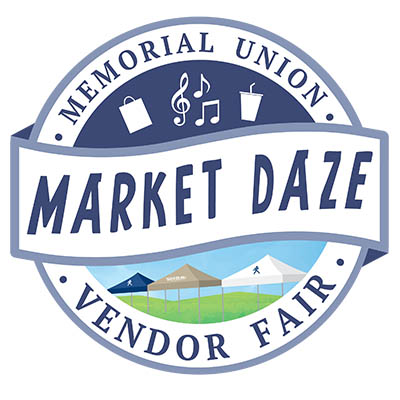 Wednesday, September 1, 2021 | 10:00 am - 1:00 pm
The Memorial Union is offering an incredible opportunity for vendors to showcase their products or events to hundreds of Washburn University students, faculty, and staff.​
From 10:00 a.m. – 1:00 p.m. (9:00 a.m.-10:00 a.m. set-up) on Wednesday, September 1, 2021, organizations and vendors can reserve a ten-by-ten space on the Union's outdoor patio, along with a 6'x30' table and 2 chairs from which to promote their products or events.
The Washburn® Market Daze will be held on an uncovered portion of the north patio, vendors may bring their own tents by obtaining advance permission from the University Scheduling office.
Register your company or organization here. Deadline for registration with vendors outside Washburn University and Washburn University organizations is August 25, 2021. Any further questions should be directed to the University Scheduling office at universityscheduling@washburn.edu or 785-670-1725.
When filling out the Washburn® Market Daze registration, please be prepared to provide your organization's name, address, email, and phone contact information as well as the nature of your company or group and what you will be providing as a sample or giveaway. You will also need to specify if you require electricity as there are limited spaces available for power needs.
Your registration is not complete until we have also received your signed event waiver.
Washburn® Market Daze is a free event to companies and organizations as long as a product or service is provided to the attendees. Samples for 300 and marketing materials for 400 should be the minimum product provided. (Our history has shown 400-800 have attended past events.)
A signed event waiver form must be received by the Scheduling department before September 1, 2021.
Tabling
Vendors/Organizations must show a confirmation email from the University Scheduling office in order to table
Waivers must be received before vendors/organizations are allowed to table
Vendors must check in with the Memorial Union's Start Tent before tabling
One 6' x 30' table and two chairs will be provided
On the event day tables are assigned. The Memorial Union reserves the right to move vendors to ensure distribution of concepts
Tables are not to be moved
Vendors/Organizations must stay within their space while promoting services
Prohibited Items and Services
Housing vendors
Credit Card vendors
WU Logo materials that are not provided as a give-a-way
Books and Textbooks
Bars and Nightclubs or any Happy Hour specials
Tobacco Products
Any services deemed in direct competition with Memorial Union vendors by University Scheduling office
Political campaigning
Prohibited Activities when Tabling
Petitions cannot be signed or distributed during tabling
Advertising for bars or alcohol is strictly prohibited
Student groups shall not partner with any outside business when tabling unless there is a direct connection to the organization's mission and vision
Music is prohibited with the exception of the patio stage area (entertainment provided by the Memorial Union)