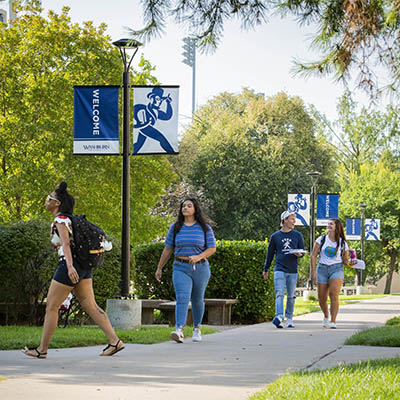 Earn money and gain experience working on campus
College is all about balancing responsibilities, time management, and pursuing your passions. On-campus student employment provides Ichabods opportunities to work around hectic schedules, gain valuable hands-on work experiences, and utilizes your degree and/or learn more about other degrees that may be of interest. We have two different categories of student employment and a variety of positions available.
Visit the student employment website to apply today!
Positions at the Memorial Union
Building Services Team:

Is responsible for two basic functions within the Memorial Union, Bradbury Thompson Alumni Center, Carol Chapel, and Bianchino Pavilion: Event set up and tear down crew. Assist custodian staff in maintaining the facility.
Apply Now : 

https://washburn.peopleadmin.com/postings/3568

Building Manager:

Is the primary Memorial Union student staff serving as supervisor at all times the building is open. The Building Manager is the resource liaison to various
Memorial Union Departments, public relations, operation and event trouble shooting, building security, facility and event supervisor, BST leader and mentor as well as assistant to the facility manager.
Apply Now : 

https://washburn.peopleadmin.com/postings/3565

Meeting Room Technology Assistant :

Serves as a Building Manager when needed and assists with meeting room technology. Primary duties will include involvement in all areas of technology in the meeting rooms including: audio/video set up & tear down, presentation connection, lighting scenarios, and production assistance.
Apply Now : 

https://washburn.peopleadmin.com/postings/3569

Marketing Intern:

Serves as a Building Manager when needed. Primary duties are creating events and designs all marketing specific to the Memorial Union, maintains website, social media, electronic signage, and the Tunion music and ads, and lastly works with the marketing team of all departments in the Union to create a cohesive event schedule and communication pathway.
Link coming soon
More Opportunities in the Memorial Union
We have many other departments in the Memorial Union who have student employment opportunities. Please check out these websites for additional information.
GET IN TOUCH
WITH the Memorial Union
Phone
785-670-1726 (Director's Office)
785-670-1454 (Business & Auxiliaries Office)

Address
1700 SW College, Topeka KS 66621
Google Map