What is HIT?
Reliable and valid health information is vital to the health care industry, to researchers, and legal and financial professionals.  Public health officials depend on medical records for information about disease patterns and general health conditions.  Hospitals depend on accurate medical records for patient care, health statistics, reimbursement and protection in medico-legal matters.
Washburn University's Health Information Technology program offers: 
Certificate in Health Information Coding
Associate of Science (AS) degree in Health Information Technology
These programs are online and require that you have access to the Internet and have basic computer skills. 
Graduates of this program will find a wide variety of exciting career opportunities in ambulatory health care facilities, industrial clinics, state and federal health agencies, skilled and intermediate care nursing facilities, the insurance industry, managed care organizations, and hospitals.
Program Outcomes
The following data is provided regarding the health information technology program offered by Washburn University. The data is based on graduates of the associate degree program during the period August 1, 2019 through July 31, 2020. 
     Associate of Science Degree
     Health Information Technology
     Department Allied Health
     Washburn University 
    www.washburn.edu/hit
Graduation rate: 75%1
Employment rate: 88%2
Student satisfaction rate: 100%3
Certification exam pass rate (first-time test takers): 100%
1reflects percent of graduates completing the program within 150% of published program length
2reflects percent of graduates employed within 6 months of graduation
3reflects percent of students who have acknowledged satisfaction with their educational experience in the program, based on a student satisfaction survey
Contact the Program Faculty
Michelle Shipley, Program Director          785.670.2174

Stacie Hawkins, Clinical Coordinator       785.670.2218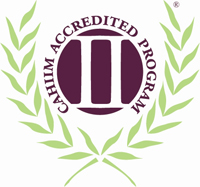 The HEALTH INFORMATION MANAGEMENT accreditor of Washburn University is the Commission on Accreditation for Health Informatics and Information Management Education (CAHIIM). The College's accreditation for the ASSOCIATE degree in HEALTH INFORMATION MANAGEMENT has been reaffirmed through 2028-2029. All inquiries about the program's accreditation status should be directed by mail to CAHIIM, 200 East Randolph Street, Suite 5100, Chicago, IL, 60601; by phone at (312) 235-3255; or by email at info@cahiim.org.
GET IN TOUCH
WITH Allied Health
Allied Health
Benton Hall, Room 107
1700 SW College Ave.
Topeka, KS 66621