Featured alumni of the clinical psychology graduate degree program
Valerie Peckham
Valerie Peckham enjoyed a successful run in sales and customer service, but she realized that it wasn't the career she wanted. After years of counseling people on their decisions, she decided she wanted to work in psychology.
While looking at several universities, Peckham established a connection at Washburn that made her choice of college an easy one.
"I called the Washburn Department of Psychology, and spoke with the chair of the department, who was very welcoming and very informative, and invited me to come in and meet in person," she said.
Peckham ended up at Washburn, where she received a bachelor's and master's degree in psychology. She is now a licensed clinical psychotherapist with her own practice in Lawrence, Kansas.
"I've known individuals who've graduated from programs from other universities, and they have not felt as prepared as I felt when I graduated from Washburn's program," Peckham said. "In this field, it's important to be prepared because when you graduate and you get a job as a practicing clinician, you are responsible for people's lives."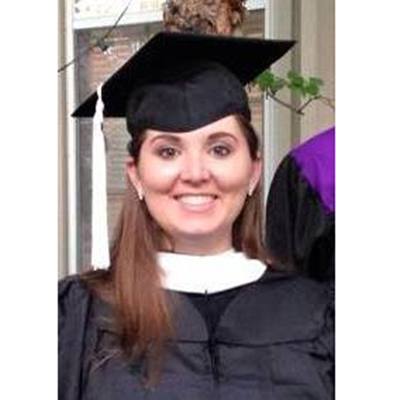 Lindsey Jenkins
Lindsey Jenkins graduated from Washburn in May 2015 with a Master of Arts in Psychology with an emphasis in Clinical Psychology. Her undergraduate degree is from the University of Tulsa, where she obtained a Bachelor of Science in Psychology with a minor in Music in May 2011. Her interest in psychology began in her freshman year of college at the University of Tulsa.  She was planning on going to optometry school, but changed her mind after taking a Foundations in Psychology course.
"I realized that I could integrate my love of math, biological science, and psychology with a career in psychology," Lindsey said.
Lindsey's research interests include military psychology and neuropsychology, in areas related to concussions and traumatic brain injury. She will continue her studies at the University of Kansas to pursue a Ph.D. in Counseling Psychology. After that she plans to obtain post-doctoral training in neuropsychology.
"Ultimately, I hope to be employed in a hospital setting where I can engage in research and clinical work with individuals suffering from neurodegenerative diseases, traumatic brain injury, or concussions," she said.
Lindsey chose Washburn's program because it met all of her criteria.  "Washburn's master's in psychology program peaked my interest because I was looking for a program that taught evidence-based treatments, provided practicum and clinical experience, encouraged research experience and required a one-year internship," Lindsey said.
In her time at Washburn, Lindsey served in several assistantship positions, including Assessment Teaching Assistant for a few graduate-level courses, Sports Psychology Assistant working with the women's soccer team at Washburn, and ADHD Clinic Assistant. She completed a clinical internship with Counseling Services at Washburn where she provided individual psychotherapy and completed personality assessments. Lindsey was also honored with scholarships and awards including Most Outstanding First-Year Graduate Student in 2013 and the Outstanding Internship Graduate Student Award in 2015.
Lindsey is thankful for her experience at Washburn. "As I reflect back upon my time as a graduate student, I am grateful for the support of my professors at Washburn University, the professional opportunities provided to me, and for the classroom and practicum experiences that have taught me about the field of psychology and about myself," she said. We wish her the best as she goes on to get her Ph.D. from the University of Kansas.
GET IN TOUCH
WITH Department of Psychology
Department of Psychology
Henderson Learning Resource Center, Room 211
Washburn University
1700 SW College Ave.
Topeka, KS 66621