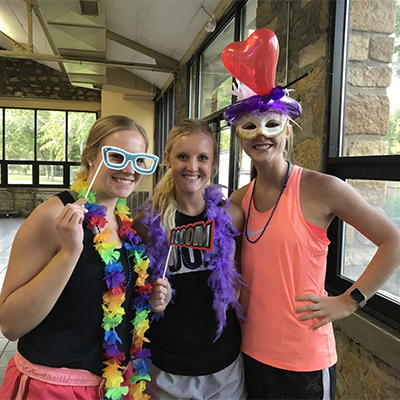 Mentoring Program
Welcome to the Washburn University School of Nursing Mentoring Program. This program fosters positive and meaningful relations between students. Peer mentors are a resource to mentees in helping them achieve mutual academic goals and build a support system for their journey through nursing school.
A mentee is a person who chooses to expand their knowledge and competencies to make the most of their Washburn University School of Nursing experience.  Mentees collaborate with a peer mentor by maintaining regular contact and meeting in-person to work on mutually identified goals. 
Click on the "Sign Up Here" on the bottom of this webpage and complete the application form.
A mentor is a guide, confidant, or facilitator who creates a supportive climate for learning and growth.  Mentors are eager to give back to their fellow students in their majors by sharing their own knowledge and experiences.
Being a mentor can help a student grow and develop into a professional, it is an investment in your future.  By sharing your wisdom and expertise you connect with fellow nursing students and develop valuable leadership skills.
As a mentor you will teach your mentee how to navigate through nursing school and understand the future steps.  You will serve as a coach and support system and be a positive role model.  
What are my responsibilities as a Mentor?
As a Mentor you will initiate contact with your mentee within one week of assignment to set up an in-person meeting.  If contacts have failed after three attempts notify the Advisor, Susan Maendele.  You will also be responsible for follow-up phone and email contacts starting on a weekly basis.
What's the criteria to be a Mentor?
Must be a current Level 2 or above nursing major and have knowledge of the School of Nursing.
Willing to invest time, energy and interest in the support of a nursing student
Understanding and participation in academic and/or social activities is encouraged
Possess a sense of enthusiasm and humor
Abide by the School of Nursing Academic Integrity Policy
GET IN TOUCH
WITH School of Nursing
School of Nursing
Petro Allied Health Center
1700 SW College Ave.
Topeka, KS 66621-1117

Phone & Fax
Ph: 785.670.1525
Fax: 785.670.1032