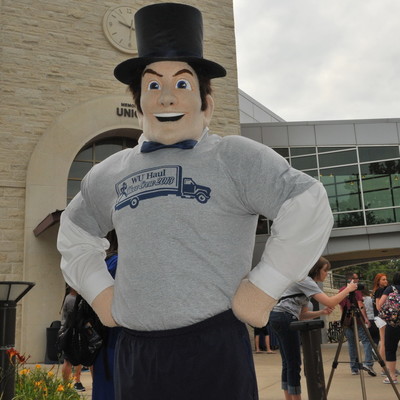 How to Apply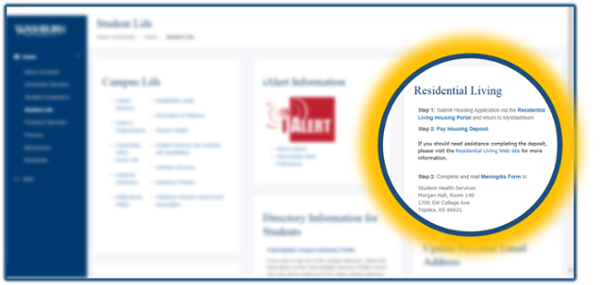 Log onto your MyWashburn* at www.my.washburn.edu
Select the Student Life tab on the left hand side
On the top-right corner of the screen, in a box titled Residential Living, select the Residential Living Housing Portal link (see image above)
Select the Application tab 
*All current Washburn students are given access to their MyWashburn account once accepted to the University. If you have not been accepted to Washburn, please contact our Admissions office at: admissions@washburn.edu.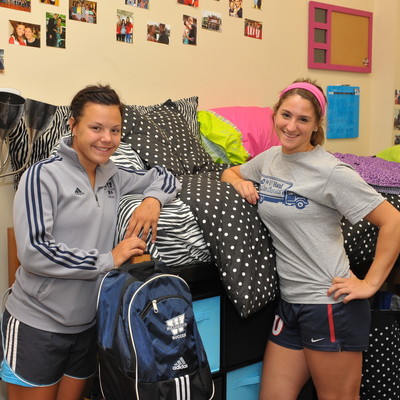 Room & Board Rates
Students who live on campus are required to carry a meal plan. Want to learn more about our Meal Plans?  Visit our Room & Board Costs Page!
Find a Hall that Suits Your Needs
Fraternity & Sorority Housing
Community Policies & Expectations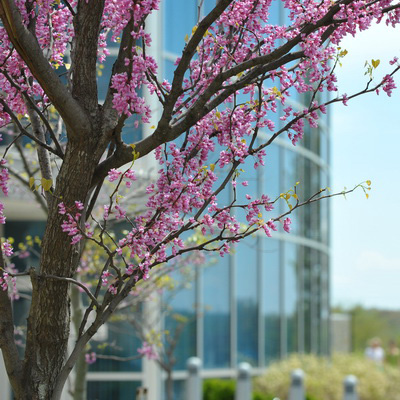 Residential Living Handbook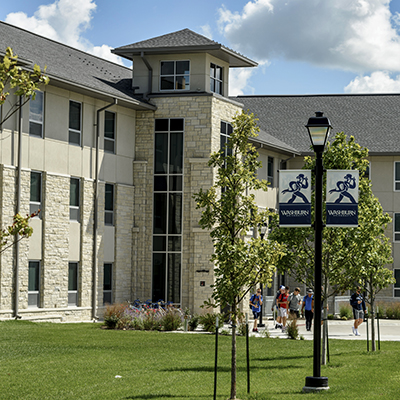 Your Campus Home
Living on campus isn't just about the ease of getting to class and activities - it is about late-night study sessions, meeting life-long friends and learning new things about yourself. There is nothing quite like living and learning in the heart of the Washburn community. To help everyone find the right home, we offer six housing facilities with traditional, suite-style and apartment options. No matter what your choice, you'll be safe with secure facilities and our very own Washburn University Police Department on duty 24/7.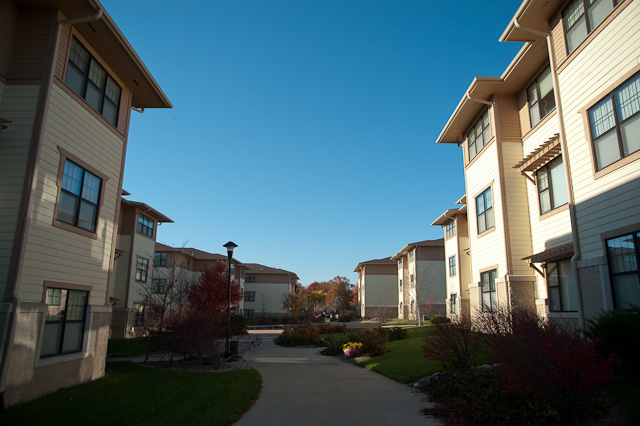 What are the benefits of living on campus?
Studies show that students who live on campus tend to:
Complete more credit hours and have higher grade point averages
Become more involved with the campus community
Get involved and become part of the campus community
Complete their degree at their initial institution
Show greater gains in student development and interpersonal self-esteem
Express greater satisfaction with their undergraduate experience!
Persist and graduate with greater frequency
Here are just few of the advantages of living on campus:
Countless opportunities to meet new people and develop lasting friendships
Social, educational and recreational opportunities
Rates include electricity, heat, water, sewer, waste removal, Internet connection and internet based entertainment services
Service Desk staff for help with packages as well as access to kitchen utensils and other items for residential student use
Easy walking distance to campus services, labs, classrooms, library, the Union and athletic facilities - no commuting hassles!
Trained staff available for study, study groups and social events
Opportunities to participate in the Residence Hall Association (student government)
All residents have a personal mail box to receive mail
Laundry facilities within the complex for residents only.
Minimal housekeeping and cooking means more time to study and play
No driving to classes in winter weather
We look forward to having you on campus.  Go 'Bods!
Mission Statement
Residential Living will cultivate a supportive living and learning environment for all residents that encourages community development, personal growth, and academic excellence.
GET IN TOUCH
WITH Residential Living
Residential Living
Washburn Residential Living Office
Living Learning Center
1801 SW Jewell Ave.
Topeka, KS 66621

Hours
Monday - Friday
8 a.m. - 5 p.m.