Chapters That Offer Housing
The mission of the Washburn fraternity and sorority community is the development of life-long membership, strengthening the character of the individual and promoting excellence, while preparing members for a competitive global environment. Joining a fraternity or sorority is an excellent way to meet people, get engaged in campus life, learn new leadership skills, focus on your academics and give back to your community. Learn more by visiting Fraternity & Sorority Life.
Living in a Chapter house fulfills Washburn's live-on requirements for first-year students. While these organizations are recognized student organizations at Washburn, five of the chapter houses are a private residence and students should fully explore lease terms and living arrangements before signing a contract.
Fraternity Houses
We currently have five chartered chapters at Washburn University. One chapter, Kappa Alpha Psi, is a member of Multicultural Greek Council (MGC) and participates in Recruitment In-take. Our other four chapters are members of Interfraternity Council and participate in a continuous open recruitment process that happens throughout the year. Three chapters have houses.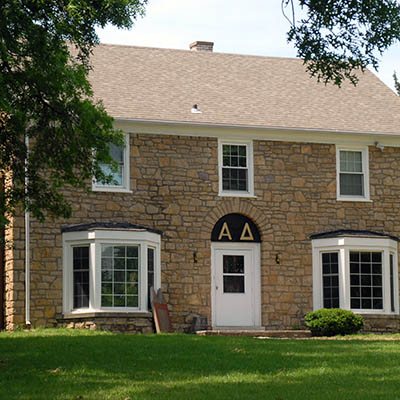 Alpha Delta
1919 SW MacVicar Avenue l Topeka l 66604
Alpha Delta is located directly across from the University campus. Offering spacious two-person rooms in its recently renovated facility, it offers one of the best values in student housing at Washburn University. Brothers receive complimentary breakfasts, Monday night catered dinners, high speed internet, cable TV, and security- monitored and lighted off street parking among numerous benefits.....all at a reasonable cost.
Different from the typical "dorm environment", the Alpha Delta house was originally the home of a prosperous Topeka physician and has been expanded to house up to 30 residents. It offers the amenities of a fine home with two sitting rooms, two relaxing lounges, beautiful up to date kitchen with multiple microwaves, formal dining room , chapter meeting room, large lawn and a volley ball court. It offers the largest private "square foot per member" of any living alternative at Washburn.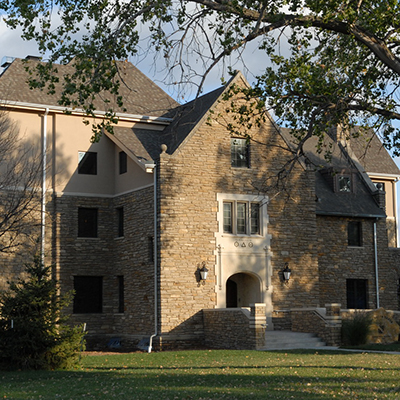 Phi Delta Theta
1810 SW Mulvane Avenue l Topeka l 66621
The Phi Delta Theta fraternity is the only greek house managed within the Residential Living Office. The house was constructed on the east side of Washburn's campus in 1927. During World War II the house was used to train Naval Airmen, this is how the tradition of using nautical terminology in the house evolved. The house was one of the few buildings that survived the 1966 tornado that destroyed most of the campus. This historical landmark was renovated in 2011.
Today, it is home to 22 Washburn students. The brotherhood is proud to share that they were the first national fraternity that went alcohol free in 2000, leading the way for other organizations.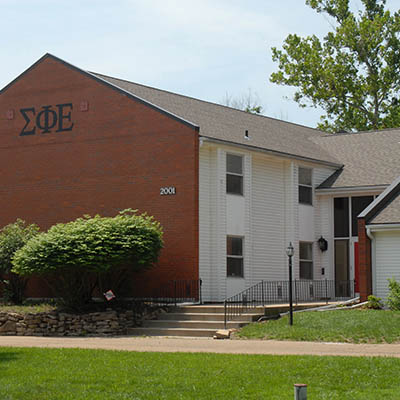 Sigma Phi Epsilon
2001 SW MacVicar Avenue l Topeka l 66604
SigEp was one of the first fraternities in the country to do away with the pledge model, and make all new members brothers the moment they sign. SigEp won't give you the traditional picture of "greek life" that the movies portray. While they do still like to have fun, SigEp provides you with tools and knowledge to become a better version of who you are. SigEp is and always will be about brotherhood. That will never change.
SigEp has always held academia in high standards. They strive to always be above the SigEp National standard by at least 0.2 GPA, and through programs like SigEp Study Night, or our fully stocked study room, we can accomplish this.
Sorority Houses
Washburn University currently has seven chartered chapters at Washburn University. Four chapters, Alpha Kappa Alpha Sorority Inc., Gamma Phi Omega Sorority Inc., Sigma Lambda Gamma Sorority Inc., and Zeta Phi Beta Sorority, Inc. are members of Multicultural Greek Council (MGC) and participate in Recruitment In-take. Our other three chapters are members of Panhellenic Council and participate in a formal recruitment process that happens every fall semester. These three chapters have houses.
Alpha Phi
1839 SW Jewell Avenue l Topeka l 66621
Alpha Phi sisters cherish life-long friendships rooted in kindness, love and respect for one another. They believe in the concept of Watchcare - a tenet of their sisterhood which encourages support of one another through the good times and the bad. This may mean helping one another out with academics or providing much needed support during a difficult time.
Alpha Phi has a strong academic program that includes awards and incentives for good grades as well as support from sisters. An Alpha Phi can be found in nearly every study, ranging from political science to nursing. Part of what defines the character of each and every one of the sisters is her drive to succeed and fulfill her academic and career goals.
Delta Gamma
1915 SW MacVicar Avenue l Topeka l 66604
Delta Gamma actively works toward bettering their chapter as a whole and individually to promote educational and cultural interests. The Alpha Kappa chapter encourages members to seek out opportunities to grow. Women of the chapter have been on mission trips, travelled abroad, hosted women for Ichabods at Night and bring awareness to events regarding diversity and inclusion.
Delta Gamma prides themselves in taking leadership positions both on and off campus, as well as in the Topeka community. When the Alpha Kappa chapter of Delta Gamma was formed, the members of the chapter consisted of many leaders on campus including members of the KAW and the Review, the Student Council, the Drama Club, the local honorary scholastic fraternity, Tau Delta Pi, and the honorary society for Washburn Women, NONOSO. Currently, we have members of the Review, the Washburn Student Government Association, Campus Activities Board, Student Ambassadors, NONOSO and much more.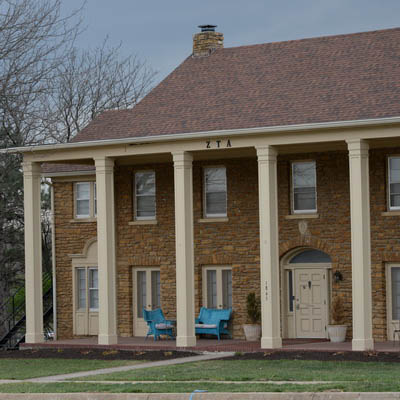 Zeta Tau Alpha
1845 SW Jewell Avenue l Topeka l 66621
As a chapter, ZTA's purpose is to foster and intensify a friendship that will carry women through their college experience and throughout their lifetime. Their sisterhood is one that is conducive to the building up of a purer and nobler womanhood in the world.
They encourage and support their women with resources to help them succeed academically. For example, they have a Zeta Library with resources and used textbooks for women to use throughout their courses. They are proud of their sisters' tremendous dedication and achievements such as being inducted into national honor societies and continuously improving the overall chapter GPA.