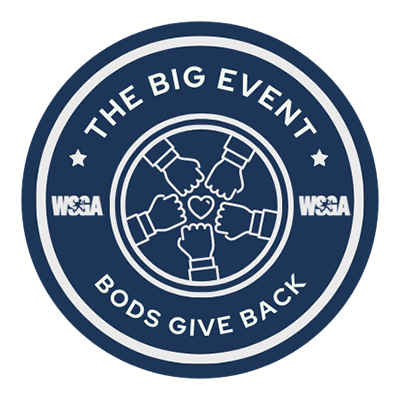 What is The Big Event?
The Big Event is Washburn's annual community service event sponsored by the Washburn Student Government Association (WSGA). Typically in late March or early April, Washburn students, staff and supporters go out into the Topeka community and volunteer for few hours as a large group at different agency locations.
It is completely free for volunteers, all you have to do is sign up!
Who can volunteer?
Anyone affiliated with Washburn can volunteer!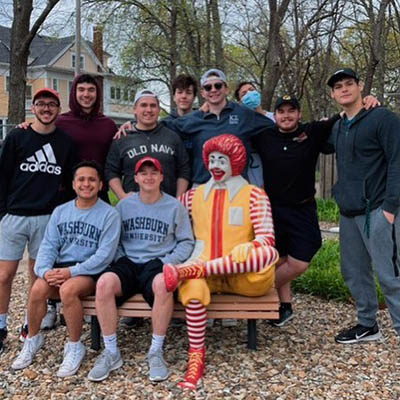 Who are we helping this year?
Each year, the Director putting on the event reaches out to agencies, so every year is a little bit different!
For 2023, we are collaborating with the Capper Foundation, KS Children's Discovery Center, University Child Development Center, Topeka Rescue Mission, Omni Circle Group, Harvesters, Southwest YMCA, Boys and Girls Club of Topeka, and Shawnee County Recreation.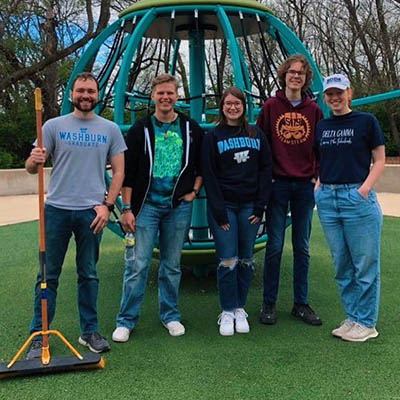 What kind of work should I expect?
A lot of the work we usually help with is outdoor clean up or beautification. Raking leaves, shoveling mulch, mowing and pruning, but also a lot more! We're excited this year to have some potential painting options available.
There are alternative options available if what is listed above is something outside of your accessibility range.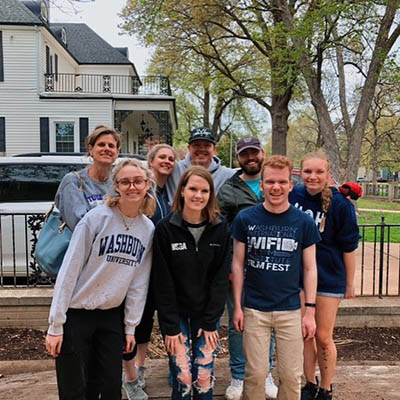 Can groups volunteer together?
Yes! That will require either an @washburn.edu address to complete that form, or you can email a roster complete with first/preferred and last names, email addresses/phone numbers, and any physical or dietary restrictions for the members you are signing up to wsga.campus@washburn.edu.
Whenever possible, we will attempt to keep groups together, however there are times when we may need to split up a group based on the number of work site requests.
What does the day of look like?
Volunteers will check in and assemble into their groups on Washburn's campus between 8:30-9 a.m., where there will be some grab and go breakfast options available. From there, busses will transport volunteers so their assigned sites. Each group will have an assigned group leader who will take attendance and have some extra responsibilities throughout the day. The busses will be back to pick up volunteers around 12:30 p.m. and bring you back to Washburn's campus where will be a free lunch option available.
Do I have to stay the entire day?
We strongly encourage volunteers be there the entire time. If that is not an option for you due to a previous commitment, you must get special permission from the event director to use your own transportation. Once you've registered, you are expected to notify the event director of any changes to your schedule that would impede your involvement in The Big Event.
What kind of clothing should I wear?
If you have some old Washburn gear, we'd love to see it! Otherwise, please wear clothes that you don't mind getting sweaty, dirty, wet, or all of the above. Comfortable close-toed shoes are a must. It may be wise to bring a sweatshirt or jacket based on what the weather looks like for the morning.
Who should I contact with further questions?
Thank you in advance
Thank you for signing up to be a Big Event volunteer. We hope you have a great day helping our local Topeka community. We also hope that you will have a positive, upbeat attitude when you arrive and throughout the day. The Big Event is a big program which requires patience and flexibility from the volunteers. We want to thank you in advance for being the kind of volunteer who doesn't create problems but helps solve them