What is Occupational Therapy?
Occupational therapy is a science-driven, evidence-based profession that enables people of all ages to live life to its fullest by helping them promote health and prevent—or live better with—illness, injury or disability. Occupational Therapy Assistants work directly with patients to lead, coach and support activities and exercises that are vital to their progress. Graduates of this two-year, associate degree program may pursue a wide range of opportunities. You may work with school children who have learning disabilities, behavioral problems, cerebral palsy or Down syndrome. OTAs also work with individuals in homes, community centers, rehabilitation hospitals and nursing homes, helping them deal with traumatic injuries, Alzheimer's disease or mental health problems. If you are looking for a challenging career while giving your best to society, OTA is a good fit for you!

Career Forecast

 

Bright Outlook

.

Average Salary

 

$60,950

on campus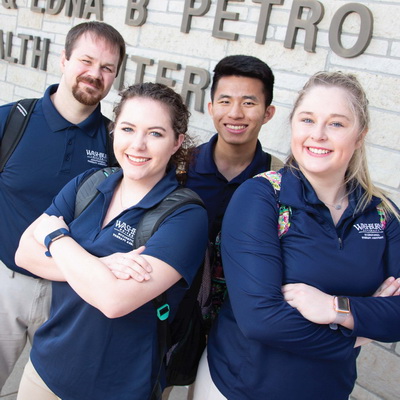 Choose Washburn for OTA
Washburn offers a 68-credit hour associate of science degree that prepares you to become an Occupational Therapy Assistant. Graduates of this two-year program are eligible to sit for the National Board Certification for Occupational Therapy, Occupational Therapy Assistant Exam. This program does not require prerequisites for admission. Our students enjoy a student to faculty ratio of 12:1 which allows for more interaction and personal attention. Plus, Washburn offers exceptional facilities and lab space.
As an OTA student, you will benefit from supervised clinical internships in a variety of healthcare settings. In today's landscape, occupational therapy practitioners can be found in six broad areas: 
Bridge Programs
Students, interested in the helping professions, have an opportunity to begin with the OTA program and continue their education into several other fields of study. Another option is the Bachelor of Health Science degree in Health Services Administration or Medical Imaging.
Take a Closer Look
Washburn's OTA faculty are prepared to guide you through your educational journey. This program develops highly-skilled, hands-on professionals. Review an itemized list of program costs as well as resources and accreditation information.
By the Numbers
CAREER FORECAST:
bright outlook
Employment of occupational therapy assistants is projected to grow 35 percent from 2019 to 2029, much faster than the average for all occupations. Demand for occupational therapy is likely to grow over the coming decade in response to the health needs of the aging baby-boom generation and a growing elderly population. (Source: Kansas Dept. of Labor)
Certification Pass Rate
100%
(WU: 1st or 2nd attempt)
Student/Faculty Ratio
12:1
Graduation Rate
100%
(WU: 2019)
Program Cost
Courses in this degree program are offered at the traditional undergraduate rate. Competitive scholarships are available to declared School of Applied Studies majors who qualify for the awards.
Apply Now
Apply to Washburn's OTA program by Feb. 1 for classes that begin the following summer. There are no prerequisite courses required for this program. Applicants must submit two letters of recommendation as well as two clinical observations.
Accreditation
The occupational therapy assistant program is accredited by the Accreditation Council for Occupational Therapy Education (ACOTE) (www.acoteonline.org) of the American Occupational Therapy Association (AOTA), located at 6116 Executive Boulevard, Suite 200, North Bethesda, MD 20852-4929. ACOTE's telephone number c/o AOTA is (301) 652-2682. Graduates of the program will be eligible to sit for the national certification examination for the occupational therapy assistant administered by the National Board for Certification in Occupational Therapy (NBCOT). After successful completion of this exam, the individual will be a Certified Occupational Therapy Assistant (COTA). In addition, most states require licensure in order to practice; however, state licenses are usually based on the results of the NBCOT Certification Examination (www.nbcot.org). Note that a felony conviction may affect a graduate's ability to sit for the NBCOT certification examination or attain state licensure.

Program results from the National Board for Certification in Occupational Therapy (NBCOT) can be found online at: https://www.nbcot.org/Educators-Folder/SchoolPerformance.
GET IN TOUCH
WITH Allied Health
Allied Health
Benton Hall, Room 107
1700 SW College Ave.
Topeka, KS 66621