Become a Reflective Educator
Dimensions of Reflective Practice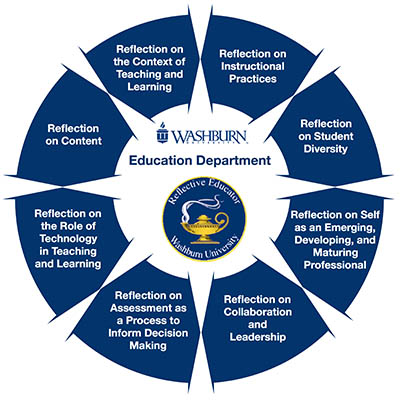 The philosophy and Conceptual Framework of the Education Department focuses on developing teachers and administrators who are Reflective Educators.  The definition of reflection and the dimensions of Reflective practice are as follows.
Reflection is viewed as:
An inquiry-based thinking process in which teachers engage in systematic, rigorous, and disciplined thinking about their professional practice
An interactive process that is enriched through involvement with a community of learners
A learning process that allows teachers to gain in-depth understanding as they move from one professional learning experience to the next
The means by which teachers are able to see personal and professional growth as they make connections between and among professional learning experiences
A process that can be taught
A process enhanced by dispositions for personal and intellectual growth for self and others.
Eight separate, yet strongly interdependent, Dimensions of Reflection have been identified that influence the education and development of educators at all levels of professional practice:
Reflection on Self as an Emerging, Developing, and Maturing Professional
Educators' beliefs, values, and perspectives are products of personal life histories that are infused into professional practice. Reflective thinking based on professional learning and development allows educators the opportunity to challenge their personal belief system for its merit and educative value in a variety of teaching and learning situations. Reflective educators value reflection as integral to the reconceptualization and reshaping of educational practice as a means for meeting professional responsibilities and engaging in ethical practices over the life of their careers as professional educators. They develop dispositions to support their ability to evaluate the impact of their decisions and actions on children, their families, and the educational community.
Reflection on Collaboration and Leadership
We are at different times teachers and learners and as a result, both shape and are shaped through our interactions with students, their families and communities, and with professional colleagues. Educators must reflect on the impact of their presence in this community of learners, and the extent to which they are contributing members of a community primarily concerned with the education and development of children and youth. They understand their shared responsibility for children's educational success, and reflect on ways to actively participate in efforts to advance learning for all children and youth. Educators recognize the importance and role of families in student success. They reflect on how they collaborate with families from multiple racial, cultural, class, language, and socioeconomic backgrounds in order to develop shared understandings that support student learning and success.
Reflection on the Context of Teaching and Learning
The development of a critical reflective capacity predisposes educators to consider the moral and ethical implications of educational practice, and the subsequent educative value of those practices for children and youth in a variety of learning environments. Reflective educators are able to assess the needs of different teaching and learning contexts and generate approaches to teaching that best suit the effective education of children and youth in that context.
Reflection on Student Diversity
Students bring different social, physical, ability, language, and cultural characteristics and backgrounds to school settings. Reflection on student diversity enables educators to more clearly understand students and their many pathways to learning. As a result, they heighten the possibility of increasing the numbers of students who are college and career ready, regardless of the personal characteristics that distinguishes them. Upon reflection, educators are able to recognize the importance of social and cultural influences on learning, construct ways to utilize differences to enhance learning, and incorporate student's experiences into the curriculum. In this way, they are able to motivate and teach broader numbers of students.
Reflection on Content
Educators are exposed to the fundamental knowledge, methods of inquiry and investigations, important questions, and issues appropriate for the various academic disciplines. Teachers' thorough understanding of content enables them to engage students in solving real world and meaningful problems using a range of approaches to discipline integration (e.g. multidisciplinary, interdisciplinary, transdisciplinary).
Reflection on Instructional Practices
The development from an emerging professional who is an expert learner well
grounded in content knowledge to a developing and maturing educator able to use content knowledge to impact student learning, is a complex process. Effective instruction is aided by reflection on the interaction among a variety of instructional approaches, resources, and technological tools, all of which enhance educators' ability to make pedagogical decisions that are driven as much by learner attributes (e.g. prior knowledge, preconceptions, approach to learning), as they are by the nature of the content being addressed, and the context in which it is being taught.
Reflection on Assessment as a Process to Inform Decision Making
Reflection on assessment allows educators to assess and monitor student learning and make informed decisions about practice. Reflective educators engage assessment practices that are purposeful, not only in terms of what can be extrapolated about what students know and are able to do, but practices that also serve as a direct link to approaches to teaching, content accessed, and materials used to aid student learning. The link between teaching and assessment becomes clearer as educators use assessment information to plan for change in their professional practice.
Reflection on the Role of Technology in Teaching and Learning
Educators are aware that education is impacted by the digital age in a variety of ways, and at multiple levels. They reflect on how technology influences the nature of the work they perform as educators with their students, and with their colleagues and the broader educational community.  They understand that students arrive at school with varying amounts of technological and digital experiences. They reflect on how to shape learning experiences that incorporate digital tools and technology to enhance content knowledge for all student, while at the same time prepare them with skills and dispositions needed to function in a digitally driven world. Educators also engage in critical reflection of the educative merit of digital media and technologies for their students' growth and their own professional development.