Why major in Sociology and/or Anthropology at Washburn University?
At Washburn University's anthropology and sociology program, you'll receive a tailored curriculum that fits your academic and career interests. Our faculty advisors work closely with you to create a program of coursework that meets your needs. With small class sizes (over 60% of classes have 20 or fewer students), you'll be in a collaborative learning environment that encourages discussion and allows for deep exploration of class topics and laboratory assignments.
In addition to traditional classroom learning, you'll also have opportunities for experiential learning both on and off-campus. This includes participation in community-based research projects, study abroad programs and independent research projects. Many courses use the program's extensive teaching and research collections, as well as state-of-the-art data collection and research software, giving you a unique and hands-on learning experience.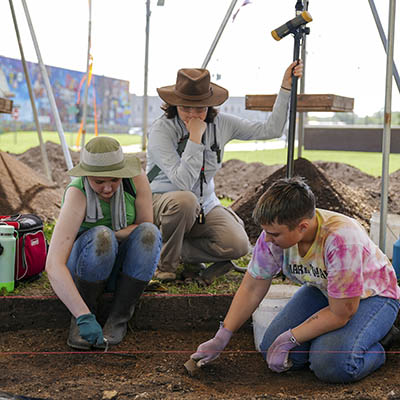 Career opportunities for anthropology and sociology majors
As an anthropologist or sociologist you'll be able to work around the globe in both the private and public sectors, including:
Academic careers as teachers, education outreach coordinators, and administrative and management personnel.
Nonprofit and community-based careers in international health organizations, museums, environmental organizations, human rights organizations, and contract archaeology firms.
Governmental positions focusing on international development, cultural resource management, public health, and defense and security.
Careers in international business, public relations, marketing, and human resources, among others.
SOAN department scholarships
As a SOAN major you are eligible for a variety of scholarships based on your academic performance and career pursuits.  Applications are due early in the spring and can be found in the SOAN office. Current students and transfer students are eligible.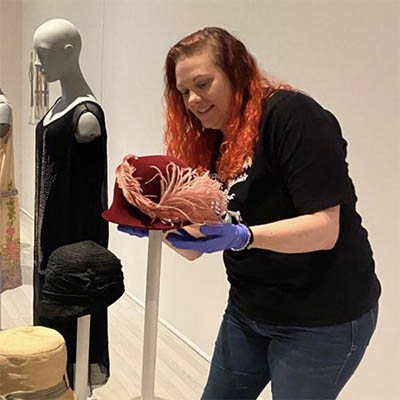 Alumna Lori Holstrom finds passion and success in museum industry
When Lori Holstrom first enrolled at Washburn University, she had no idea that she would end up pursuing a career in anthropology. Holstrom started her journey at Washburn in a different area of study, but quickly realized that it wasn't for her and decided to return to her roots.
"I was a non-traditional student, and concluded I wanted to go back to studying anthropology, which I had gained an interest in as child," Holstrom said.
She found her way back to the subject and discovered a particular interest in anthropology, thanks to Dr. Laura Murphy.
"It was through her teaching and advocacy I was able to do things I never thought to do and even a few that were outside my comfort zone," Holstrom said. "Even after graduation, Dr. Murphy continued to assist me by sending me job notices she thought may be of relevance to me."
As a student, Holstrom worked as a collections assistant at the Mulvane Art Museum, where she discovered her passion for working with museum collections.
Today, Holstrom is a Museum Registrar at the Panhandle-Plains Historical Museum, where she is responsible for taking care of and exhibiting objects in the museum's vast collection of more than 3 million artifacts. 
"I loved my time at Washburn," Holstrom said. "I met great people there who I still talk to and through the support of the SOAN department and Mulvane Art Museum, was able to achieve a wonderful position in a museum that I love."
GET IN TOUCH
WITH Sociology & Anthropology department
Sociology & Anthropology department
Henderson Learning Resource Center, Room 218
1700 SW College Ave.
Topeka, KS 66621

Connect
Phone: 785.670.1608
sociology-anthropology@washburn.edu