Forensic Anthropology Degree Program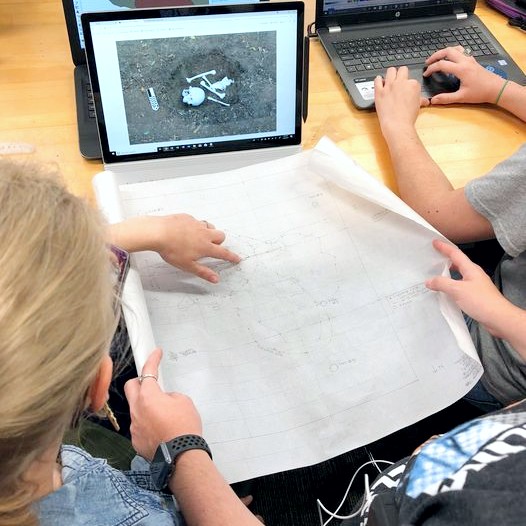 You're the kind of person who sees what others cannot. You rarely take anything at face value – because there are always layers to peel back and new information to uncover. In other words, you're the perfect forensic anthropology student. 
At Washburn University, you can capitalize on your natural proclivity for investigation by earning a Bachelor of Science in anthropology with a forensic concentration and a minor in biology. This multidisciplinary program includes courses in anthropology, biology, chemistry and statistics, and will help prepare you for graduate study or a variety of career opportunities.
Students in the forensic anthropology major will take classes, get hands-on training with state of the art equipment, and collaborate with faculty and students in the other forensic programs such as chemistry, biology, criminal justice and computer science.
This degree is the first Bachelor-level forensic anthropology concentration in Kansas.
Hands-on training in all phases of excavation and forensic analysis in our lab and outdoor site, using the latest technology and state-of-the-art facilities.
Opportunities for independent research and forensic anthropology internships.
Forensic anthropology applies the scientific knowledge of physical anthropology to the collection and analysis of legal evidence. Due to their training in anthropology, skeletal biology and osteology, forensic anthropologists serve a unique role in forensic science. These professionals:
Determine if the remains are of human origin, from single or multiple individuals, and the identity (age, sex, stature, ancestry) of the individual(s).
Document pathological conditions and trauma affecting the remains.
Help determine the circumstances surrounding death.
Analyze soil and vegetation patterns to properly find, excavate, and collect skeletal remains and other physical evidence.
Work in cases resulting from mass disasters, explosions, fires, homicides and other types of situations result in badly decomposed bodies and highly fragmented, burned or otherwise unidentified human skeletal remains.
Have been prominent in the recovery and identification of remains from the bombings in Oklahoma City and the World Trade Center, to mass gravesites in places like Iraq, Guatemala, and the former Yugoslavia.
Forensic anthropologists work in laboratories, at crime scenes, in offices, and in morgues. As a professional in the field, you may work for federal, state, and local governments; international organizations; public and private laboratories; medical examiner's offices; hospitals; universities; police departments; or as independent forensic science consultants.
After earning your B.S. in anthropology with a forensic concentration, you can seek a variety of positions within the criminal justice field, such as:
Criminalist
Forensic Crime Scene Specialist
Police Evidence Specialist
Crime Scene Investigator
Crime Scene Technician
You'll also be eligible for jobs outside the criminal justice field, including positions in:
Museums of natural history
Culture resource management (surveying, documenting, and/or excavating sites)
State historical societies
Many forensic anthropology students go on to earn a Master's or Ph.D. in physical anthropology. Upon obtaining a Master's-level degree, you would have additional job opportunities, such as:
Forensic anthropologist in the office of the coroner or Chief Medical Examiner
Adjunct faculty at a college or university
Board-certified forensic anthropologists have earned a Ph.D. in physical anthropology with an emphasis in skeletal biology. Most are university professors who consult for coroners, medical examiners and, possible, human rights organizations.
Get Started Today!
With a career in forensic anthropology, you can work to make a difference in the field of law enforcement. And Washburn University offers a tremendous environment to pursue that path. Our faculty and staff are well prepared to guide you in pursuing your education and career objectives, so call or visit us today to learn more about our forensic anthropology degree program!