Why study Forensic Anthropology at Washburn?
Did you know Washburn University is one of only two institutions in the US where you can earn a bachelor of science in anthropology with a forensic concentration? And we're one of only a few universities where you have the opportunity for forensic casework experience as an undergraduate. It's true. With the Washburn University Forensic Anthropology Recovery Unit (WU-FARU) and Washburn's partnership with the Kansas Bureau of Investigation (KBI), you'll have opportunities here you can't get anywhere else. Prepare here for the profession you seek – in the lab or in the field.
Career Forecast
 

Bright Outlook
.
Average Salary

 
$60,590 with advanced degree
on campus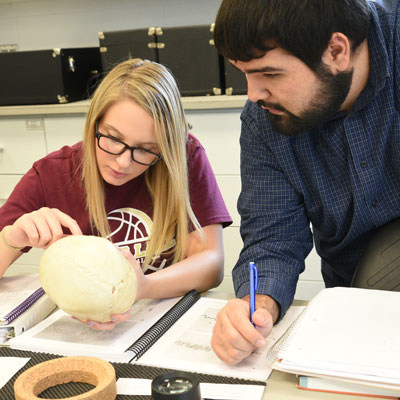 What sets Forensic Anthropology at Washburn apart?
Be part of the only program of its kind in the Midwest.
You'll learn and work with a board-certified forensic anthropologist while having access to a state-of-the-art laboratory, with lecture and research space in the KBI building, as you complete your education and work toward becoming a key part of a forensic science team.
Scholarships are available, in addition to the opportunity for casework experience with the Washburn University Forensic Anthropology Recovery Unit (WU-FARU).
Find your people on campus with the Sociology/Anthropology Club and the Forensic Science Club.
You'll have the opportunity to complete original research with faculty mentors, and present your research at local, regional, and national conferences. Some students also have published with faculty mentorship.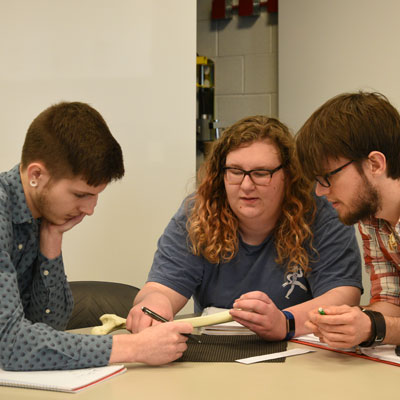 Admissions scholarships
Washburn University offers generous scholarships based on your interests, career aspirations, community service and academic success.
Anthropology scholarships
The Sociology and Anthropology department offers a variety of scholarships for Forensic Anthropology majors. Applications are due early in the spring each year.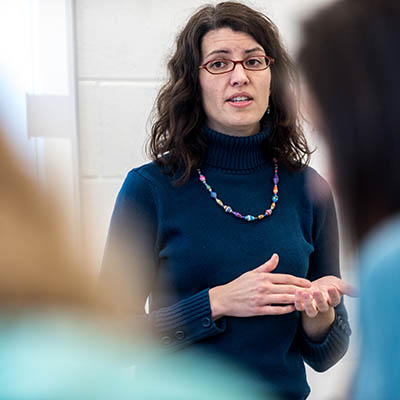 Tuition and fees
Courses in this program are offered at the Traditional Undergraduate Rate.
Financial aid
Washburn University offers generous undergraduate financial aid, including scholarships and grants.
Tuition waivers
If you don't currently live in Kansas, learn about our Tuition Waiver programs that may qualify you for in-state tuition.
4-Year plan
A Bachelor of Science in Anthropology with a concentration in forensics can be completed in 4 years. You'll also have the opportunity to attend the Forensic Anthropology field school during the summer between your junior and senior year.
Enroll at WU & Declare major

Fill out the
Undergraduate Admissions Application
and enroll to pursue Forensic Anthropology. It's common to declare a major in anthropology at enrollment and then determine your specific interest.

Students who have successfully completed upper division courses and have completed additional training are eligible to apply to volunteer with the Washburn University Forensic Anthropology Recovery Unit (WU-FARU). This enables you to assist faculty with active forensic casework in Kansas, Missouri and beyond.
Upper level students also are eligible to apply for internships with the Kansas Bureau of Investigation (KBI).

This bachelor of science degree can be completed in four years. To become a Board Certified Forensic Anthropologist, a PhD is required.
Workforce or graduate school

You can advance your education with programs in anthropology, forensics, medical school, mortuary school, and physician's assistant programs.
Set for success
CAREER FORECAST:
bright outlook
Qualities for success
Critical-thinking
Problem-solving
Detail oriented
Communication and collaboration 
Student/faculty ratio
20:1
Graduate in 4 years
80%
of graduates in the program finish in four years.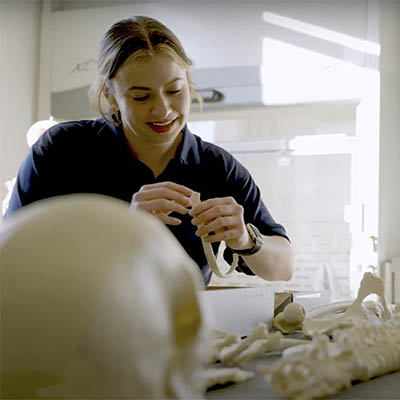 Meet graduate Heather Greathouse
Heather Greathouse enjoyed the more personal experience at Washburn, connecting with her professors while pursuing a degree in Forensic Anthropology. The University has one of just two such programs in the United States. Heather is a death investigator for Forensic Medical of Kansas, which is contracted through Shawnee County.
Forensics at Washburn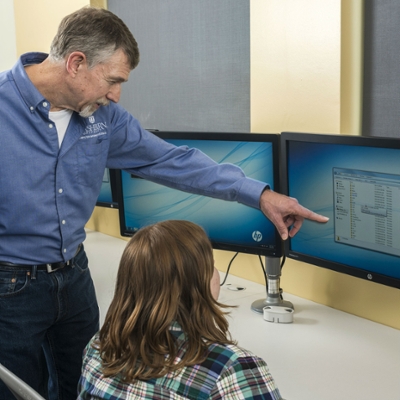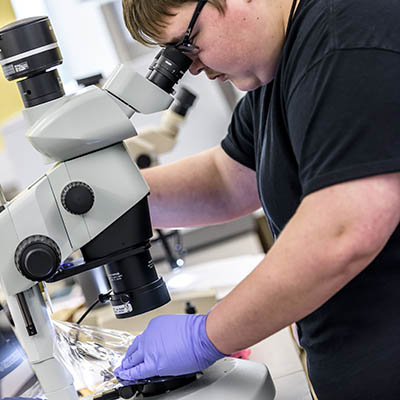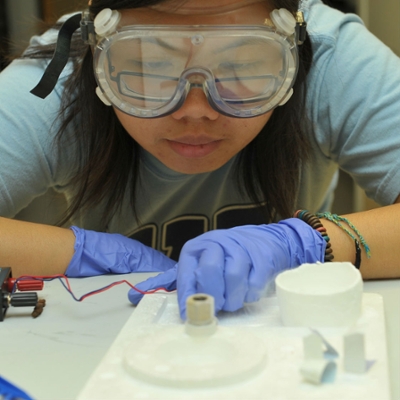 Other anthropology programs
If you want to explore contemporary or past human cultures, how culture and environment can affect one's biology, human evolution and our closely related nonhuman primates, or even the development and social maintenance of human languages, anthropology may be the right discipline for you.
Program cost
Courses in this program are offered at the Traditional Undergraduate rate. Students are eligible for scholarships and financial aid.
GET IN TOUCH
WITH Sociology & Anthropology department
Sociology & Anthropology department
Henderson Learning Resource Center, Room 218
1700 SW College Ave.
Topeka, KS 66621

Connect
Phone: 785.670.1608
sociology-anthropology@washburn.edu