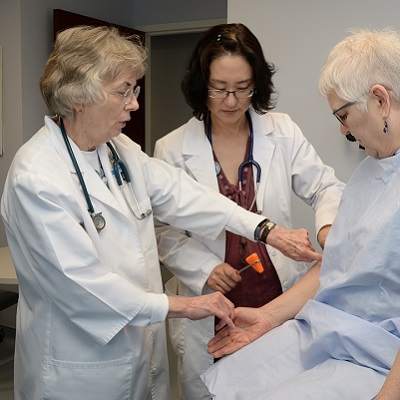 In practica and residency courses, students will work side-by-side with a community health care expert in their field and geographic area. We encourage students to complete practicum and residency hours in a variety of settings using a variety of preceptors.  Faculty will coordinate with students and preceptors to hold a virtual clinical site visit during each course. On site clinical site visits will only be made if it is deemed necessary by the faculty or preceptor.  Each specialty track requires a 1000+ clock hours in a precepted experience. 
Preceptors can be experts who are educationally prepared as an APRN, MD, or DO.  Finding the right preceptor can be a challenge.  We believe that adopting a faculty-student team approach to securing preceptors for each clinical experience will enhance learning.  
You will learn more about practicum and residency courses during the on-campus experiences and from your advisor.  
Students must be licensed as an RN in the state in which they plan to complete their practica and residency courses. Look here for more information about your state.