Psychiatric Mental Health Nurse Practitioner (PMHNP)
The Washburn University School of Nursing Post-Graduate Certificate (PMHNP) Program prepares graduates to evaluate and treat individuals, families and groups across the lifespan who have psychiatric disorders. PMHNPs provide care in a variety of clinical settings, using therapeutic techniques, pharmacological treatments, and non-pharmacologic interventions.

Career Forecast

 

Bright Outlook

.

Median Salary

 

$139,976

online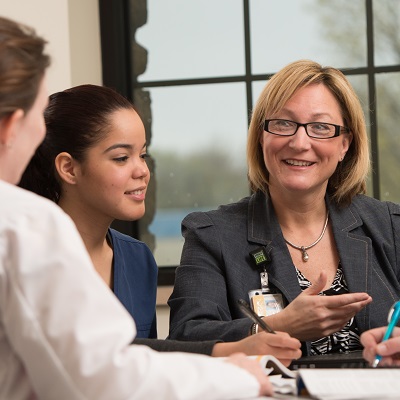 Why study PMHNP at Washburn?
The Washburn PMHNP program is completely online and works with you to find clinical placements that are close and convenient to you. The clinical experiences are preceptor-guided and expand your knowledge and skills for this specialty practice.
When you graduate from the PMHNP Post-Graduate Certificate program you are eligible to seek national board certification as a psychiatric mental health nurse practitioner through the American Nurses Credentialing Center (ANCC).
Program plans are available for those entering with the following educational credentials:
MSN or DNP-prepared APRNs with licensure and national certification as a nurse practitioner*, certified nurse midwife, clinical nurse specialist, or certified registered nurse anesthetist
MSN or doctoral degree in nursing without APRN status
*certification as a family nurse practitioner, adult nurse practitioner, geriatric nurse practitioner, adult geriatric nurse practitioner or pediatric nurse practitioner. 
Online advantage
All classes for the PMHNP program are offered online. Most classes are offered in a self-paced format that you can complete independently and submit assignment by specified due dates.
There are also a limited number of courses each semester that are conducted "live". These classes meet virtually according to a pre-arranged schedule and provide an opportunity for you to interact with faculty and peers, and to share learning activities and presentations.
Set for Success
CAREER FORECAST:
bright outlook
The US Bureau of Labor Statistics expects job opportunities for nurse practitioners to increase by 36% between 2016-2026. The need for primary care and psychiatric-mental health nurse practitioners is driven by a predicted shortage of primary care physicians and psychiatrists. Additional practitioners are needed due to an aging population and increased emphasis on preventive healthcare services.
Average time to completion
4 semesters
PMHNP certification exam pass rate
Student/faculty ratio
Clinical 10:1
Program cost
Costs include graduate credit-hour tuition, university administrative fees, selected software programs to document information for clinical placement and to support learning. Textbooks will be an additional charge and vary based on the course. Graduate students may be eligible for federal financial aid; grants and scholarships are offered as they are available.
GET IN TOUCH
WITH School of Nursing
School of Nursing
Petro Allied Health Center
1700 SW College Ave.
Topeka, KS 66621-1117

Phone & Fax
Ph: 785.670.1525
Fax: 785.670.1032