Your benefits include early enrollment and additional scholarship opportunities
Affordability, opportunity and success. Because you've taken courses in our Concurrent Enrollment Program, you'll enjoy all three as a student at Washburn University. As a CEP student, you receive automatic admission to Washburn, which includes numerous scholarship opportunities, an accelerated timeline to graduating with a college degree and much more.
Your Washburn advantage: Affordability and Excellence
At Washburn, paying for college is easier than ever. We offer a wide array of scholarships, financial advising and other resources to help you manage the cost of college and graduate with minimal college debt — if any! Find out more about our financial resources below:
Academic Merit Scholarships
Receive up to $20,000 ($5,000 per year) on our new merit scholarship grid. Washburn also offers other scholarships that are based on your interests, career aspirations, community service and academic success.
Together We Thrive Program
Shawnee County CEP Housing Scholarship
Full-time students who have completed nine or more credit hours through the CEP program and/or Senior Academy are eligible for a one-time $1,000 housing scholarship  to live on campus.
Garvey Scholarship Competition
Through this essay competition for high school seniors with a 3.25 or higher GPA, you can receive a $1,500 annually renewable Washburn scholarship.
ScholarshipUniverse Tool
Our scholarship-matching tool will help you find and apply for the best external scholarship opportunities. Don't spend hours searching the Internet, let ScholarshipUniverse find them for you.
Personal Financial Advising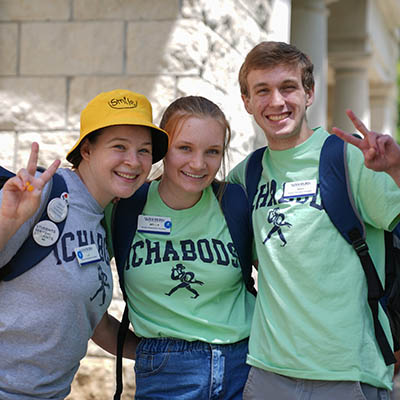 Early enrollment opportunities
Earning college credit through CEP at Washburn University puts you on an accelerated path to your degree! From orientation through graduation day, you will be at the front of the line.