Welcome to the Military-Student Success Center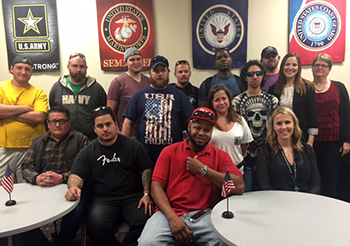 Washburn University's Military-Student Success Center provides a place to study, social opportunities allowing veterans to connect with their peers, and services for military veterans and active military making the transition to student life at Washburn University. 
Located in Mabee Library Room 206A on Washburn University campus, the Military-Student Success Center was established with funds generously donated by GO Topeka.
Dr. Alan Bearman, Dean of University Libraries and the Center for Student Success, says this about The Center, "This collaborative effort to create a success focused environment for Veterans is both extremely exciting and humbling. Our Veterans deserve our best efforts to help them succeed in University, and this space opens new opportunities for Washburn University to aid them."
The Center will also provide veteran-specific information and materials relating to resources, education benefits, career opportunities, scholarships, and events.
For more information, contact Chris Bowers at chris.bowers@washburn.edu or 785-670-1983.
Military-Student Success Center Hours:

Monday – Thursday 8:00 a.m. – 11:00 p.m.
Friday 8:00 a.m. – 5:00 p.m.
Saturday 10:00 a.m. – 5:00 p.m.
Sunday 1:00 p.m. – 11:00 p.m.

Phone number:  785-670-1983
Fax number:  785-670-1035