About the Personal Training Program
Washburn University's Personal Trainer program is an exciting and innovative service offered at the Student Recreation and Wellness Center (SRWC) as part of their fitness and wellness program. This service aims to educate, enhance, and engage SRWC members by providing them with personalized one-on-one training.
One of the most appealing aspects of this service is that it is provided to all SRWC members, including students, faculty, and staff, as a complementary benefit. This means that anyone who is a member of the SRWC can take advantage of this opportunity to work with a personal trainer without any additional cost.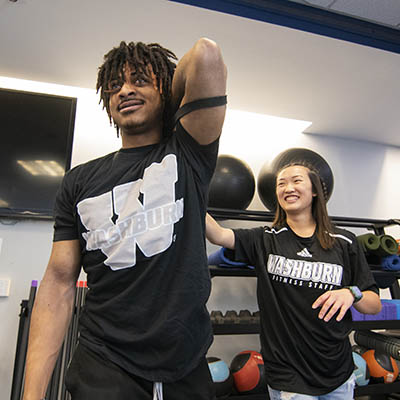 What Can a Personal Trainer Do For You?
Help set both short and long term fitness goals

Design a personalized exercise program to meet your goals that include cardiovascular, resistance, and flexibility training

Provide you with motivation and accountability

T

each you proper form and technique for resistance training and other exercises

Answer your questions about proper exercise or goal setting
Program Structure
The program structure consists of a 6-week individualized training block. During these 6 weeks, the client receives exclusive attention from their assigned personal trainer, who tailors the workouts and exercises according to the client's specific needs, goals, and fitness levels. This individualized approach ensures that each client receives the most effective training for their unique requirements.

Upon completion of the 6-week training block, clients are then provided with a 4-week progressive program. This program is designed to allow clients to continue their fitness journey independently, building upon the foundation laid during the one-on-one training sessions. The progressive program helps clients maintain their progress, further improve their fitness abilities, and work towards achieving their long-term fitness goals.
Support Students while Benefiting from Quality Training
Another significant advantage of this program is the opportunity it provides for Washburn University students to gain hands-on experience in applying the knowledge they acquire in their classrooms. Aspiring personal trainers can use this program as a platform to put their theoretical learning into practical use, honing their skills and building their confidence as fitness professionals.
The personal trainers in this program are highly qualified and dedicated professionals. They undergo rigorous training themselves, which involves 4 weeks of intensive coursework, consisting of 8 classes, and 16 hours of preparation twice a week. This preparation ensures that the trainers are well-equipped with the knowledge, skills, and expertise needed to guide their clients effectively through their fitness journeys.
Registration
To participate in the training program you will need to fill out a request form at The Rec or link below during our registration periods. There is limited space available, so it is first come first serve. If you have questions email james.thayer@washburn.edu.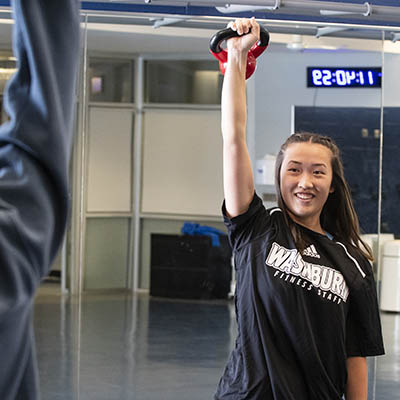 Registration Dates & Training Blocks
Block 1 Registration Opens: Monday August 21 @ Rock the Rec

Block 1 Training: 8/28 - 9/1

Block 2 Registration Opens: Wednesday October 18

Block 2 Training Begins: 10/23 - 10/27
*6-week training block
Training Policies
Clients can register for complimentary one-on-one personal training in one of two 6-week training blocks offered. There are 2 registration dates fall and spring semesters that open a week before training starts. Each session is one hour and includes a warm-up, workout, and cool-down. Clients should come to all sessions in athletic attire, close toed tennis shoes with WU ID and a water bottle. Please be respectful of your trainer's time and effort to prepare for your session: Cancellations should be given at the clients' earliest convenience (more than 24 hours in advance). Sessions canceled less than 24 hours in advance will result in the loss of the session.
Training clients MUST be available to train twice a week for the 6-week duration

Registration does not guarantee a training spot, space is very limited




Additional resources are available when training spots are filled




Clients will be released at the trainer's discretion for no show, no call incidents, and frequent cancelations
GET IN TOUCH
WITH the SRWC