About the Personal Training Program
Washburn University's Personal Trainer program is a brand-new service offered at the Student Recreation and Wellness Center (SRWC) through the fitness and wellness program. The SRWC created this program to engage, educate, and empower our members. This FREE service is available to any SRWC member (students, faculty/staff) to receive 6 weeks of one-on-one training with a personal trainer.
After the 6-week individualized training block, all clients receive a 4-week progressive program that allows them to continue working towards their goals and improving upon their fitness abilities created in the training sessions. Trainers in the program completed 4 weeks, 8 classes, 16 hours of course preparation twice a week to prepare to train clients.
Not only does this service provide free personal training it offers an opportunity for Washburn students to receive hands on experience applying what they learn from the classroom into practical application.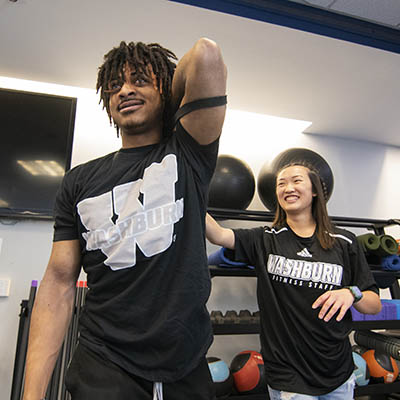 What Can a Personal Trainer Do For You?
Help set both short and long term fitness goals

Design a personalized exercise program to meet your goals that include cardiovascular, resistance, and flexibility training

Provide you with motivation and accountability

T

each you proper form and technique for resistance training and other exercises

Answer your questions about proper exercise or goal setting
Registration
To participate in the training program you will need to fill out a request form at The Rec or link below during our registration periods. There is limited space available, so it is first come first serve. If you have questions email james.thayer@washburn.edu.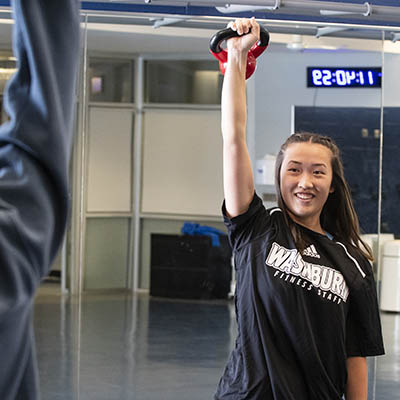 Registration Dates & Training Blocks
Block 1 Registration Opens: Monday, January 23

Training Starts: The Week of January 30 - February 4

Block 2 Registration Opens: Monday, March 20

Training Starts: The Week of March 27 - April 1
*6-week training block
Training Policies
Clients can register for free one-on-one personal training in one of two 6-week training blocks offered. There are 2 registration dates in this semesters that open a week before training starts. Each session is one hour and includes a warm-up, workout, and cool-down. Clients need to come to all sessions in athletic attire and close toed tennis shoes. Please be respectful of your trainer's time and effort to prepare for your session: Cancellations should be given at the clients' earliest convenience (more than 24 hours in advance). Sessions canceled less than 24 hours in advance will result in the loss of the session.
Trainer availability is very limited
Training clients MUST be available to train twice a week
If a trainer is no longer listed in the option section they are no longer available
Personal trainers will be selected based on availability (Days/Time Block)
If trainer availability (Option 1) is full, registers will automatically be moved to Option 2
Clients will be released at the trainers discretion (No show, no call and cancelations)
GET IN TOUCH
WITH the SRWC