What is Sonography?
Diagnostic Medical Sonography plays a vital role in helping physicians diagnose and monitor a range of medical conditions, from pregnancy to heart disease and cancer. Sonographers use high frequency sound waves or ultrasound to produce dynamic images of organs, tissues or blood flow in the body. Diagnosis and treatment are often determined from those images. Our DMS program offers one-year advanced certificates so you can graduate quickly and enter the workforce. Online courses offer flexibility and convenience, while clinical rotations can potentially be completed wherever you live. If you want to join the healthcare field, interact with patients and make good money, this might be the career for you!

Career Forecast

 

Bright Outlook

.

Average Salary

 

$72,420

online
Why Choose Washburn for DMS?
Candidates must have an associate degree or higher in a healthcare program to be eligible for our DMS program. We offer three options, allowing you to specialize in a specific area of sonography. You may choose a one-year advanced certificate in general sonography, cardiac sonography or vascular sonography. All didactic coursework is completed online, followed by clinicals in a facility that is close to your home. But flexibility and convenience are just two reasons to choose Washburn:

Our program is accredited by the Commission on Accreditation of Allied Health Education Programs (CAAHEP) since 2006.
We have experience in online delivery. Our program has been delivered in this format since 2002.
Students are eligible to sit for the American Registry of Diagnostic Medical Sonography (ARDMS) or Cardiovascular Credentialing International (CCI) either before or after graduation.
Students are provided a large variety of clinical experiences.
Washburn University's location allows for affiliation with large medical centers, private doctor's offices and clinics as well as smaller community hospitals.
Employers can host their own employees in the DMS program.
DMS Options
Washburn offers three, one-year advanced certificates. Each student will start out in one specialty, but are welcome to pursue an additional specialty following completion of the first program.
Take a Closer Look
The program offers online coursework and clinical education that may be completed close to the student's home. Our experienced faculty will assist you in navigating the concentration you choose.
RDCS, Adult Echo-2003
Master of Health Science, Nova Southeastern University 2012
Bachelor of Health Services Administration, Washburn University 2003
Bachelor of Arts Physical Education, Washburn University 2001
Associate of Science, Physical Therapist Assistant, Washburn University 2001
Bachelor of Sports Science, University of Kansas 1998
RDCS, Adult Echocardiography 2019, RDMS, 2004, OB/GYN 2004, Breast 2005, Abdomen 2009, RVT 2006, RT(R) 2002
Doctor of Health Science, Nova Southeastern University, 2019
Master of Health Science, Nova Southeastern University, 2011
Bachelor of Health Science, Washburn University, 2005
The Washburn University Diagnostic Medical Sonography program is accredited by the Commission on Accreditation of Allied Health Education Programs (www.caahep.org) upon the recommendation of the Joint Review Committee on Education in Diagnostic Medical Sonography.
Commission on Accreditation of Allied Health Education Programs
9355 - 113th St. N, #7709
Seminole, FL  33775
(727) 210-2350
State Authorization Reciprocity Agreements (SARA)
Washburn University is a participant in the SARA initiative, which is a state-level reciprocity process aimed at making the effort to obtain state authorizations more efficient for institutions and to make it easier for students to enroll in distance education programs outside of the states in which they reside.  Institutions that are members of SARA are authorized to provide education to students from all SARA member states.  States and institutions that choose to become members of SARA operate under a set of policies and standards that are overseen by the National Council for State Authorization Reciprocity Agreements (NC-SARA) and administered by four regional higher education compacts. 
Unfortunately, if you live in California, it is the only remaining state that is not part of NC-SARA.  We cannot accept any applicant for online courses that is not part of NC-SARA.  This includes clinical rotations and/or residency. For more information on NC-SARA please visit their website.
For a map showing SARA membership by state, please visit http://nc-sara.org/sara-states-institutions.

Candidates for the DMS program must have an associate degree or higher in a healthcare program to be eligible to apply for the DMS program.

Complete one of three certificate program options offered by Washburn University which are General Sonography, Cardiac Sonography or Vascular Sonography.

You have the option of adding an additional certificate in a different specialty, once you have successfully completed your first DMS program.

Earn a Bachelor of Health Science degree at Washburn University and enhance your marketability and career options in the workplace.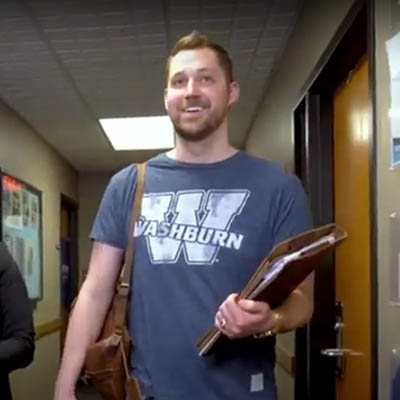 Meet Sonography Graduate Blake
Blake Edwards has come full circle at Washburn. He started as a student, progressed through the Bachelor of Health Science and Master of Health Science program, and now teaches Ultrasound at the university.
"The faculty at Washburn are so much more than teachers," he said. "They want you to succeed, and at the end of the day, it becomes a big family."
Edwards came to Washburn from Hartford, Kansas, a small town near Emporia. He chose to become an Ichabod because it was close to home and because of the small class sizes (60 percent of our courses have 20 or fewer students).
He became fascinated with medical imaging as a child because he accompanied his father, who had a brain tumor, to appointments for CT and MRI scans.
"That definitely led to be going into the field," he said. "One of the things that lured me to Washburn was the X-ray program. They X-ray program has a great reputation, and Washburn seemed like the best fit for me."
Edwards has several degrees and certificates at Washburn: a Master of Health Science and Bachelor of Health Science, and certificates in Cardiac Ultrasound, Vascular Ultrasound and Radiologic Technology.
He is the manager of Ultrasound at Stormont Vail Health.
By the Numbers
CAREER FORECAST:
bright outlook
Employment of diagnostic medical sonographers is projected to grow 17 percent from 2019 to 2029, much faster than the average for all occupations according to the U.S. Bureau of Labor Statistics. As the large baby-boom population ages, the need to diagnose medical conditions—such as blood clots and heart disease—will likely increase. Imaging technology is a tool used in making these diagnoses.
Entry-Level Salary
$58,030
Program Cost
A special tuition category, labeled other programs, applies to the DMS program. Scholarships through Washburn University as well as the School of Applied Studies may be available to those who qualify.
Apply Now
Candidates, who have earned an associate degree or higher in a healthcare program, must apply by February 1 for fall entry. Prerequisite coursework must be completed by the end of May of the preceding August start date. Complete an application after watching an instructional video that will assist you through the process.
GET IN TOUCH
WITH Allied Health
Allied Health
Benton Hall, Room 107
1700 SW College Ave.
Topeka, KS 66621