Teach & Lead in Health Care
Prepare to take the lead in health care, the fastest growing industry in the country. Professionals, already in the health care field, can expand their career opportunities by advancing their teaching skills and leadership abilities. Graduates lead in a variety of settings from hospitals and clinics to public health agencies and universities. As the industry grows, so do the options! Advance your career through this program that is 100% online. Its unique blend of education and administration will help you make an even bigger impact on those around you.

Career Forecast

 

Bright Outlook

.

100% Online

 

Flexible/Convenient

online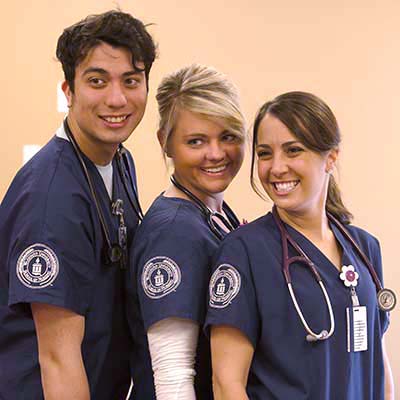 Master of Health Science at Washburn
This program is specifically designed for busy health care professionals who are working in a clinical setting or educational environment. You may choose to pursue either a master's degree or a post-graduate certificate. Our master's degree is offered completely online and primarily divided into eight-week courses that provide a flexible and convenient way for you to advance your career. Choose between a part-time or full-time schedule to complete this 36 credit-hour program. To pursue this graduate degree, the following is required:
bachelor's degree and cumulative GPA of 3.0 or higher in last 60 credit-hours*
two years of professional health care experience
GRE or GMAT not required
open to residents of all U.S. states**
Cohorts begin each fall and are comprised of a diverse group of health care professionals at various stages of their careers. They also bring experience from various settings such as hospitals, health clinics, community colleges, universities and government agencies. This diversity fosters a rich learning experience.
*conditional acceptance to candidates with bachelor's degree and cumulative GPA of 2.75-2.99 in last 60 credit-hours
**applicants residing in California can find information on the complaints process concerning out of state online schools through Department of Consumer Affairs (DCA)
Certificate Option
If you have already earned a master's or doctoral degree, the MHS Post-Graduate Certificate from Washburn University might be the right option for you. This 9-credit hour program can be completed in as few as 1.5 semesters and is offered completely online to offer the convenience and flexibility that fits your busy lifestyle.
CONTACT & COURSES
Most courses offered in this program last eight weeks and include:
AL600 Foundations of Health Care Education
AL620 Research Methods in Health Care Education
AL601 Legal and Ethical Issues in Health Care
AL603 Health Care Decision Making
AL602 Special Populations in Health Care
AL622 Educational Program Administration
AL624 Assessment in Health Care Education
AL626 Instructional Technology
AL720 Curriculum & Instruction Methods in Health Care Education
AL722 Trends in Health Care and Education
AL724 Capstone I (16 week course)
AL726 Capstone II (16 week course)
The MHS degree does not qualify for Visa status. International students may apply for admission to this program by completing the admissions process through the Office of International Programs. Please submit the following:
signed and completed Financial Disclaimer Form
original financial supporting documents, such as a bank statement
original transcripts of courses/grades from your undergraduate degree*
Original iBT TOEFL or IELTS test score report. Go to English Proficiency Requirements for details.
$70 international application/processing fee
*If your undergraduate degree was completed outside of the U.S., you must request a course-by-course evaluation of the transcripts by either ECE (Educational Credential Evaluators, Inc.) or WES (World Education Services), and an original evaluation report must be sent to Washburn University by the evaluation service.

Candidates for admission must have completed a bachelor's degree. In addition, candidates must have two years of professional experience which can include, but is not limited to, the following areas: dentistry, health care administration, health information technology, occupational therapy, physical therapy, radiology, radiation therapy, respiratory therapy and nursing.

Enroll to pursue a Master of Health Science master's degree at Washburn University. This 36 credit-hour program, offered completely online, is available on either a part-time or full-time schedule. Cohorts begin each fall semester.

Upon completion, you will earn a 36-credit hour Master of Health Science master's degree.

Continue your educational journey at another, high-quality university by pursuing a doctoral degree. It will further prepare you for leadership in health care, in either an educational or clinical setting, by providing a foundation for research and focused study in your
specialized area of practice.
Part-Time Schedule
This is the most popular schedule with adult learners. Students may take six credit hours in the fall and spring semesters in addition to three credit hours in the summer. This option takes two years and nine months to complete. Or, they may enroll in three credit hours per semester and may take up to five years to complete. Degree requirements are listed in the degree plan.
Full-Time Schedule
Students take nine credit hours in the fall and spring semesters in addition to six credit hours in the summer. Completion of this full-time option is one year and nine months. Although this is the fastest plan, most of our working students opt for the part-time schedule due to its flexibility. Degree requirements are listed in the degree plan.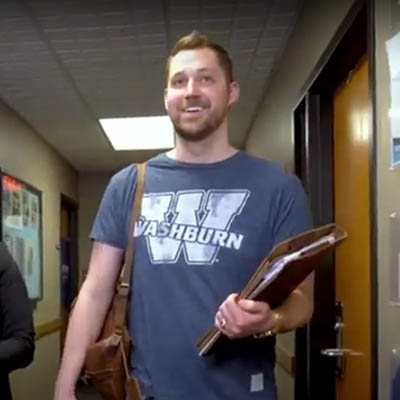 Meet MHS Graduate Blake
Blake Edwards has come full circle at Washburn. He started as a student, progressed through the Bachelor of Health Science and Master of Health Science program, and now teaches Ultrasound at the university.
"The faculty at Washburn are so much more than teachers," he said. "They want you to succeed, and at the end of the day, it becomes a big family."
Edwards came to Washburn from Hartford, Kansas, a small town near Emporia. He chose to become an Ichabod because it was close to home and because of the small class sizes (60 percent of our courses have 20 or fewer students).
He became fascinated with medical imaging as a child because he accompanied his father, who had a brain tumor, to appointments for CT and MRI scans.
"That definitely led to be going into the field," he said. "One of the things that lured me to Washburn was the X-ray program. They X-ray program has a great reputation, and Washburn seemed like the best fit for me."
Edwards has several degrees and certificates at Washburn: a Master of Health Science and Bachelor of Health Science, and certificates in Cardiac Ultrasound, Vascular Ultrasound and Radiologic Technology.
He is the manager of Ultrasound at Stormont Vail Health.
Jobs & Opportunities
CAREER FORECAST:
bright outlook
New health care jobs will account for one-third of all jobs by the year 2026. According to the Bureau of Labor Statistics (BLS), employment of medical and health services managers is projected to grow by 32% from 2019-2029. That growth is the most of any industry in the country! BLS also projects a 9% growth in employment of postsecondary teachers who work in public or private colleges, universities and community colleges. Workers are needed in all sectors of health care but there is a critical need for professionals to take the lead.
Median Salary
$100,980
(Medical/Health Services Mgr.)
Median Salary
$79,540
(Postsecondary Teacher)
Student/Faculty ratio
15:1
Program Cost
No application fee is associated with this program. Tuition for in-state and out-of-state students, in the 2020-2021 academic year, was $545 per credit hour. This program is eligible for financial aid
Master's Program Application
A cohort format is in place for this master's program. Cohorts begin each fall in early August. Space is still available in the Fall cohort! Please follow these steps:
complete an Online Graduate Application
create an account, as part of the Online Graduate Application
within application, select "degree seeking" option when prompted
within application, upload unofficial transcripts demonstrating completion of bachelor's degree (official transcripts are required only after being admitted)
within application, upload a one-page educational goal statement
within the application, upload a resume demonstrating at least two years of professional health care experience
no application fee
GET IN TOUCH
WITH Allied Health
Allied Health
Benton Hall, Room 107
1700 SW College Ave.
Topeka, KS 66621