Become a Radiologic Technologist
Experience the rewards of direct patient care while working with the latest technology by becoming a Radiologic Technologist or radiographer, RT(R). These skilled medical specialists work under the direction of physicians to perform x-ray exams and other diagnostic imaging procedures. Attention to detail is necessary as is providing radiation safety for both the patient and technologist. Your knowledge and skill play an essential role in a patient's accurate diagnosis and subsequent treatment. If you are a hard worker, possess good communication skills and enjoy helping others, this two-year associate degree path might be for you. It also can serve as the launching pad for pursuing a Bachelor of Health Science degree through Washburn University.
Career Forecast
 

Bright Outlook
.
Average Salary

 
$53,000
on campus
Why Choose Washburn for XR?
Washburn's Radiologic Technology (XR) program, administered through the School of Applied Studies, will prepare you to become an entry-level radiologic technologist or radiographer. Classes begin mid-August and include one summer session.
The course of study involves radiation production, the ability to position the body accurately, usage of radiation safety, communication with individuals under stress due to illness or injury and the development of professional attitudes and ethics. Our program includes general education, required related courses such as anatomy and physiology, radiography lecture, labs and clinical courses. Program structure allows for simultaneous completion of lecture and clinical education requirements. Upon graduation, you will earn an associate of science degree and be prepared to take the national certification exam through the American Registry of Radiologic Technologists (ARRT) which is required for employment.
Why choose Washburn University for Radiologic Technology?
Washburn's 100% placement rate (in 2020 and 2021) indicates the quality of instruction and the quality of our students.
Our maximum class size of 25 students allows students to build relationships with faculty.
Washburn's XR program has two full-time faculty members who have real-world experience working as radiographers.
Lab sessions are held in operational x-ray rooms including a general unit, mobile units and a C-arm fluoroscopy unit.
The program utilizes 16 radiology facilities located in hospitals and clinics in Northeast Kansas and the Kansas City area.
Once you complete this associate of science degree, you have the option of earning a Bachelor of Health Science degree at Washburn University.
The program has continuing accreditation status of eight years through the
Joint Review Committee on Education in Radiologic Technology
. See
Quality Indicators
section for Program Mission Statement, Goals, Student Learning Outcomes. Recent Program Effectiveness data is also located
here
.
Revised 3/2021
Related Programs & Degrees
Upon graduation, Radiologic Technology students have the option of additional formal education. Washburn University offers several one-year programs in the imaging and/or treatment areas of radiology.
Take a Closer Look
The program offers the majority of coursework and labs in-person, with hybrid instruction for clinical education coursework. Clinical education involves direct patient care at an assigned radiology department.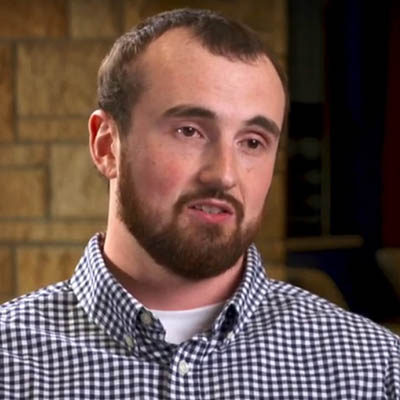 Meet Radiologic Technology Graduate Colton
When Colton Kennedy began working at the St. Francis Hospital as a cardiovascular technologist, he knew he was well-prepared. Kennedy needed just a couple of years in Washburn's Radiologic Technology program to be ready for a career in healthcare.
"The hands-on experience in the radiology lab really prepares you for the real-world job," said Kennedy, who grew up in Topeka. "Your clinical hours, the things that you do in class … they're the exact same things that you're going to be doing once you enter the workforce."
Kennedy's interest in the field began when he saw how much radiation therapists impacted his father, a stage four cancer survivor.
"I saw how those people affected my dad's life," he said. "They put a smile on his face, helped him through his days."
Kennedy completed the program in two years and immediately began working in the industry. He said Washburn has developed a reputation for producing high-quality workers.
"People know that if you went to Washburn, you're going to be well-trained and know what you're doing," he said. "Almost every nurse and tech that I work with went to Washburn."
Jobs & Opportunities
CAREER FORECAST:
growing outlook
Employment of radiologic technologists is projected to grow 7 percent from 2019 to 2029, faster than the average for all occupations. As the baby-boom population grows older, there may be an increase in medical conditions, such as cancer and Alzheimer's disease, which require imaging as a tool for making diagnoses. (source: US Bureau of Labor Statistics)
Experienced Salary
$60,890
(KS Dept. of Labor)
Program Cost
Courses in this degree program are offered at the traditional undergraduate rate. Competitive scholarships are available to declared School of Applied Studies majors who qualify for the awards. Other scholarship opportunities are available through Washburn University.
Apply Now
Washburn's Radiologic Technology program has selective admission. Application packets (coming soon) are due by Feb. 1 for fall semester entry. Applicants must be a high school graduate or equivalent with a knowledge base in science and mathematics. It is recommended that biology, physics and communication courses be taken at either the high school or college level as part of the educational preparation.

Applicants must have completed a minimum of 12 college credit hours, applicable to the associate degree, prior to the Feb. 1 deadline (EN101, general education and/or college algebra).
GET IN TOUCH
WITH Allied Health
Allied Health
Benton Hall, Room 107
1700 SW College Ave.
Topeka, KS 66621