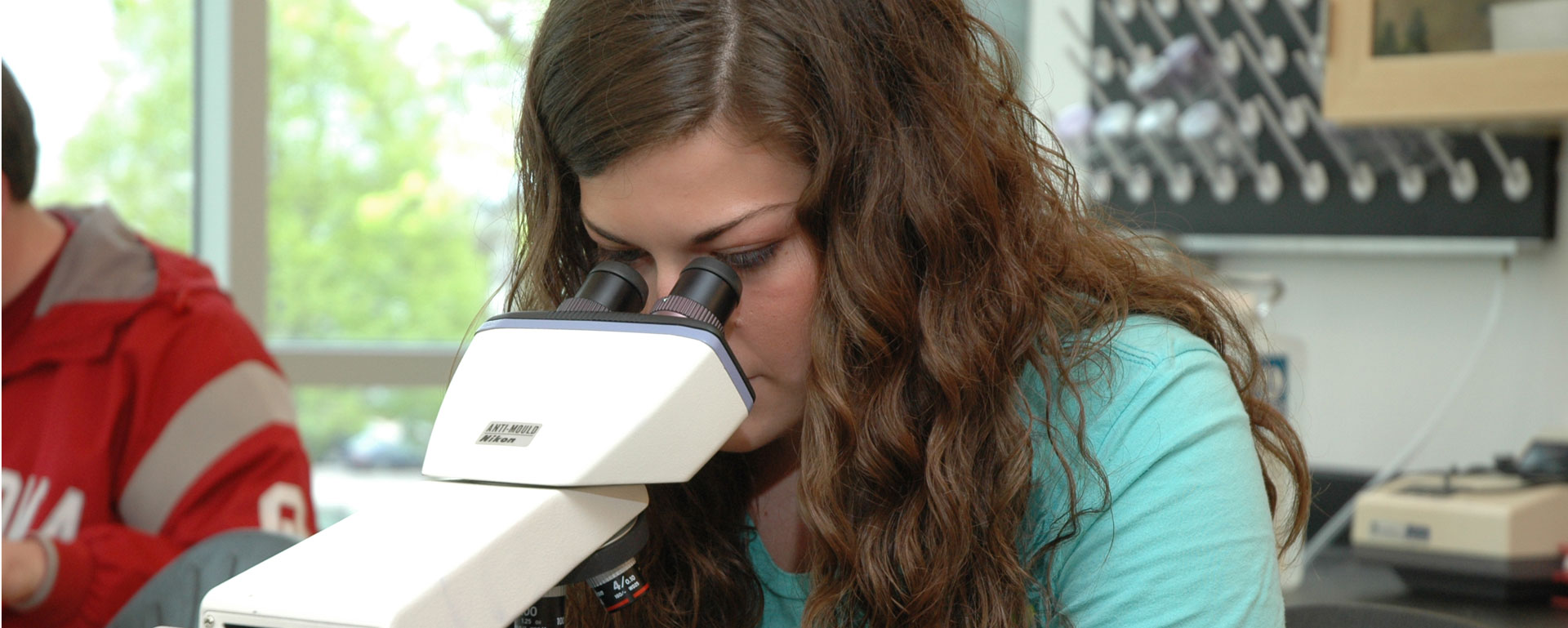 Why study Biology Education at Washburn?
At Washburn, your career goals matter and our programs make them possible. You can earn a bachelor of science, or a bachelor of education in preparation for teaching exams that will qualify you to teach grades 6-12 in Kansas. Because Washburn University's Biology and teacher preparation programs are well respected in the state and region, our graduates find rewarding employment at many grade-levels and schools.

Career Forecast

 

Growing Outlook

.

Average Salary

 

High school: $55,170 in Kansas Middle school: $58,010 in Kansas

on campus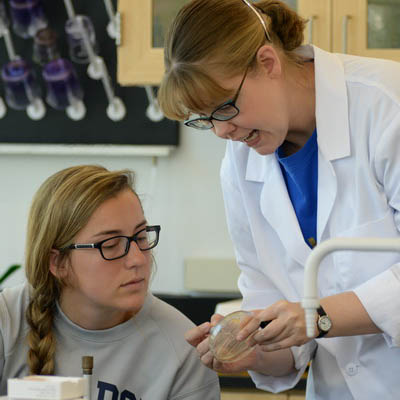 What sets Washburn Biology apart?
You'll train as a scientist and an educator. Every Washburn Biology graduate conducts research for at least one semester with a faculty mentor. Every Washburn Education graduate completes a semester of student-teaching and multiple field experiences.
You'll learn from professors, not graduate students.
You'll be eligible for scholarships and free tutoring (and you can get paid to tutor others, too.)
Active student organizations help you find your people.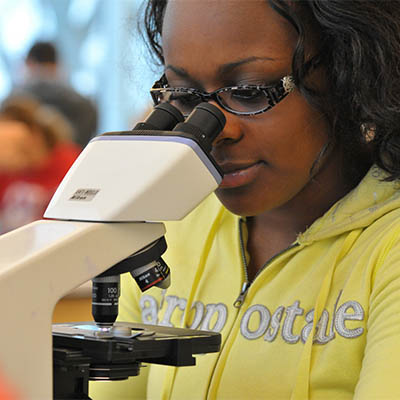 Admissions scholarships
Washburn University offers generous scholarships based on your interests, career aspirations, community service and academic success.
Biology department scholarships
You're eligible for a variety of scholarships based on academic performance and career pursuits. Available for incoming freshmen, current and transfer students. Applications are due early in the spring semester for the following year.

2
Declare major and apply to Education program

It is common to declare a major in biology at enrollment and then determine your specific interest. In your second year you'll need to apply to the
Professional Teacher Education Program
. Admission to the program allows you to begin your teaching blocks.

Plan to take the Praxis exams in your final semester.
4
Classroom teaching or graduate school

You'll participate in
Education Interview Day
before graduation. Many students graduate with a job lined up. About half of biology education graduates continue to a graduate program.
Choose your path
Your Biology Department advisor will work with you to determine how to best reach your goals. The option of earning a bachelor of education or a bachelor of science means you can plan for the career path you want.
To satisfy Kansas State Department of Education requirements for teaching certification in Biology (grades 6-12), the state-approved program of the Biology Department at Washburn University requires that candidates fulfill the following requirements:
University and general education requirements
38 credit hours in biology

20 credit hours of biology core requirements
18 credit hours of supporting biology courses

Required 30-hour natural science concentration: 20 credit hours in one discipline
Both the BS in Biology Secondary Education and the BEd in Biology Secondary Education meet this requirement.
Course Number

Course Name

Credit Hours

A. Biology, Secondary Education Specialization (BiED) Core Courses:

BI 102

General Cellular Biology

 5

BI 103

General Organismal Biology

 5

BI 301

General Microbiology

 4

BI 333

General Genetics

 4

BI 390

Biology Seminar

 1

BI 395

Biology Research

 1

Total Core BI Hours for BiEd Majors

20

B. Required Supporting Courses for BiED Majors:

Students must complete the following courses to satisfy Kansas teaching standards. Indicated courses may be substituted by course listed under Course Substitutions.

BI 155

Sexually Transmitted Diseases*

1

BI 202

Biology of Behavior

3

BI 250

Introduction to Human Anatomy**

3

BI 255

Human Physiology †

4

BI 310

Ecology ‡

4

BI 340

Evolutionary Biology

3

Total Supporting BI Hours

18

Course Substitutions

BI 275

Human Anatomy** (substitute for BI 250)

4

BI 325

Microbiology of Human Disease* (substitute for BI 155)*

5

BI 300

Field Biology ‡ (substitute for BI 310)

3

BI 330

Animal Physiology † (substitute for BI 255)

4

Total BI Hours for BiEd Majors
38

C. Required Chemistry, Math and Physics Courses for BiEd Majors:

CH 151/152

Fundamentals of Chemistry (1 year with lab)

10

CH 340/342

Organic Chemistry I (with lab)

5

MA 140
  or MA 151

Statistics 
  or Calculus & Analytical Geometry I

3
  or 5

PS 261-262
  or PS 281/282

College Physics (1 year with lab)
  or General Physics (1 year with lab)

10

D. Courses that may be used to fulfill the 30-hour NS Concentration (CH emphasis)

CH 341/343

Organic Chemistry II (with lab)

5

  or

5 cr hr of upper division CH

Total CH, MA, PS Hours
33-35

F. Professional Education Requirements (See BiEd advisor)


39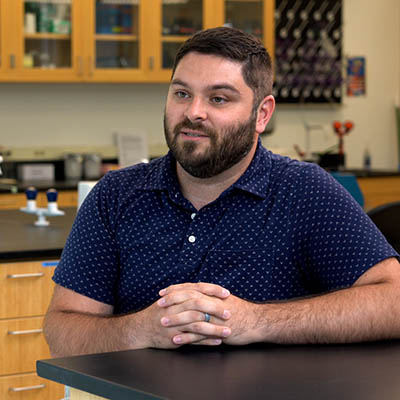 Meet alumnus Bill Dohrman
Bill Dohrman was working in retail management when he realized what he enjoyed most about the job was teaching new employees. That led to a career change to his true passion: Becoming a Biology teacher.
Dorhman, who is pursuing a Bachelor of Secondary Education with an emphasis in Biology, needed to attend a school that not only gave him the tools he needed to teach, but also allowed him to take care of his family at the same time. Washburn proved to be the best fit.
"They're understanding and flexible for whatever situation you're in," Dohrman said of the faculty in Education. "They know that I have kids, so I have other responsibilities than just their class. So, they can work with you on things, or if you need more help, they're willing to take their personal time to help you that way."
Dohrman also received a number of scholarships that made balancing family, education and work manageable.
"I was able to secure a substantial enough amount that I won't have to work while student teaching," he said.
Teaching Licensure Only
This option is right for you if you already have a bachelor's degree and want to become a licensed biology teacher.
Set for Success
CAREER FORECAST:
growing outlook
Employment of middle and high school teachers is predicted to grow about 4 percent from 2019 to 2029 according to the U.S. Bureau of Labor Statistics. The rate is as fast as average for all occupations.
Student/Faculty ratio
9:1 Education
16:1 Biology
Qualities for success
Inquisitive
Persistent
Patient
Proactive
Washburn Biology provides
Well-respected program
Community
Meaningful experiences: research and classroom
Resources: Financial and academic support
Cost and financial aid
Courses in this degree program are offered at the Traditional Undergraduate Rate.
GET IN TOUCH
WITH Department of Biology
Department of Biology
Stoffer Science Hall, Room 202
Washburn University
1700 SW College Ave
Topeka, KS 66621