Why study Molecular Biotechnology at Washburn?
Molecular biologists and biotechnologists work at the cellular level. As a student in this program, you'll learn with experts in the fields of cellular biology, microbiology, genetics, virology, and immunology. If you want to work in areas ranging from public health to nanotechnology, this could be the right path for you.
With a faculty mentor and advisor in your area of interest, you'll complete at least one semester of research experience and grow your skills as a scientist, as well as a collaborative member of a lab team. Internships also are available with our many partners and an internship is required for this degree program. You'll graduate with experience and the technical skills and knowledge you need to begin your career or continue to advanced study.
Career Forecast
 

Stable Outlook
.
Average Salary

 
$84,400
on campus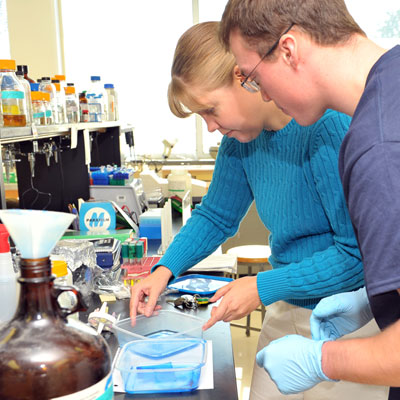 What sets Biology at Washburn apart?
Learn from field experts not graduate students in small classes that help you thrive.
Internships in a variety of settings will help you explore career paths prior to graduation. Recent sites include state agency labs, medical centers, and a brewery.
Biology Department Scholarships are available to incoming and returning majors.
Find your people on campus with one of four biology student clubs. 
Graduate with research experience guided by a faculty mentor, which could lead to a conference presentation or publication.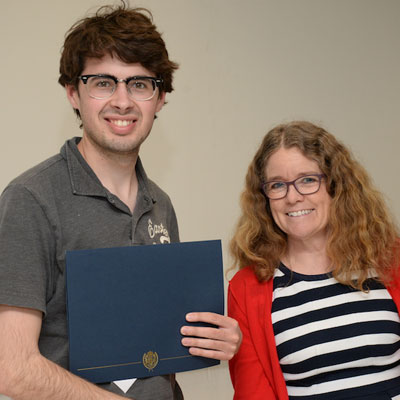 Admissions scholarships
Washburn University offers generous scholarships based on your interests, career aspirations, community service and academic success.
Biology department scholarships
The biology department offers a variety of scholarships based on academic performance and career pursuits. New and transfer students are eligible. Applications are due early in the spring.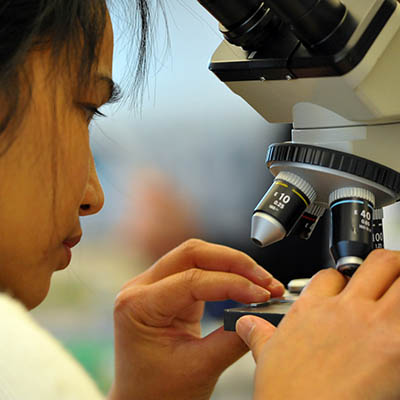 Tuition and fees
Courses in this program are offered at the Traditional Undergraduate rate.
Financial aid
Washburn University offers generous undergraduate financial aid, including scholarships and grants.
Tuition waivers
If you don't currently live in Kansas, learn about our Tuition Waiver programs that may qualify you for in-state tuition.
What can you do with this degree?
Graduates of this program now work in a variety of roles within the scientific community. Among them: medical doctors, university faculty members and researchers, vaccine quality control, virology, pharmaceutical development, intellectual property attorneys, and medical technology business owners.
4-Year plan
This degree can be completed in 4 years. You'll take 34 credit hours of core biology courses and choose a concentration in a natural science to take at least 20 hours in.
To earn a B.S. degree in molecular biology & biotechnology, a student must satisfy the following:
University and general education requirements
34 credit hours of molecular biology & biotechnology core biology requirements, plus
41 credit hours of required correlate courses, plus
8 credit hours (minimum) of additional BI or CH courses, plus
3 credit hours of an approved ethics course (PH 214)
Required 30-hour natural science concentration

20 credit hours in one discipline, which is satisfied via the required CH, MA and PS credit hours
Required core biology courses:
BI 102 General Cellular Biology (5)
BI 103 General Organismal Biology (5)
BI 234 Introduction to Biotechnology (3)
BI 301 General Microbiology (4)
BI 333 General Genetics (4)
BI 353 Molecular Genetics (3)
BI 354 Molecular Biology Laboratory (3)
BI 390 Biology Seminar (Biotechnology) (1)
BI 395 Biology Research (3)
BI 440 Biotechnology Internship (3)
Total core biology hours: 34
Required chemistry, math and physics courses:
CH 151/152 Fundamentals of Chemistry (1 year with lab) (10)
CH 340/342 Organic Chemistry I (with lab) (5)
CH 341 Organic Chemistry II (3)
CH 350/351 Biochemistry I (1 semester with lab) (5)
MA 140 Statistics (3)
MA 151 Calculus & Analytical Geometry I (5)
PS 261-262 College Physics (1 year with lab) OR PS 281/282 General Physics (1 year with lab) (10)
Total CH, MA, PS hours (satisfies the 30-hour Natural science concentration): 41
Elective supportive courses:
(students must complete a minimum of 8 additional hours from the following list)
BI 322 Advanced General Botany (4)
BI 325 Microbiology of Human Diseases (5)
BI 328 Plant Anatomy and Physiology (3)
BI 330 Animal Physiology (4)
BI 343 Human Genetics (3)
BI 355 Developmental Biology (5)
BI 357 Histology (4)
BI 362 Immunology (3)
BI 363 Immunology Lab (2)
BI 370 Virology (3)
CH 343 Organic Chemistry Laboratory II (2)
CH 352 Biochemistry II (3)
CH 353 Biochemistry Laboratory II (2)
Total elective hours: at least 8


Other course required:
Enroll at WU and declare major

Fill out the
Undergraduate Admissions Application
and enroll to pursue molecular biology and biotechnology. It's common to declare a major in biology at enrollment and then determine your specific interest.
Research and internship opportunities

You can:
Conduct research with a faculty mentor and plan to present and/or publish your findings.
Complete an internship. More than one internship is possible, but credit is awarded for one.
Research grant writing practice is common and lab coursework occurs every semester to grow your skills.

Workforce or graduate school

67 percent of environmental biology majors in the last five years have gone right to graduate school after graduation.
Washburn's Biology program offers specialization in: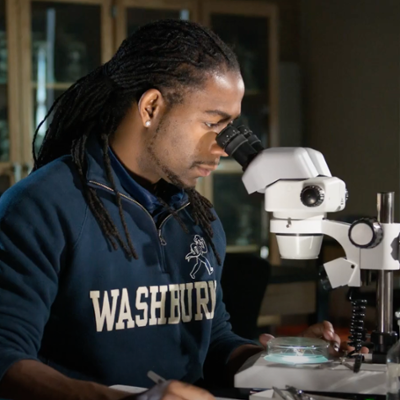 Biology
This is right for you if you want a strong foundation in biology but aren't ready to choose a specialty area, or want to combine it with another major.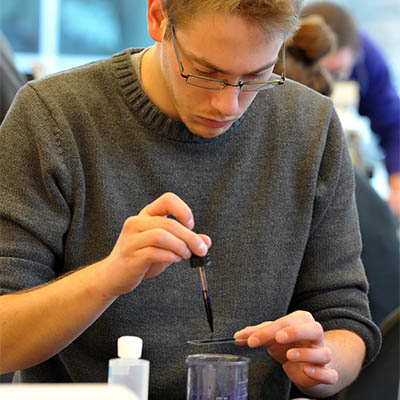 Forensic Biology
This is right for you if you want to work as part of a crime scene processing team.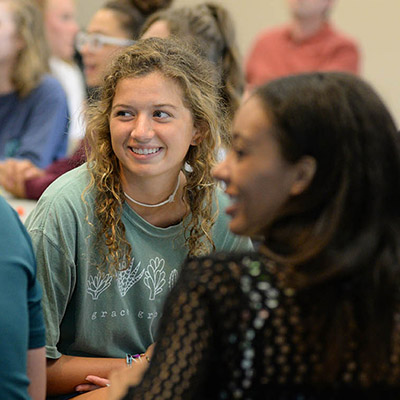 Biology Secondary Education
This is right for you if you want to teach biology at the middle or high school level.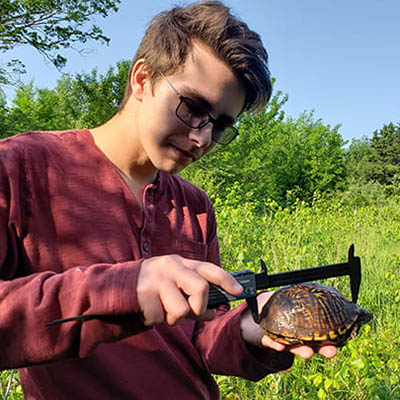 Environmental Biology
This is right for you if you want to work with plants, animals, or insects as a conservationist, zoologist or field biologist.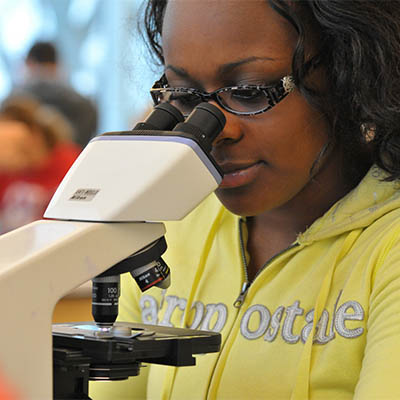 Pre-Health Professions
Tailor your degree to prepare you for dentistry, medical, optometry, pharmacy or veterinary school.
Set for Success
CAREER FORECAST:
stable outlook
Positive peer pressure
75%
of students in this major graduate in four years.
Student/faculty ratio
16:1
Recent internship sites
Norsemen Brewing Co.
Kansas Department of Health and Environment
University of Kansas Medical Center
Program cost
Courses in this program are offered at the Traditional Undergraduate rate. Students in this program are eligible for scholarships and financial aid.
GET IN TOUCH
WITH Department of Biology
Department of Biology
Stoffer Science Hall, Room 202
Washburn University
1700 SW College Ave
Topeka, KS 66621