Why Major in Mathematics & Statistics at Washburn?
We offer every student a wide variety of opportunities to study mathematics and statistics within three different major programs: Pure Mathematics, Actuarial Science, and Secondary Math Education Certification.

Our faculty members genuinely care about the students and are readily available for consultation.  Their primary interest is encouraging academic excellence while providing the necessary support for you to succeed.
Which first math course is right for non-math majors?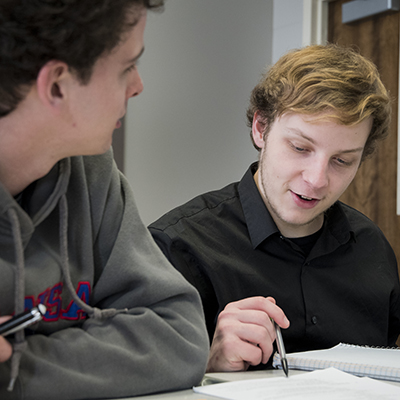 Mathematics & Statistics minors
Students who exercise the optional minor in mathematics will fulfill the fifteen hour requirement by taking courses numbered MA 151 or above (excluding MA 206 and MA 228). Six of the hours must be at the upper division level.
Students who exercise the optional minor in applied statistics will fulfill the fifteen hour requirement by taking at least two of MA 340, 341 and 346, with the remaining classes selected from MA 342, 344, 345, 347, 348 and 385.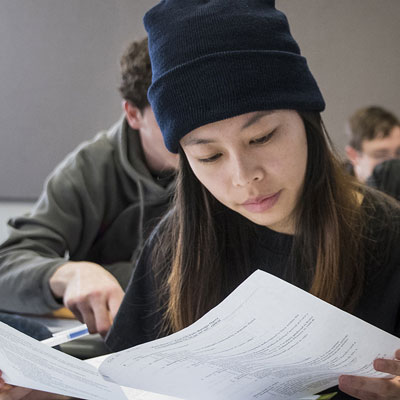 Associate of Arts in Natural Sciences and Mathematics
The general requirements for an Associate of Arts degree in Natural Sciences and Mathematics are listed in the Washburn University catalog.  See Requirements Common to all associate degrees, in the index.  For a field of concentration in Mathematics, 12 required hours are satisfied by Mathematics courses numbered 151 or above (excluding MA 206 and MA 228). 

Meet Math Graduate Matt Dinkel
Matt Dinkel could have gone to a bigger college, but he didn't feel as comfortable on those campuses as he did at Washburn. He knew being an Ichabod was the best fit.
"I felt like I was just a number," Dinkel said. "I had friends at the other schools where I don't think they ever hardly even talked their professors. Even in my non-Math classes, I knew my professors."
That one-on-one interaction with professors was important to Dinkel, who earned a bachelor's in Math and Applied Statistics from Washburn.
"Washburn was the right fit for me because of the small class size and that family feel," he said.
During conversations with his professors, Dinkel learned about actuarial science. More than 20 years later, that field is his career as a director of long-term planning and enterprise risk management at Security Benefit.
He also has maintained a connection on campus, serving on the actuarial advisory committee here.
"We want to see it thrive at Washburn because Security Benefit gets a lot of interns, and a lot of them become full-time employees," Dinkel said.
Dinkel also is heavily involved with United Way of Greater Topeka, where he serves on the board, as well as the finance and audit committees.
GET IN TOUCH
WITH Department of Mathematics & Statistics
Department of Mathematics & Statistics
Morgan Hall, Room 250
1700 SW College Ave.
Topeka, KS 66621