Why Study French at Washburn?
Bienvenue! If you want to be able to communicate in French in any work setting, Washburn University can help you achieve that! More than half of all language majors at Washburn combine language learning with another discipline, from business or nursing to psychology or social work. You will study abroad in a French-speaking country, and you will be eligible for local internships. You also will gain French language proficiency in speaking, reading, writing and critical thinking that will set you up for career success.
Career Forecast
 

Bright Outlook
.
Average Salary

 
$80,000
on campus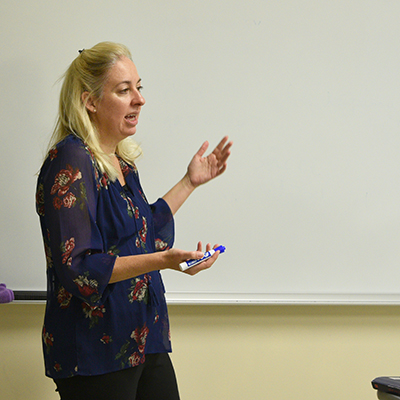 Translating Into Success
Washburn's French language program allows you to immerse yourself in the language from the start of your educational journey. Learning a foreign language is a cumulative process. By building your knowledge and skills each semester, you give yourself the best chance at a successful career speaking the sixth most widely spoken language in the world! So what sets Washburn's program apart?
Bachelor of Arts in French
Enroll at WU & Declare Major

It is common to declare a major in
French
at enrollment and then
determine
your specific interest.
Talk to your advisor right away if you know you want to study something else
, too. Depending on that other discipline, you will earn a double major or a double degree. 


At graduation, students
typically
have an exam-demonstrated
proficiency
beyond intermediate level.
Workforce or Graduate Studies

Graduates work in a variety of settings and have continued on to graduate
school in many disciplines
and professional school for medicine, law and library information science.
Numbers & Opportunities
CAREER FORECAST:
bright outlook
Employment of interpreters and translators is projected to grow 20 percent from 2019 to 2029, much faster than the average for all occupations. Globalization and large increases in the number of non-English-speaking people in the United States will drive employment growth, according to the U.S. Bureau of Labor Statistics.
Qualities for Success
Eager to learn
Passion for other cultures
Committed to improvement
Adventurous
Travel Options
France
Belgium
Canada
Martinique
Senegal
Switzerland
Tahiti
Program Cost
Courses in this degree program are offered at the traditional undergraduate rate. Competitive scholarships are available to French majors who qualify for the award. Scholarship applications are traditionally due by February 15.
GET IN TOUCH
WITH Department of Modern Languages
Department of Modern Languages
Morgan Hall, Room 350
1700 SW College Ave.
Topeka, KS 66621