Why study Music Education at Washburn?
If you want to teach music, Washbun is the place for you. As a music education student, you will have the opportunity to study with nationally recognized music educators. Our program is comprehensive and has an exemplary reputation in Kansas and the region: as measured by 100% job placement among program graduates since 2013. Washburn music faculty members are passionate about their students and will prepare you to become a successful educator for today and the future. Music education majors must earn their P12 license to teach music in the state of Kansas. All instrumentation is accepted for this degree program.
Career Forecast
 

Growing Outlook
.
Average Salary

 
High school: $55,170 in Kansas Middle school: $58,010 in Kansas Elementary school: $54,460 in Kansas
on campus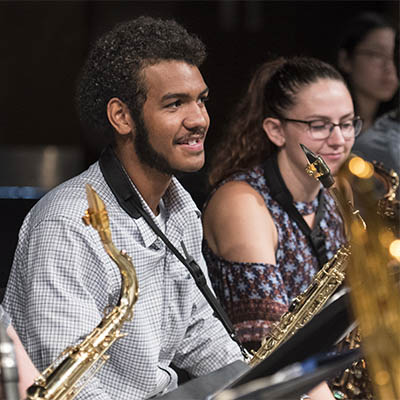 What sets Music Education at Washburn apart?
Washburn University's Music Education program has a 100% job-placement rate for all graduates since 2013.
You'll collaborate with music educators from Topeka and regional public schools during your sophomore year.
Excellent scholarship opportunities are available for incoming freshmen, transfer, and returning students.
Professional organization student chapters will connect you professional musicians, current and future educators, and the community.
You'll have access to masterclasses, clinics, conferences, and competitions, live performances, as well as school observations and more.
You'll study with internationally and nationally recognized artists and educators.
Music Education majors study with a diverse faculty who possess years of teaching experience in public education.
You'll perform in a wide variety of musical settings.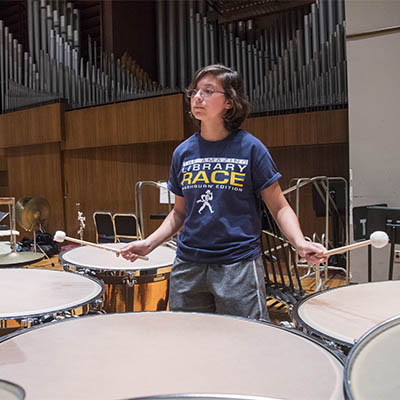 Admissions scholarships
Washburn University offers generous scholarships based on your interests, career aspirations, community service and academic success.
Music department auditions and scholarships
Plan to audition the February prior to your freshman year. Music department scholarships are available for incoming freshmen, current and transfer students. Non-music majors are also eligible.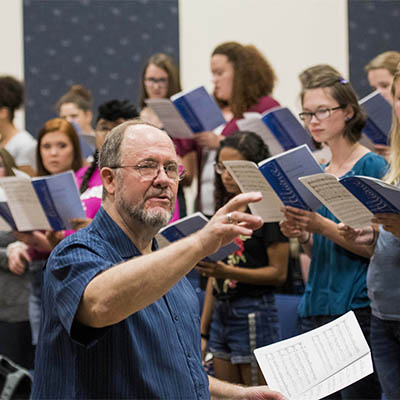 Tuition and fees
Courses in this degree programs are offered at the Traditional Undergraduate Rate.
Financial aid
Washburn University offers generous undergraduate financial aid, including scholarships and grants.
Tuition waiver programs
If you don't currently live in Kansas, learn about our Tuition Waiver programs that may qualify you for in-state tuition.
1
Enroll at WU & declare major

Fill out the 
Undergraduate Admissions Application
 and enroll to pursue music education. If you're unsure, know it is common to declare a major in music at enrollment and then get more specific.
2
Apply to Education Program

3
Bachelor's degree & licensure exams

You'll participate in
Education Interview Day
before graduation. Plan to take your licensure exams in your final semester.
4
Classroom teaching or graduate school

One in three Music Education majors continues right to graduate school as they begin their careers in the music room. Washburn
graduate programs in Education
can prepare you for advanced licensure.
Major map and sample schedules
89 percent of our students choose to complete this degree in 4.5 or 5 years. This may be necessary, especially if you plan to work as you study.
Teaching licensure only:
This is the right option for you only if you already have a bachelor's degree.
Set for success
CAREER FORECAST:
growing outlook
Employment of teachers is predicted to grow about 4 percent from 2019 to 2029 according to the U.S. Bureau of Labor Statistics. The rate is as fast as average for all occupations. 
Opportunities
Give lessons and be a guest director for K12 students
Perform with ensembles or for community activities
Recordings, competitions, and conference presentations are possible
Study abroad
Qualities for success
Love of music
Passion for education
Self-disciplined
Time Management and organizational skills
Cost and financial aid
Courses in this degree programs are offered at the Traditional Undergraduate Rate. 
GET IN TOUCH
WITH Music Program
Music Program
Garvey Fine Arts Center, Room 211
Washburn University
1700 SW College Ave.
Topeka, KS 66621