Why earn your M.Ed?
If you're a teacher who sees reading as the key to life long learning, consider our Literacy/ESOL program, which will prepare you to serve as a Reading Specialist or an ESOL Specialist at any grade level. Our Master of Education degree in Literacy/ESOL fulfills the standards set by the Kansas Department of Education for school specialist license and endorsement in ESOL. The program also aligns with the recommendations and guidelines of such professional groups as the International Literacy Association.

Career Forecast

 

Growing Outlook

.

Average Salary

 

$52,700

online
Why study Literacy/ESOL at Washburn?
You'll work at your pace in this fully online program and develop a portfolio that demonstrates what you know and can do to support your students. Additionally, you'll complete a capstone project and demonstrate proficiency with an oral examination.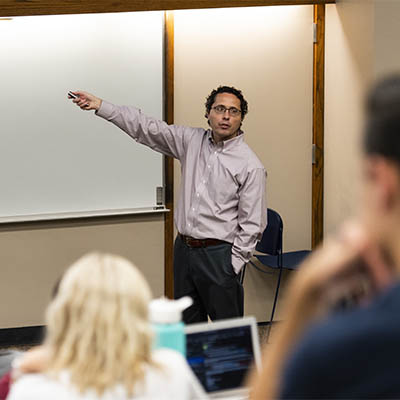 Tuition and fees
All courses in this program are offered at the Graduate Distance Education rate.
Financial aid
Financial aid is available for graduate students.
Online advantage
All courses in the Literacy/ESOL program are offered online and can be taken at your own pace. Most students take 9 to 18 credits per year, finishing the 31 credit program in 2 to 3 years. Start dates are offered in the Spring, Summer and Fall of each year so you can get started right away!
Bachelor's degree & teaching license

You'll need a copy of your current teaching license to apply to the graduate program.

As part of this program you will complete a 31 credit hour graduate program which includes a core curriculum of graduate courses and 25 credit hours of specialized coursework in Literacy/ESOL.
Advance to a Reading Specialist or ESOL Specialist position

After graduation you can apply for a school specialist license and ESOL endorsement. Paired with your teaching experience you'll be ready for Reading and/or ESOL Specialist positions in Pre-Kindergarten through 12th grade classrooms.
Core Course: The following 3 hours are required:
ED 665 Introduction to Educational Research (3)
Area of Concentration: A minimum of 30 semester hours to include the following (electives or substitutions must be approved by the Graduate Program Advisor, the department's Graduate Program Committee, and the Chair of the Education Department).
RD 610 (3) Literacy/ESOL Instructional Approaches
RD 612 (2) Children and Young Adult Literature
RD 616 (3) Writing Instruction
RD 620 (3) Literacy and ESOL Assessment
RD 622 (3) Literacy/ESOL Instructional Strategies
RD 626 (2) The Literacy/ESOL Specialist
RD 628 (3) Linguistics, Language Development & Assessment
RD 630 (3) Literacy Specialist/ESOL Practicum
RD 684 (3) Literacy Instruction in the Middle and Secondary Content Areas
ED 650 (2) Methods and Cross-Cultural Communication
ED 698 (1) Action Research Capstone
Candidates will be required to complete a research project that encompasses both literacy and ESOL components (initially developed during ED 665) as their Capstone Experience. The candidates will be required to present their research at the annual Apeiron event in the spring (or a suitable substitution). This program will prepare students to successfully complete the exams for the Kansas Reading Specialist license and the ESOL endorsement.
Program cost
Course in the Reading/ESOL program are offered at the Graduate Distance Education rate. Financial aid and scholarships are available to graduate students.
GET IN TOUCH
WITH Department of Education
Department of Education
Carnegie Hall, Room 202
1700 SW College Ave.
Topeka, KS 66621

Phone & Email
Phone: 785.670.1427