See what it's like to study art at Washburn!
When: Friday, November 3, 2023
Where: Art Building, Washburn University Campus
High School Art Day is a free, day-long event specially designed to introduce high school students interested in art to the faculty, facilities and features of Washburn University. You'll attend a variety of art workshops taught by Washburn University Art Department faculty and advanced art students, and you can enter an art exhibit and competition exclusively for those who attend High School Art Day.
High School Art Day is open to all high school students, but advanced art students who are considering studying art or art education at a public university such as Washburn would benefit most.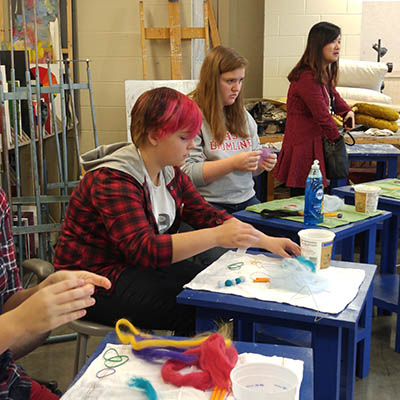 Schedule
8 - 9 a.m. – Check In, View Student Exhibit
9 - 9:50 a.m. – Workshop Session 1
10 - 10:50 a.m. – Workshop Session 2
10:50 - 11:50 a.m. – Workshop Session 3
11:50 a.m. - 1 p.m. Lunch and Awards Ceremony (

Washburn A/B, Memorial Union

)
1 - 1:50 p.m. – Workshop Session 4
2 - 2:50 p.m. – Workshop Session 5
2:50 p.m. – Uninstall exhibition artwork to take home, departure
Art Exhibit/Competition winners will be announced during the lunch and awards ceremony. Lunch is provided.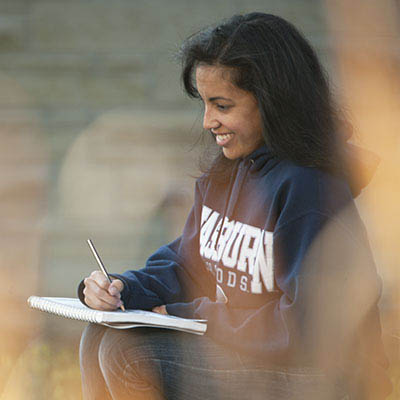 Student Art Exhibit/Competition
The Washburn University Art Department is hosting the High School Student Art Exhibition featuring the work of High School Art Day attendees. The exhibit will take place October 27 to November 3 (exhibit closes 3 p.m. on November 3) in the John R. Adams Gallery, located in the Art Building at 1746 SW Durrow Drive, Topeka, KS. The gallery is open to the public:
Monday-Wednesday: 7:30 a.m. - 7 p.m.
Thursday: 7:30 a.m. - 9 p.m.
Friday 8 a.m. - 5 p.m.
Saturday/Sunday: Closed
A reception will be held on Wednesday, Nov. 1, from 5 – 7 p.m. The event is free and open to the public.
Under Pressure: Printing Positive
Pressure prints on the letterpress.  Students create a matrix from cut paper and print on rice paper. Pressure printing creates a positive instead of negative imprint.
Marguerite Perret & Michael Hager, Professors
---
Photograms and Camera-less Photography 
Students learn about the history of using light sensitive materials to make "photographs" without a camera.
Danielle Head, Professor
---
Augmented Reality
Augmented Reality (AR) experience creation is so easy!  Take this workshop for the fun AR interaction creation to share with your friends and family.
Wonjae Lee, Professor
---
3D VR (Virtual Reality) Painting:  360 Immersive Art
Experience immersive, three-dimensional painting using Virtual Reality (VR). 
Azyz Sharafy, Professor
---
Contemporary Chinese Art: Responses to Urbanization
An interactive lecture that introduces one of the major themes of contemporary Chinese art in the 1980s and 1990s. Covering multiple media, this talk will explore artists complex responses to rapid societal and environmental changes in China.
Madeline Eschenburg, Professor
---
Wheel Throwing
Always wanted to throw on the potters' wheel? Now is your chance!  Learn to throw from Bobby Tso. Are you a "throwing pro"? Time to learn some tips!
Bobby Tso, Professor
---
Watercolor Landscape
Paint a watercolor landscape to take home. Use wet-on-wet techniques to paint a 7.5"x11" watercolor landscape.
Ye Wang, Professor
---
Crazy Coil Cups
Create an inventive coil cup in clay and bring home to fire at your school.
Twiggy Boden, Adjunct Professor
---
Art Educator Lesson Sharing Discussion
High School Art Teachers share their best lesson plan ideas with WU Art Education students (and each other!).  No need to bring anything, just come and share your expertise.  Open to high school students considering a career in art education.
Deena Amont, Professor
---
Museum Work 101
Do you love art and want to expand your career possibilities beyond being a practicing artist?  Join the Mulvane Art Museum's Director for a conversation about museum careers and an activity that will get you seeing and thinking like an exhibition developer.
Connie Gibbons, Director Mulvane Art Museum
---
Art Therapy
If you love art and self-expression, art therapy is for you.  This workshop is an introduction to art therapy, careers in art therapy, and it includes a hands-on activity.
Wendy Lynch, Adjunct Professor 
---
Collage and the Art of Romare Bearden
Learn about artist Romare Bearden, view his work in the Mulvane Art Museum collection, and create a collage inspired by Bearden.
Stacy Ash, Art Education Coordinator, Mulvane Art Museum
---
Print Your Own T-Shirt!
Design and carve your own linoleum block and print a t-shirt to take home!
Kamryn Dollahon, BFA Student
---
Sidewalk Chalk: Art with a Message
Put together a school team of 3-5 to produce an original work for our chalk art competition! Each artwork should fit the theme: Art with a Message.  The finished chalk drawings will be judged, and the winning team will receive a prize!
BFA Student Team: Abeni, Adde, Anna-Marie, Jordyn, Kelli, Sierra
---
Get Inked in the Henna Parlor!
Learn about the history and culture of mehndi and henna and receive a henna tattoo designed by Washburn University Art students.
BFA Student Team: Abeni, Adde, Anna-Marie, Jordyn, Kelli, Sierra
---
Collaborative Quilt
Create a collaborative multimedia quilt.
BFA Student Team: Abeni, Adde, Anna-Marie, Jordyn, Kelli, Sierra
---
Mini Trinkets
Join us as we create mini accessories like magnets, jewelry, pins, and more!
BFA Student Team: Abeni, Adde, Anna-Marie, Jordyn, Kelli, Sierra
Thank you
Thank you for support from the Friends of Mabee Library, College of Arts and Sciences, Washburn University Admissions, Ichabod Shop, Center for Student Success and Retention and the Mulvane Art Museum.
GET IN TOUCH
WITH Art Department
Art Department
Washburn University
1700 SW College Ave.
Topeka, KS 66621

Phone & Email
Phone: 785.670.1125
Office Hours:
8:00 a.m. - 5:00 p.m. Monday-Friday
art@washburn.edu