Why earn a Bachelor of Fine Arts in Art Education at Washburn?
For the last five years, 100 percent of the BFA Art Education graduates have been hired by K-12 schools immediately upon graduation. In collaboration with the Department of Education, the Art program at Washburn University will equip you to teach a variety of art media, manage a classroom, and prepare you for the Kansas licensure exams. The Art Department also encourages and financially supports students interested in travel opportunities -- both regional and international.

Career Forecast

 

Growing Outlook

.

Average Salary

 

$52,539 in Kansas

on campus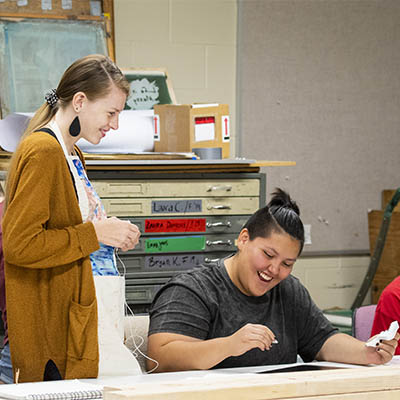 Is the Bachelor of Fine Arts in Art Education (Teacher Licensure) right for me?
If you want to be an art teacher, you're in the right place. This 4.5-year degree* will prepare you to teach at any grade level, prekindergarten to high school, where you may have either a dedicated classroom or travel to more than one building to support students. As an Ichabod, you'll have an advisor in the Art Department and the Department of Education to help you reach your goals in the classroom and beyond.
*About one-third of our graduates in the last five years have completed this degree in four years. The course load required to do that is challenging if you're balancing work and/or family obligations.
If you want to double major and combine art with another field, consider the Bachelor of Arts in Art. If you seek a career based on studio practice, the BFA in Studio Art may be the best choice for you, and if you are interested in studying the history of material culture around the world, the BA in Art History may be the right option. Your advisor can help you find the right match for your goals.

2
Apply to BFA and education programs

3
Senior Show & Licensure exams

Plan to take the Praxis exams in your final semester. You'll also have the opportunity to showcase your work in the Art Building during your Senior Show.

You'll get real classroom experience when you student teach in your final semester. 
You'll also have the opportunity to participate in 
Education Interview Day
 before graduation. Many students graduate with a job lined up.
Jobs & Opportunities
CAREER FORECAST:
growing outlook
Important qualities
Enjoy teaching art to others and watching them develop technically and conceptually
Driven to develop across multiple media, including knowledge in the digital arts
Tenacity – listening and responding to constructive criticisms to improve your work and adapt to change
Job prospects
100%
of our BFA in Art Education (Teacher Licensure) graduates who have applied for jobs in the last five years have been hired immediately after graduation. Among those, 15 percent have also started graduate school.
Hands-on Experience
Washburn art educators are sought out by Kansas districts and have also been hired outside of Kansas. Our alumni include a Kansas Teacher of the Year.
Cost and financial aid
All programs in the Art Department are offered as Traditional Undergraduate courses. The Art Department offers a variety of scholarships for incoming and continuing full-time art majors. The application deadline is February 1 each year for the next fall. Limited funds may be available at fall enrollment. Work study and studio assistant positions also are available.
GET IN TOUCH
WITH Art Department
Art Department
Washburn University
1700 SW College Ave.
Topeka, KS 66621

Phone & Email
Phone: 785.670.1125
Office Hours:
8:00 a.m. - 5:00 p.m. Monday-Friday
art@washburn.edu