The Study of Kinesiology
Are you interested in promoting health and fitness, sports management, teaching PE, exercise and rehabilitation science or coaching? Kinesiology might be the right discipline for you. Kinesiology is the study of physical activity and its impact on health, society and quality of life. It includes, but is not limited to, exercise science, sports management, athletic training and sports medicine, socio-cultural analyses of sports, sport and exercise psychology, fitness leadership, physical education-teacher education, and pre-professional training for physical therapy, occupational therapy, medicine and other health related fields.
A career in a Kinesiology related profession is fun, interesting and rewarding and provides an excellent academic foundation if you want to pursue a graduate and/or a professional degree in a wide range of allied health fields. At Washburn University, we help prepare you to meet or exceed state and/or national standards, in order to acquire the skills and abilities necessary to successfully deal with the challenges of working in these areas.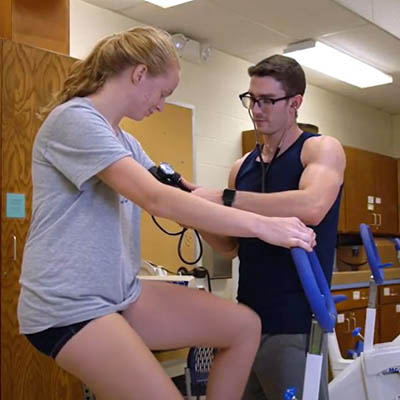 Meet Kinesiology major Quinn Patterson
Quinn Patterson likes a challenge. He also values relationships. For those reasons, among others, he chose Washburn when he decided to transfer from another college in Kansas. The Topekan thrived after making that decision, excelling in the Kinesiology program here.
"Washburn is well-known for its exercise science department, so that was an easy decision," he said. "The faculty have outstanding reputations, and I knew the facilities were really good."
An alumnus with a bachelor's degree in Kinesiology with an emphasis in exercise science and rehabilitation, Patterson enjoyed a smooth transition to Washburn. By the time he finished his degree, he felt prepared for a career.
"Since the classes are small, it's easy to connect and build relationships," Patterson said. "I'm still friends with people from my classes, and I'm close with several of my professors. Washburn prepared me by giving me confidence, the lab time and practical applications I need to be proficient."
Student life also was important to Patterson, who was in the Physical Therapy Assistant Club, Exercise Rehab Club and Student Inter-Professional Council
"Washburn provided a lot of opportunities to get involved, not just on campus, but in your area of study," he said.
GET IN TOUCH
WITH Kinesiology Department
Kinesiology Department
Petro Allied Health Center, Room 201
1700 SW College Ave.
Topeka, KS 66621

Phone & Email
Phone: 785.670.1459
Fax: 785.670.1059
Secretary: Nancy Province
kines@washburn.edu