The School of Nursing, Washburn University, offers distance or online learning opportunities for students living across the United States. In order to do so, the School is committed to complying with the distance learning regulations established by each state and its respective Board of Nursing.  
The School of Nursing RN-BSN program is authorized, exempted from authorization, or not subject to approval to conduct distance education activity - including online courses and programs, clinicals, practicum, field experience, and internships - in the states shown in green below: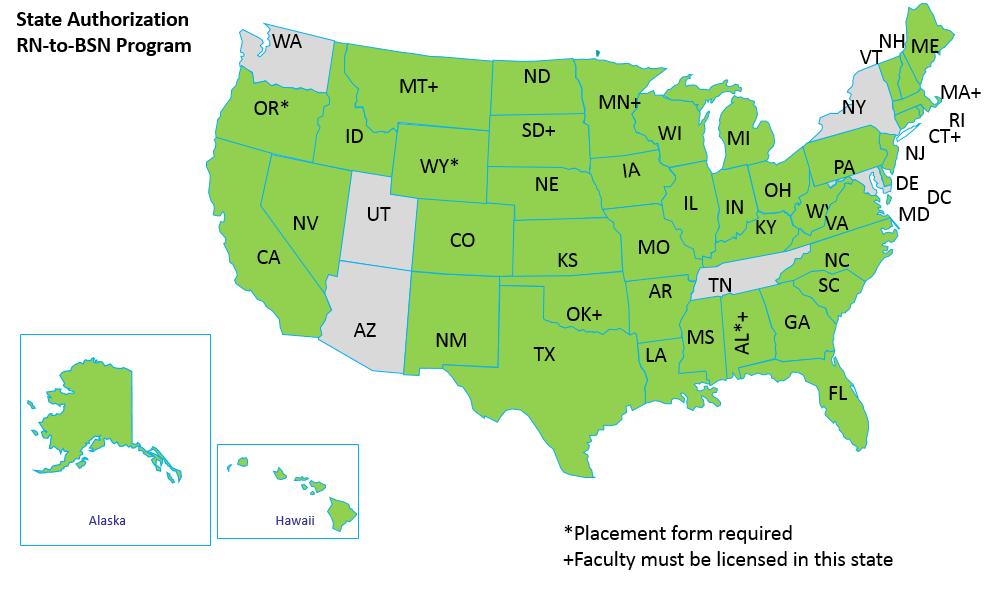 Alabama*+
Alaska
Arkansas
California
Colorado
Connecticut+
Delaware
Dist. of Columbia (DC)
Geogia
Florida
Hawaii
Idaho
Indiana
Illinois
Iowa
Kansas

Kentucky
Louisiana
Maine
Massachusetts+
Michigan
Minnesota+
Mississippi
Missouri
Montana+
Nebraska
Nevada
New Hampshire
New Jersey
New Mexico
North Carolina

North Dakota
Ohio
Oklahoma+
Oregon*
Pennsylvania
Rhode Island
South Carolina
South Dakota+
Texas (Texas Resident Disclosure)
Vermont
Virginia
West Virginia
Wisconsin
Wyoming*
The School of Nursing is in the process of exploring or seeking authorization in the remaining states shown above in grey.  Please contact leah.brown@washburn.edu for more information.
State Authorization Reciprocity Agreements (SARA)
Washburn University is a participant in the SARA initiative, which is a state-level reciprocity process aimed at making the effort to obtain state authorizations more efficient for institutions and to make it easier for students to enroll in distance education programs outside of the states in which they reside. Institutions that are members of SARA are authorized to provide education to students from all SARA member states. States and institutions that choose to become members of SARA operate under a set of policies and standards that are overseen by the National Council for State Authorization Reciprocity Agreements (NC-SARA) and administered by four regional higher education compacts. For more information about the SARA initiative and the progress of state and institutional membership, please visit www.nc-sara.org/sara-states-institutions.