Accelerate Your English Proficiency: Join Washburn University's Intensive English Program (IEP)
The Intensive English Program (IEP) at Washburn University is designed for non-native English speakers who want to improve their English language skills. With multiple levels of instruction, the program caters to students at various proficiency levels. Skilled instructors emphasize practical language usage through interactive activities and discussions preparing students for the US college classroom.
Advanced level credits earned in 200-level classes in the Intensive English Program fulfill general education requirements at Washburn, allowing you to graduate faster.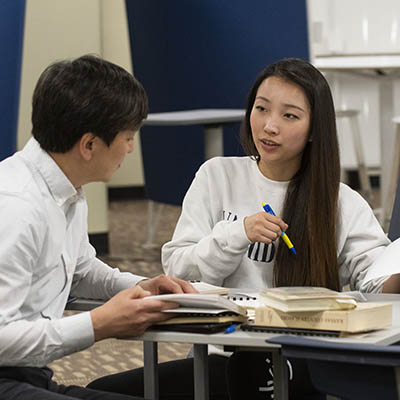 IEP program experience
During the IEP, you will participate in classroom exercises, group projects, and presentations, allowing you to improve your speaking, listening, reading, and writing abilities with grammar instruction embedded in each course. The program also offers cultural activities and field trips to deepen your understanding of American culture.
Academic advising, tutoring, and workshops are available on campus to provide support for your language learning and academic success. Additionally, you will have access to a range of University services and facilities, including the health clinic, computer labs, libraries and athletic events/facilities, all free of charge.
The mission of the Intensive English Program (IEP) is to offer leveled English language courses to prepare non-native English speakers, including international students, for success in degree programs at the university and other academic and community settings. The IEP is committed to facilitating cross-cultural understanding and supporting the university's values of academic excellence and inclusion.
International Student Application
International students who will study at WU on an F-1 student visa or J-1 exchange visitor visa.
Students living in Kansas Application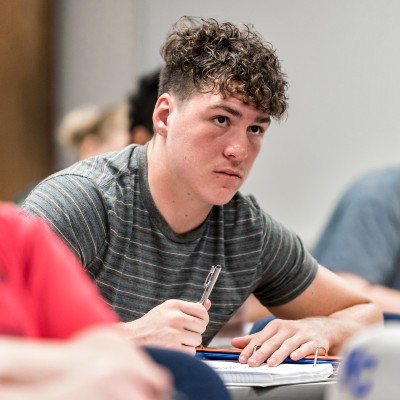 tudents who are U.S. citizens, U.S. permanent residents (green card holders) or have an immigration status which is not F-1 or J-1.
Program levels and classes
Three levels in each of the three areas are available in spring and fall semester: Speaking and Understanding, Reading Comprehension, and Academic Writing.
Writing classes are offered in the summer term.
Reading, Speaking/Listening, and Writing classes follow the University schedule and meet five hours per week in class each semester (16 weeks).
Level I
Beginning language instruction in English usually for student with some experience in English.
Level II
Low intermediate to intermediate level courses for students who are going beyond the basic skills.
Level III
High intermediate to low advanced level of English. These courses prepare students for writing, presentations, and reading tasks at the university level.
Intensive English Student Guide
This guide tells you all you need to know about the Intensive English Program, including information on where to go with questions and concerns and some helpful resources to help you improve your English vocabulary.
Schedule and estimated cost
Academic Calendar
Fall 2023: August 21 to December 15
Spring 2024: January 16  - May 10
Tuition for 2023-2024
Out-of-state residents and international students: approximately $10,500 USD for 13 credit hours per semester, which is 18 hours in the classroom per week.
In-state residents: $1,352 USD for each 4-credit course per semester.
An accredited program
The Washburn University Intensive English Program is accredited by the Commission on English Language Program Accreditation for the period December 2022 through December 2031 and agrees to uphold the CEA Standards for English Language Programs and Institutions. CEA is recognized by the U.S. Secretary of Education as a nationally recognized accrediting agency for English language programs and institutions in the U.S. For further information about this accreditation, please contact CEA, 1001 N. Fairfax Street, Suite 630, Alexandria, VA 22314, (703) 665-3400, www.cea-accredit.org.
Questions?
Contact coordinator Kelly McClendon

785.670.2688
GET IN TOUCH
WITH International Programs
Office of International Programs
1700 SW College Ave.
Topeka, KS 66621