Dates and deadlines for admission
Here's a general guide to the dates and deadlines you should keep in mind when applying to Washburn.
As soon as you can!
Now's a good time


Fill out your admissions application. Admission applications are processed on a continual basis throughout the year. You can apply to Washburn up until one week prior to the last day to enroll for a given semester.
Visit! Explore campus, have your questions answered by an admissions counselor, meet with the faculty in your career interests and take a tour by setting up a personalized visit or by calling 785.670.1030.
Summer

Summer is an excellent time to contact us. No matter if you're a high school junior, senior or transfer student you can use the downtime from school to visit and gather information about colleges. To arrange your visit to Washburn, call 785.670.1030.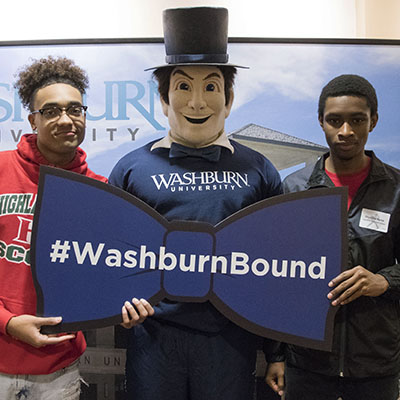 Early Fall
August

Make plans to take the ACT. Use school code 1474 to send your scores to Washburn. SAT scores are also accepted. Test scores are not required for admission, but can help determine scholarship eligibility.
August is not too early to begin filling out your application either. Apply now. For assistance, call us at 785.670.1030.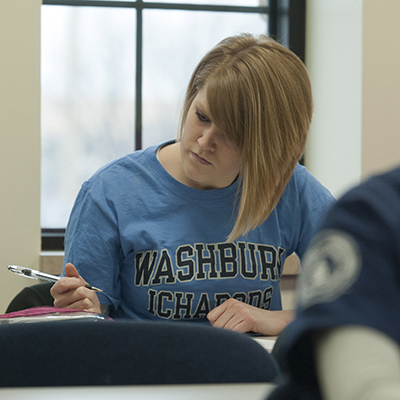 Fall
October

Oct. 1: The Free Application for Federal Student Aid (FAFSA) becomes available. We recommend all students complete the form in order to be considered for loans, grants and work study programs. Washburn's school code is 001949. The priority deadline is Nov. 15.
Oct. 14: High school seniors and juniors can attend our Ichabod Day
Oct. 28: Admitted seniors are invited to campus for Admitted Senior Day.
You didn't get a chance to visit over the summer? October is a great time to come and see us. The foliage is quite pretty, and the place is bustling with Ichabods. Call us at 785.670.1030.
November

Nov. 15: Washburn's priority deadline for the FAFSA. You should complete the application to be considered for Federal and State aid, as well as work study programs. Washburn's school code is 001949.
If you're a high school senior with a GPA above 3.25, you should take the Garvey Exam, a competitive exam that could qualify you for a scholarship ranging from $500-2,000.
Spring transfer students should take advantage of an early opportunity to enroll at Transfer Student Orientation.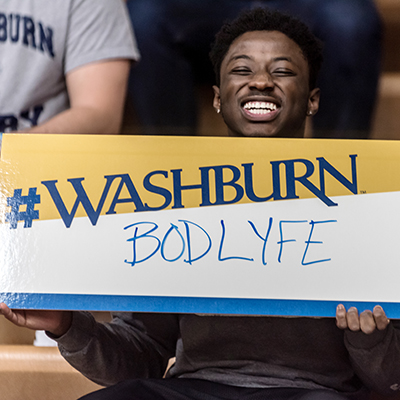 Winter & Spring
February

Registration for New Student Orientation opens. Choose from multiple dates to learn everything you need to know to be successful in your first year and enroll in classes.
Feb. 15: The priority deadline to receive a Freshman Academic Scholarship (these are automatically awarded to admitted students who have submitted their high schools transcript and test scores).
March & April

April 7: High school juniors and sophomores have a special visit day, Ichabod Sophomore/Junior Day.
In early April high achieving juniors are invited to attend our Ichabod Advantage Reception. Seniors should keep an eye out for an invitation to an Ichabod scholarship dinner.
Fall transfer students should take advantage of an early opportunity to enroll at Transfer Student Orientation.
Mid-April choose your room in the residential hall!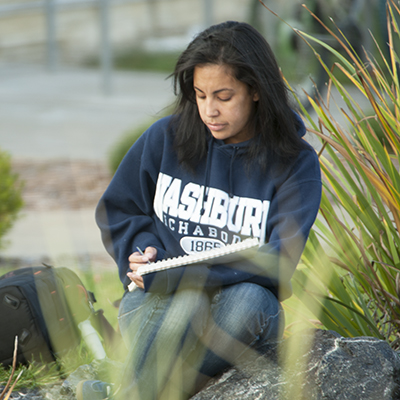 Summer
June, July, August

Send your final high school and/or college transcripts to the Office of Admissions. Attend one of our many summer orientation sessions.
Get ready for the first day of classes. Move into campus housing beginning the week before. Don't miss all the activities at Ichabod Welcome Week. We're happy you've become an Ichabod!
GET IN TOUCH
WITH Admissions
Washburn University Admissions
Morgan Hall Suite 100
1700 SW College Ave.
Topeka, KS 66621