Why Washburn for your Master Arts in Human Services, Addiction Counseling?
The holistic, integrative approach to fieldwork training you'll receive at Washburn will prepare you to become a Licensed Master's Addiction Counselor in Kansas or elsewhere. Coursework is fully online and all faculty bring field experience to effectively address the challenges you'll face in the workforce, such as overall wellness, aging, diversity, harm reduction, and trauma.
Addiction counseling is more than just a job – it is a rewarding career in promoting the wellbeing of individuals, families, and communities. You'll graduate our online program career-ready and can obtain a marketable, in-demand credential as a licensed helping professional.
Career Forecast
 

Bright Outlook
100 % online

 
Online courses + fieldwork in your community
online
What is addiction counseling? Is it right for me?
Addiction counselors are licensed professionals who help others overcome substance abuse and behavioral addictions such as food and gambling. As a counselor, you'll deliver evidence-based interventions, practices, and assessments for those struggling with addiction. You may also help family members and loved ones of those with addictions to navigate the healing and recovery process. You will coordinate recovery services and relapse prevention through collaborative efforts between clients, their families, and other agencies. Typical work settings include clinics, halfway houses, hospitals, inpatient treatment facilities, or outpatient rehabilitation centers.

If you have a passion and personal connection to addiction, either in your own experience or that of a loved one, or you want to help other work toward safer, healthier, happier lives and communities, this field may be right for you.
The Pathway for Addiction Counseling

Diverse backgrounds are welcome in our program, including academically. If you have completed a bachelor's degree in any field, you are eligible to apply. No test scores are required for admission to the program.
This master's degree program

This program will prepare you for license exams in Kansas, and faculty can work with you to ensure preparation for other states' requirements.

Graduate work ready
When you earn your license in your state, you'll be able to work in a variety of settings.
Study Plans
BHS + MA Fast-track
If you don't already have a bachelor's degree and know you want to work toward a Master's level credential in addiction counseling, our Fast-track program can help you finish faster and get to work helping people change their lives.
Full-time study
You can finish the master's program in two years if you take full-time classes.
Part-time study
If your personal obligations make part-time classes best for you, you can finish this program in three years.
Add a Graduate Certificate in Trauma & Recovery
You can earn the Graduate Certificate in Trauma and Recovery by adding just two courses to your plan of study.
Jobs & Opportunities
CAREER FORECAST:
bright outlook
Important Qualities
Compassion
Empathy
Patience
Listening
Common Work Environments
Mental health centers
Community health centers
Prisons
Half-way houses
Private practice
Job Opportunities
Data from U.S. Bureau of Labor Statistics indicates "much faster" job growth in this field, with 25 percent growth through 2029.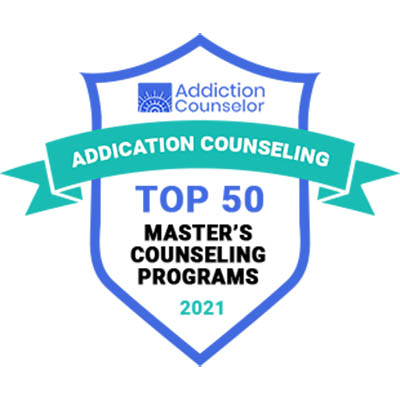 Next steps
This program is offered at the Graduate Distance Education rate, which is the same regardless of state of residence. Learn more.
Several students in our program have been awarded a Minority Fellowship funded by the Substance Abuse and Mental Health Services Administration (SAMHSA). These competitive fellowships are awarded once yearly. For more information about this program, please visit https://www.naadac.org/MFP
GET IN TOUCH
WITH Family & Human Services
Family & Human Services
Benton Hall, Room 311
1700 SW College Ave.
Topeka, KS 66621