Form Options
Washburn supports three different types of forms, each with unique features and requirements.
Wufoo Forms
Dynamic Forms
Microsoft Forms
The most important thing to consider when making a form is your audience. If you are making a form that will be used by the community or prospective students it needs to be a WUFOO form. Read more below about each form option.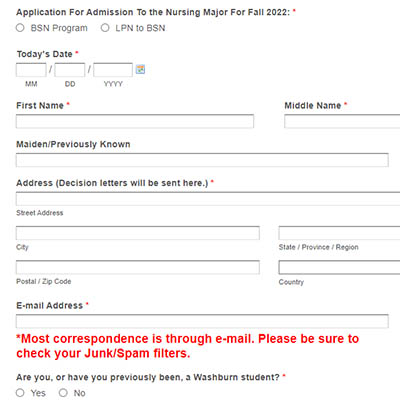 Wufoo Forms
Wufoo forms should be used for general purpose needs on Washburn websites.
Usage:
Meant for faculty, staff, students, visitors or prospective students.
Forms are embedded into web pages so that the user stays on the Washburn website.

Navigation, branding, SEO and data analytics are maintained while the form is being viewed and after the form has been submitted.

Reports of form submissions can be viewed at any time once the form is created.
Forms and Reports can be public or private (accessed via password that you choose).
Data is transmitted and stored in a secure manner.
All forms are responsive design so you can complete on any device: phone, computer, tablet.
To request a Wufoo form send an email to
webmaster@washburn.edu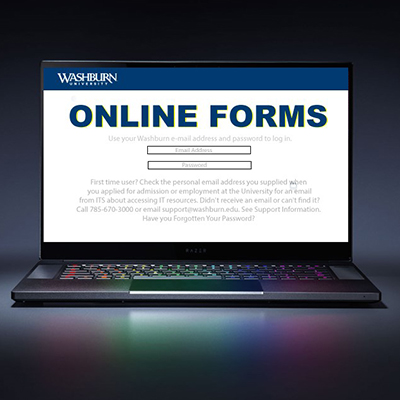 Dynamic Forms
Dynamic forms should be used in cases when a Sign-In portal, workflow/approval or pre-populated employee data is needed.
Usage:
You'll spend less time filling out forms as biographical data (name, email) can be pre-populated from Banner and/or other sources.
You can receive multiple approvals easily through workflows and E-signatures.  No need to print, sign and rescan or to use an Adobe digital signature.
You can make payments and your department can receive payments.(

*requires TouchNet uPay integration which may require maintenance cost. see Mary Schumacher)

You can use electronic signatures.
Your personally identifiable information that a form may request is transmitted and stored in a secure manner.
All forms are responsive design so you can complete on any device: phone, computer, tablet.
No restriction on number of people who can be in the workflow or use these forms.
If you have a form you would like to have created or converted and would like to be trained on creating forms using Dynamic Forms please contact support@washburn.edu.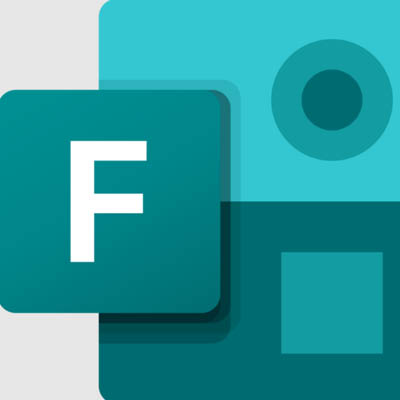 Microsoft Forms
Microsoft Forms should be used for internal or inter-departmental information/data gathering.
Usage:
Upon the creation of a new MS form, assign ownership to an appropriate group.

An appropriate group is defined as one that consists of members suitable to be owners/administrators of the form.
If no group already exists, place a request with ITS for a new Office365 group.
This new approach ensures that the life of the form and any subsequent data that is gathered remains accessible until it is intentionally deemed no longer necessary instead of risking deletion when the original form creator leaves employment.
For support see:
Form Selection Matrix
This grid shows the available options for all three types of forms.
| | | | |
| --- | --- | --- | --- |
| | Dynamic Forms | Microsoft Forms  | Wufoo Forms |
| Embed in Webpage | | | |
| External (non-WU) Users | | | |
| Anonymous (no login) Form Submission | | | |
| Washburn SSO Authentication | | | |
| Accept Online Payments | * | | |
| Digital/Electronic Signatures | | |  (Doc-u-sign Acct or specific integrations) |
| Customizable/Conditional Workflow and Notifications | | | |
| Prefill/Autofill Data from Banner | | | |
| Imaging (ApplicationXtender) Integration | | | |
| User-Designed Forms (drag-and-drop designer) | | | |
| User Access to Saved Drafts and Forms History | | | |
| Mobile Compatible (responsive design) | | | |
| Form Administrator Interface (review submissions) | | | |
| Branching | | | |
| Date Limits Available | | | |
| Limit to One Response per Person (prevent duplicate submissions) | | | |
| Conditionally Show/Hide Form Elements | | | |
| Real-Time Submission/Data-Report Viewing | | | |
| Form Data Export Functionality (CSV, etc)  | | | |
| Completed Form Storage/Retention Limitation | 1 Year in Cloud | | |
| Preferred for website engagement, recruitment, marketing, etc | | | |
Call us for technical assistance
785.670.3000

Visit the Help Desk
Located in Bennett, Room 104