Become a Licensed Addiction Counselor
A career in addiction counseling is an opportunity to make an impact on the lives of others. Communities are in desperate need of addiction counselors who can address the opioid crisis and other serious issues related to substance use disorders and behavioral addictions. Through this flexible program you'll receive the education and training to meet this need and make an impact on your community.
By earing a certificate in Addiction Counseling you will meet the educational requirements for a Kansas license in Addiction Counseling and be eligible to sit for the licensing exam upon graduation. It is more than just a job – it is a rewarding career promoting the wellbeing of individuals, families, and communities.
Career Forecast
 

Bright Outlook
.
Average Salary

 
$47,550
online
hybrid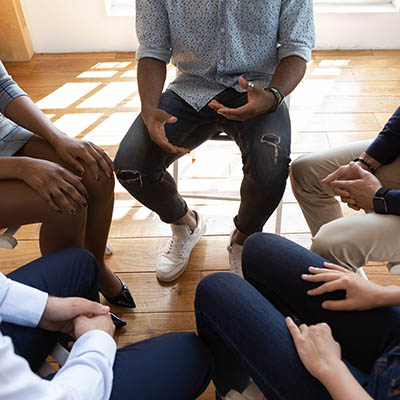 Why earn a Certificate in Addiction Counseling?
Throughout this program you'll learn effective and ethical addiction counseling techniques from experienced licensed professionals. Our program is flexible, allowing you to choose between online and face-to-face courses and full-time and part-time options. Coursework is based on values such as promotion of strengths, diversity, social justice and integrative wellness are at the core of the program. You'll gain real-world experience with two internships in your home community and graduate as a career-ready professional.
Upon earning the Certificate in Addiction Counseling you can apply to become licensed with the state of Kansas as an Licensed Addiction Counselor (LAC). You'll also be ready to take the next step and continue your education with a Master's degree in Family & Human Services, which provides the educational requirements to become an Licensed Master Addiction Counselor (LMAC) and later a Licensed Clinical Addiction Counselor.
Addiction counseling course plan
The Certificate in Addiction Counseling requires 33 credit hours, including two internships of 200 clock hours each. Courses can be taken online or face-to-face and internships can be completed at an addiction counseling agency in your home community. Transfer credit will be reviewed for possible substitution.
Students in the Criminal Justice (BCJ) and Psychology (BA) programs may earn the certificate with substitute courses from their departments. See the course plans below. Students in the Social Work (BSW) program are eligible to sit for the licensing exam to become an addiction counselor in Kansas once they get their LBSW if they have taken the following courses: HS 316 (Addictions Treatment), HS 410 (Pharmacology), and two practicums in addictions of 200 clock hours each under the supervision of a licensed helping professional.
In progress or completed Bachelor's degree

You must have earned a bachelor's degree by the time you complete the certificate, but you may do this while working on certificate courses.
This certificate + licensing exam

Enroll to pursue a certificate in addiction counseling at Washburn University through the undergraduate application. This 33 credit-hour program can be taken completely online or with face-to-face clases as well as on a full-time or part-time schedule.
After completing the certificate you'll be ready to sit for the Kansas Behavioral Sciences Regulatory Board's Licensed Addiction Counselor exam.
Licensed Addiction Counselor

As a Licensed Addiction Counselor you'll be part of a helping profession that seeks solutions to important human problems and fosters hope for the future!

Many students choose to continue their education with a Master's degrees in Family & Human Services, which provides the educational requirements to become an LMAC (Licensed Master Addiction Counselor), and, after 3,000 supervised hours on the job, a Licensed Clinical Addiction Counselor.
By the numbers
CAREER FORECAST:
bright outlook
Student/Faculty ratio
13:1
Job Growth
+23%
(2020-2030)
Program cost
Most courses in this program are offered at the Traditional Online Undergraduate rate. Students seeking a certificate are eligible for financial aid and department scholarships.
GET IN TOUCH
WITH Family & Human Services
Family & Human Services
Benton Hall, Room 311
1700 SW College Ave.
Topeka, KS 66621