Make a Difference--become a Social Worker!
Small Classes, Accredited Education
If you care deeply about helping others and making real strides to promote social justice, Social Work may be the career path for you. Social Work is a dynamic profession that is everywhere--schools, prisons, healthcare centers, the work place, and more. It is present in times of natural disaster and social turmoil. Social workers serve individuals, groups, families, organizations, and communities. Demand for dedicated, conscientious social workers is growing every day.
Discover how Washburn University's nationally-accredited Social Work program can help you make a difference in your community and the world.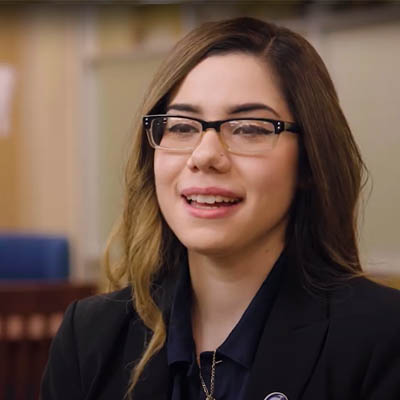 Social Work Success Story Yalitza Gonzalez
When Yalitza came to Washburn, she was a new mother. The flexibility of the Social Work program and professors helped her balance her home life with school and thrive as an Ichabod. Yalitza not only works at Washburn as a student success coach, but also is taking courses in our Master of Social Work program.
Bachelor of Social Work (BSW)
Are you ready to make a difference in your community? Find out more about Social Work and the Bachelor of Social Work (BSW) at Washburn.
Master of Social Work (MSW)
Ready to take your Social Work career to the next level? Maybe it's time for a career change? Find out more about our Master of Social Work (MSW).
Faculty in the News
Research and evaluation are important components of social work! Recently, Dr. Beth O'Neill worked with Topeka Police Department (TPD) to evaluate their Domestic Violence Lethality Assessment Program. Law enforcement officers often are the first people to interact with a domestic violence victim, and have the opportunity to link them to valuable supportive services available in the community. As part of this program, TPD officers ask all victims that are encountered on a domestic violence-related call a set of structured, evidence-based questions, to assess their risk for a potentially-lethal revictimization. Depending on their responses to the questions, and in accordance with the victim's preferences, officers then provide immediate connection to the YWCA Center for Safety and Empowerment, or information about accessing their services. This evaluation found that the questionnaire that TPD uses is comparable to other evidence-based lethality risk assessment instruments at predicting risk, that officers and community partners all find this program to be a valuable and essential program, and that there are some ways to make the program even better. TPD plans to use the results from this evaluation to improve their training processes and the ways that they connect victims to supportive services.

GET IN TOUCH
WITH Social Work
Social Work
Benton Hall, Room 412
1700 SW College Ave.
Topeka, KS 66621