Why major in Theatre at Washburn?
At Washburn we see Theatre as a transformative force in the world. While we want to entertain with theatre, we also believe that by creating worlds on the stage we inspire the ability to create and shape the world outside the theatre.  Students who major in theatre acquire skills that prepare them for life well beyond the stage.
Whether you aspire to a career in theatre, or you want theatre to be an important part of your life while you work in another industry, our program will align with your goals. Because each Washburn Theatre graduate gains experience as a performer, director, and in a variety of technical roles, you'll build a strong portfolio and have opportunities you find your niche and grow in your craft.
Career Forecast
 

Bright Outlook
.
Average Salary

 
$77,700
on campus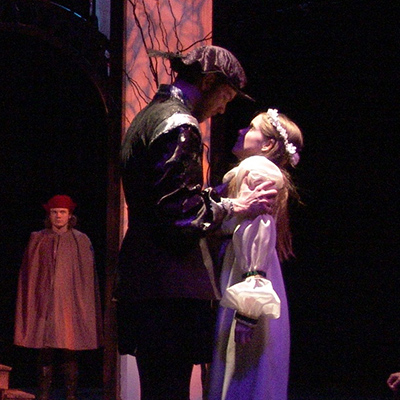 What sets Washburn Theatre apart?
You'll learn from faculty members with extensive industry experience, not from graduate students.
Student written and directed work has a place on our stage. You'll have opportunities to bring your vision to life through performing, writing, directing, design, and more.
You'll graduate and begin your job search with a professional portfolio, workshop and master class opportunities and critiques, and at least one internship experience.
Study abroad is embraced by the department, with scholarship support. Students are preparing now to perform an original work at the Edinburgh Festival Fringe in Summer 2025.
You'll be eligible for academic scholarships and production leadership opportunities through the department.
The Theatre lounge includes a fridge, microwave, and couches for rest. We know that the theatre lifestyle can be grueling and we're here to support you.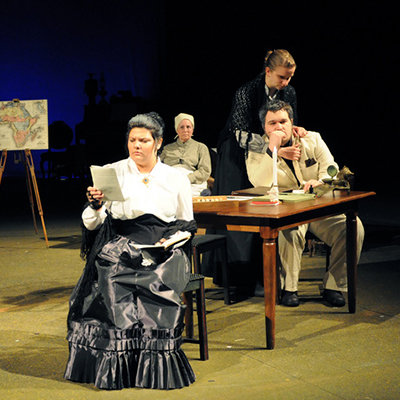 Admissions scholarships
Washburn University offers generous scholarships based on your interests, career aspirations, community service and academic success.
Theatre department scholarships
You're eligible for a variety of scholarships based on academic performance and career pursuits. Available for incoming freshmen, current and transfer students. Scholarship auditions and applications are due early in the spring semester for the following year.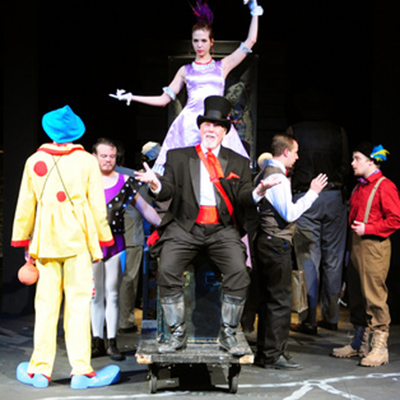 Tuition and fees
Courses in this program are offered at the Traditional Undergraduate rate.
Financial aid
Washburn University offers generous undergraduate financial aid, including scholarships and grants.
Tuition waivers
Washburn University offers generous undergraduate financial aid, including scholarships and grants.
4-Year Plan
A Bachelor of Arts in Theatre can be completed in four years. You'll take 40 credit hours in theatre, including four practicum credits.
The Bachelor of Arts in Theatre consists of forty (40) credit hours in theatre in addition to the general educational requirements of the College of Arts and Sciences.
Seventeen (17) hours in the major are taken at the upper division level.
Required courses:
TH100/300: Practicum (4 x 1 credit each) 4 credits
TH103: Voice, Diction and Interpretation 3 credits
TH202: Acting I 3 credits
TH206: Early Theatre History 3 credits
TH207: Late Theatre History 3 credits
TH311: Stagecraft 3 credits
1 additional theatre tech course (Choose from TH315: Set/Props; TH316: Lights/Sound; TH317: Costume; TH319 Stage Makeup) 3 credits
TH401: Analysis and Directing 3 credits
An additional 15 hours of theatre electives in consultation with your advisor.
Enroll at WU and declare major

Fill out the
Undergraduate Admissions Application
and enroll to pursue theatre. It is common to declare a major in Theatre at enrollment and then determine your specific area of interest. 

In this applied field, you'll be able to work directly in all of the on stage and technical aspects of theatre production. Directing, acting, and technical theatre roles are required of all majors prior to graduation. Topeka's vibrant community theatre scene means you'll have opportunities off campus, too.

TH416 gets you internship experience in the industry and related fields and will help you on your path whether the goal is Actors Equity or using your theatre skills in another venue, such as Law School, or project management.
Bachelor's degree and workforce

As you prepare for the job search, engage with
Washburn Career Services
for career fairs, mock interviews, and resume review.
Minor in Theatre
A Minor in Theatre Studies consists of a minimum of eighteen hours in theatre approved in advance by a theatre faculty advisor. Courses must be chosen from all three areas: performance, design/technology, and history/literature, and will be filed with the department.
Set for Success
CAREER FORECAST:
bright outlook
Student/faculty ratio
7:1
You'll gain skills in
Performing
Directing
Tech/production
Time management
Problem solving
Graduate school
15%
of students pursue graduate school after graduation.
Program Cost
Courses in this program are offered at the Traditional Undergraduate rate. Students are eligible for scholarships and financial aid.
GET IN TOUCH
WITH Washburn Theatre
Washburn University Theatre
Garvey, Room 133
1700 SW College Ave.
Topeka, KS 66621