Scholarships
In recognition of the quality of School of Business programs, many alumni, community leaders, and organizations have given generously to support academic excellence with financial aid for students. Thanks to their generosity, we are able to offer scholarships to both incoming and current business students who meet the requirements.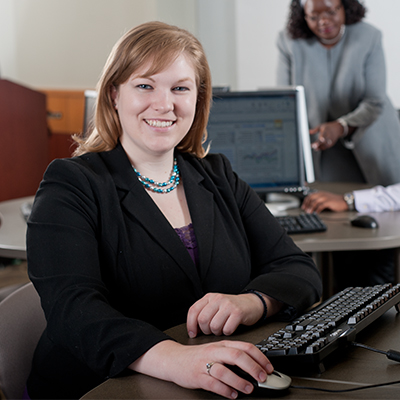 BIZBOD TESTIMONIAL
"It has been an honor to be the recipient of Business Scholarships throughout my pursuit of a BBA in Economics and Finance.  I have used the financial stability offered by the scholarships to pursue my passions for people, academics and building a stronger community.  I am grateful for the generosity of others who have allowed me to gain an education and will soon be able to return the favor for the future generation of proud Ichabods!"
– Kelli Coldiron, BBA Economics and Finance, 2012
How to Apply for School of Business Scholarships
It is our hope to provide a scholarship to each and every student that has an interest in a Business program who satisfies the eligibility requirements. Scholarships from the School of Business are awarded in different tiers:
Academic Awards – The first tier is based solely on academic achievement and looks at a student's status and cumulative GPA.  The award follows the matrix tables posted below.
Marcoux Awards – Second-tier scholarships also take into account a students' extracurricular activities and how they are using those experiences to build leadership skills. 
Pollak Awards – Third-tier scholarship in which the Dean selects from the cream-of-the-crop of Marcoux applicants for a full-ride scholarship (12 hours in fall, 12 hours in spring).  This award is typically only given to one or two students, dependent on funds.
Excellent 8 Awards – Fourth-tier scholarship in which faculty nominate a student from each major program within the School of Business (currently 8 programs - AC, DA, EC, EI, FI, IB, MG, MK). This award is not dependent on GPA, but rather is the student the faculty believes best represents the core values of that program for the Washburn University School of Business.
The School of Business scholarship application for the 2024-2025 academic year will be available beginning November 1. Applications are due February 15 each year.
---
In addition to our traditional department awards, students who will be participating in a study abroad program may receive financial assistance through our Study Abroad Scholarship. This award may be granted for short-term or long-term programs with deadline dates as follows:
April 1 for Summer and Fall study
December 1 for Spring study
---
Most students who qualify for a School of Business scholarship will also qualify for a Washburn University Academic scholarship. For more information about scholarships outside of the School of Business, please contact our admissions office at 785-670-1030, toll free at 1-800-332-0291, or email Admissions and ask for the brochure "Introduction to Financial Aid & Scholarships." Every student who visits Washburn should be given this brochure as part of their new student packet or you may pick one up at the Student One Stop in Morgan Hall. Students who need to renew their Washburn University Academic Scholarship should do so with the Financial Aid Office located in the Student One Stop in Morgan Hall.