Scholarships
In recognition of the quality of School of Business programs, many alumni, community leaders, and organizations have given generously to support academic excellence with financial aid for students. Thanks to  their generosity, we are able to offer scholarships to both incoming and current business students who meet the requirements.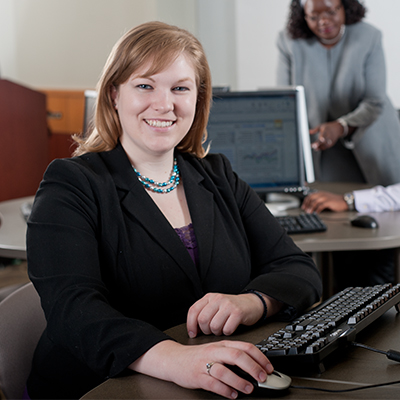 BIZBOD TESTIMONIAL
"It has been an honor to be the recipient of Business Scholarships throughout my pursuit of a BBA in Economics and Finance.  I have used the financial stability offered by the scholarships to pursue my passions for people, academics and building a stronger community.  I am grateful for the generosity of others who have allowed me to gain an education and will soon be able to return the favor for the future generation of proud Ichabods!"
– Kelli Coldiron, BBA Economics and Finance, 2012
How to Apply for School of Business Scholarships
It is our hope to provide a scholarship to each and every student that has an interest in a Business program who satisfies the eligibility requirements. Our main departmental award is the Academic Scholarship which is purely based on a student's academic ability. For incoming freshmen this is measured by a student's overall high school GPA (on a 4-point scale) of 3.0 and higher as well as an ACT score of 23 and higher. For incoming transfer students, returning students and current students it is measured by the student's overall college GPA of 3.25 and higher as well as their current class standing (i.e. sophomore, junior, senior).
---
Students who have challenged themselves to build leadership skills in their community, work and/or school environments are also encouraged to apply for our Dale Marcoux Leadership Scholarship. Students who are chosen to receive this competitive award successfully illustrate how they have been working to build their skills in an essay submitted to the scholarship committee. Typically only 12-16 students per class are selected for this award.
---
It is definitely worth the student's time and effort to submit the Marcoux application as it typically increases a student's potential award amount anywhere from $250 to $1750 depending on their GPA. Exemplary essays will also be considered for the prestigious James David Pollak Memorial Scholarship, a "full-ride" scholarship that covers 12 hours of tuition in the fall semester, followed by another 12 hours in the spring semester. Depending on the annual funds available, this award will be given to only one or two students each year. 
All of the scholarships listed above can be applied for through this form.  Applications are due February 15 each year.
---
In addition to our academic award, students who will be participating in a study abroad program may receive financial assistance through our Study Abroad Scholarship. This award may be granted for short-term or long-term programs with deadline dates as follows:
April 1 for Summer and Fall study               December 1 for Spring study
---
Most students who qualify for a School of Business scholarship will also qualify for a Washburn University Academic scholarship. For more information about scholarships outside of the School of Business, please contact our admissions office at 785-670-1030, toll free at 1-800-332-0291, or email Admissions and ask for the brochure "Introduction to Financial Aid & Scholarships." Every student who visits Washburn should be given this brochure as part of their new student packet or you may pick one up at the Student One Stop in Morgan Hall. Students who need to renew their Washburn University Academic Scholarship should do so with the Financial Aid Office located in the Student One Stop in Morgan Hall.
Incoming Freshmen
High School GPA

ACT Score

3.00-3.25

3.26-3.75

3.76-4.00

30+

$2,750

$2,750

$2,750

27-29

$2,500

$2,500

$2,500

25-26

$2,000

$2,250

$2,500

23-24

$1,500

$1,750

$2,000
---
Incoming Transfer Students
| | |
| --- | --- |
| GPA | Award |
| 3.91-4.00 | $2,250 |
| 3.71-3.90 | $2,000 |
| 3.51-3.70 | $1,750 |
| 3.25-3.50 | $1,500  |
---
Returning and Current Students
Renewal Awards Matrix

GPA

Senior

Junior

Sophomore

4

$3,500

$3,000

$2,750

3.9

$3,000

$2,750

$2,550

3.8

$2,500

$2,500

$2,350

3.7

$2,250

$2,250

$2,150

3.6

$2,000

$2,000

$1,950

3.5

$1,750

$1,750

$1,750

3.4

$1,500

$1,500

$1,500

3.25

$1,250

$1,250

$1,250