Chemistry Department Vision
Washburn Chemistry Department strives to create a supportive, diverse, and inclusive environment to promote life-long learning, to develop analytical and critical thinking skills, and to grow the body of knowledge for our students, faculty, and community.
Mission
Consistent with the mission of the University and the College of Arts and Sciences, the Department of Chemistry is committed:
to provide a broad spectrum of undergraduate students with a supportive environment in which to develop the necessary understanding of chemical principles, and analytical and critical thinking skills,
to engage in scientific research,
to serve the scientific and local communities.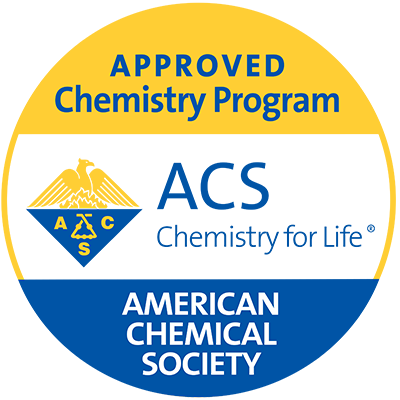 Chemistry Department Accreditation
Program Assessment Plans and Findings
Chemistry majors at Washburn University, upon graduation, will:
master a broad set of chemical knowledge concerning the fundamentals in the basic areas of the discipline (analytical, biological, inorganic, organic, and physical chemistry).
Demonstrate an operating knowledge of a variety of modern scientific instrumentation and computational methods to analyze chemicals and chemical processes.
Demonstrate safe chemical practices, including waste handling and safety equipment.
In addition, Bachelor's level chemistry majors, upon graduation, will:
Demonstrate an ability to define scientific problems, develop testable hypotheses, design and execute experiments, analyze data using appropriate statistical methods, and draw appropriate conclusions both individually and in collaboration with others.
Demonstrate the use of modern library search tools to locate and retrieve scientific information and the ability to communicate scientific knowledge both verbally and in writing to peers and the scientific community. 
Discuss the application of the standards of professional ethics and how these affect the scientific endeavor.
Michael Finnegan - Professor of Physical Anthropology at Kansas State University
TL Price - Laboratory Director of Kansas Bureau of Investigation Forensic Laboratory
Dwain Worley – Chemistry section supervisor at the Kansas Bureau of Investigation Forensic Laboratory
Emily Draper – Biology section supervisor at the Kansas Bureau of Investigation Forensic Laboratory
Destiny Bryan – DNA databank section supervisor at the Kansas Bureau of Investigation Forensic Laboratory
Kelly McPherron – Assistant Attorney General at the Kansas Bureau of Investigation
Michael Martinez – Trace supervisor at Bexar County Crime Lab and national Gunshot Residue Analysis
Mary Henderson – Assistant Director of Kansas Bureau of Investigation Forensic Laboratory
Nick Wilson - Forensic Odontologist with the US Military
GET IN TOUCH
WITH Department of Chemistry
Department of Chemistry
Stoffer Science Hall, Room 312
1700 SW College Ave
Topeka, KS 66621