Bachelor of Science in Forensic Chemistry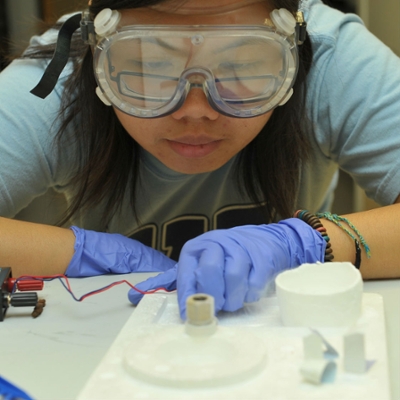 While some crime scenes leave obvious markers and clues for investigators, others require a closer look from a trained eye. At Washburn University, you can learn to utilize the power of science to identify unknown materials and preserve key evidence investigators need to prosecute criminals.
At Washburn University, you'll gain a foundation in forensic chemistry and work toward a career with purpose in our Bachelor of Science in forensic chemistry. This rigorous program includes courses in chemistry, biology, physics, calculus, statistics, communications, forensic chemistry and crime scene investigation – all designed to prepare you to work as a key part of a criminal justice team.
Beginning courses are designed to give you an awareness and understanding of scientific chemical principles and problems. Advanced courses in forensic chemistry are planned to meet the specialized needs of students interested in careers in forensic laboratories, which may include graduate studies.
The multidisciplinary, state-of-the-science forensic chemical science program has been offered at Washburn since 2006. The partnership with the Kansas Bureau of Investigation Forensic Science Center enhances this respected program. As a forensic chemistry major, you'll take classes and receive hands-on training in the new forensic science laboratory on the Washburn campus. You'll also have the opportunity to learn from KBI scientists serving as adjunct instructors and to work alongside them through forensic science internships.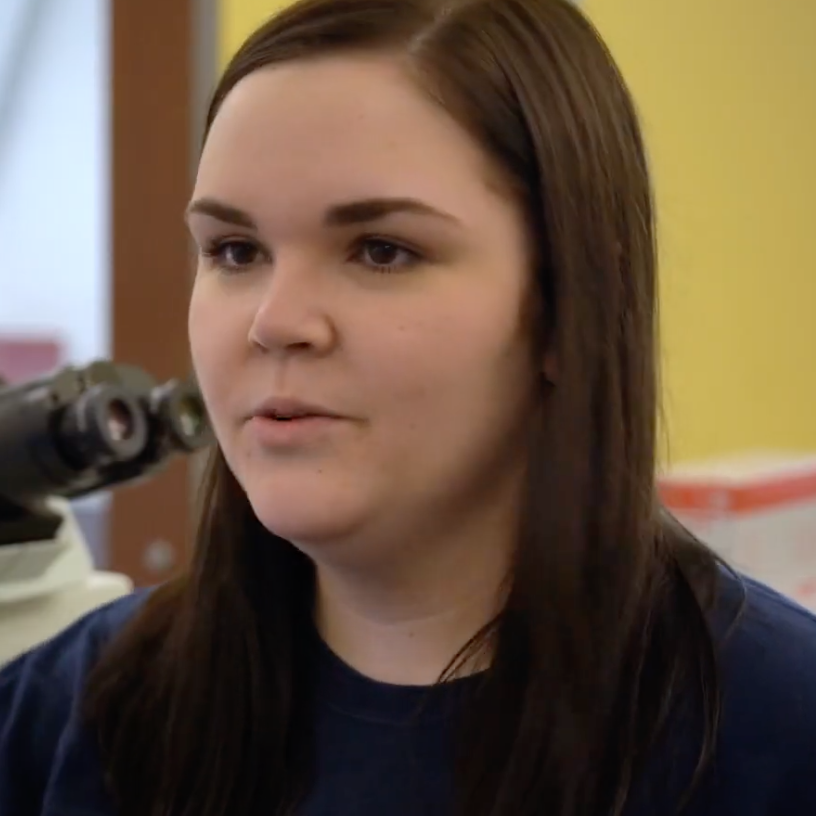 Meet student success story Gretchen Hogan
Gretchen Hogan, a senior from Cimarron, Kansas, and a transfer student from a community college, chose Washburn because of the scholarships and because she loved our facilities, including the state-of-the-art KBI Forensic Science Center. Like many of our students, Gretchen takes classes in the KBI building, access you'll only find at Washburn.
Access state-of-the-science laboratory equipment rarely available to undergraduates.
Perform hands-on experiments with the latest in chemistry, biology and trace forensic science instruments.
Explore forensic science internship opportunities with KBI.
Consistent with the mission of the University and the College of Arts and Sciences, the Department of Chemistry is dedicated to providing a broad spectrum of undergraduate students with the necessary understanding of chemical principles to become successful, contributing members of their social, professional and/or occupational communities.
Students entering the Forensic Chemical Science Program come from diverse backgrounds and may apply their acquired chemical skills in equally diverse occupations over the span of their career. The Department of Chemistry addresses this diversity by focusing on individual student interests and strengths through personal advising, small class sizes, individual instruction, hands-on experience with scientific instrumentation, intern appointments, and guided undergraduate forensic research. The Chemistry Department faculty is itself diverse and exemplifies commitment to learning and contributing by engaging in scientific research, collaborating with forensic scientists, presenting and publishing, as well as volunteering to improve the quality of living in the larger Topeka community.
Get Started Today!
With an education in forensic chemistry, you can explore a unique career field that allows you to make a difference in the lab. And Washburn University's faculty and staff are well prepared to guide you in pursuing your education and career objectives. To learn more about our forensic chemical science degree program, call or visit us today! Phone: 785.670.2270